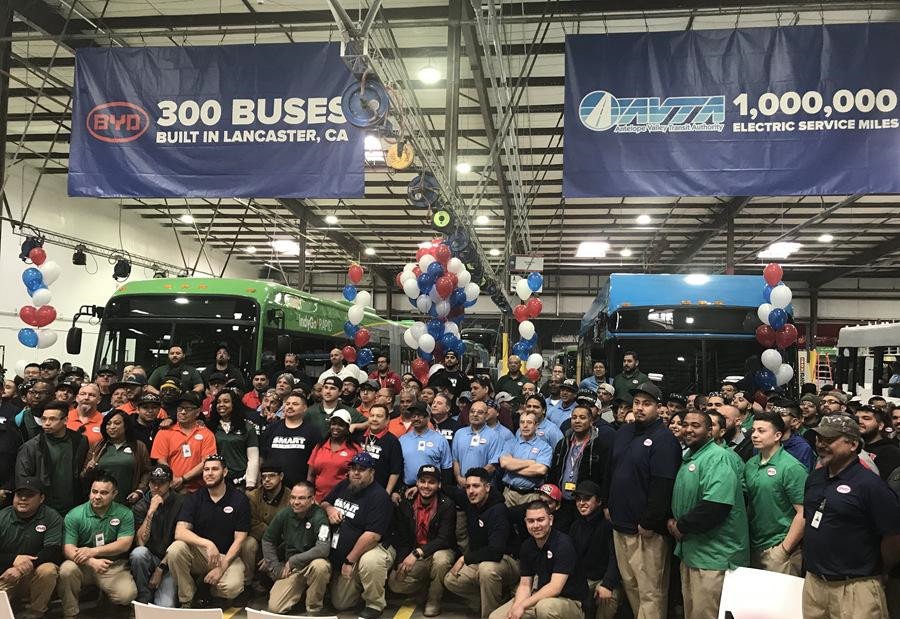 BYD Co., China's leading electric vehicle maker, held a ceremony Wednesday last week to mark the completion of the 300th electric bus at its Lancaster manufacturing plant in the U.S. state of California.
Hundreds of excited American workers were cheering, colorful balloons bobbed toward the sky, and a big blue ribbon fluttered in the breeze.
"Three hundred electric buses is a significant milestone. And one million miles of emission-free transportation is pretty cool," said Frank Girardot, BYD's vice president of communications, referring to BYD's customer Antelope Valley Transit Authority (AVTA), which is expected to realize 1 million miles of zero-emission bus operations in early May.
AVTA has ordered 85 electric buses from BYD, and 25 buses have been delivered up to now, according to the company.
Local, state and international officials who attended the ceremony agreed that a concerted U.S.-China effort allowed BYD North America and the city of Lancaster to take the lead in the business of manufacturing zero-emission electric buses.
"The United States and China working together ... This is a successful model that the rest of the country could use to achieve similar success," said Lancaster Mayor R. Rex Parris.
Michael D. Antonovich, former Los Angeles County supervisor and Metro board chairman, signed a contract with BYD's senior vice president Stella Li in 2013 for 25 all-electric buses from the firm, as part of the county's US$30 million clean air bus technology pilot project.
"There were some skeptics when BYD chose Lancaster as home to its operations. Now these same skeptics are true believers, as they watch this world-class company continue to literally change the world for the better," said Parris.
Since the delivery of its first U.S. battery electric bus in 2014, BYD has provided buses for customers in 13 U.S. states and four Canadian provinces.
When BYD opened its Lancaster manufacturing plant in 2013, it had a handful of employees working on 10 buses in a 106,000-square-foot (9,848-square-meter) building that once housed a motorhome manufacturing facility, according to the firm.
In just six years, BYD has grown to become the largest battery electric bus manufacturer in North America, with more than 750 employees.
"This is just the beginning. We expect great things to happen in Lancaster," said Patrick Duan, vice president of operations for BYD North America.
Duan is credited with playing an integral role in bringing BYD to the United States and has continued to foster the continued growth of BYD in Lancaster.
He pointed out that BYD-manufactured battery electric trucks and forklifts are already in use in Los Angeles and Long Beach's ports and rail yards and that the company is doing demonstration runs with its electric garbage trucks in several cities, including Seattle, Palo Alto and Southern California.
Los Angeles County Supervisor Kathryn Barger applauded AVTA for being the first fleet to go 100 percent electric in the nation.
"This proves we can go green and it can be painless. The cost is not significant," she said. "It becomes a cost of savings when you have a cooperative partnership between the private sector and the government."
She also praised BYD for setting a high standard for diversity hiring. "What I've found exciting is BYD employees are 85 percent minorities, veterans, a growing number of women and second-chance employees. BYD really stepped up to the plate."