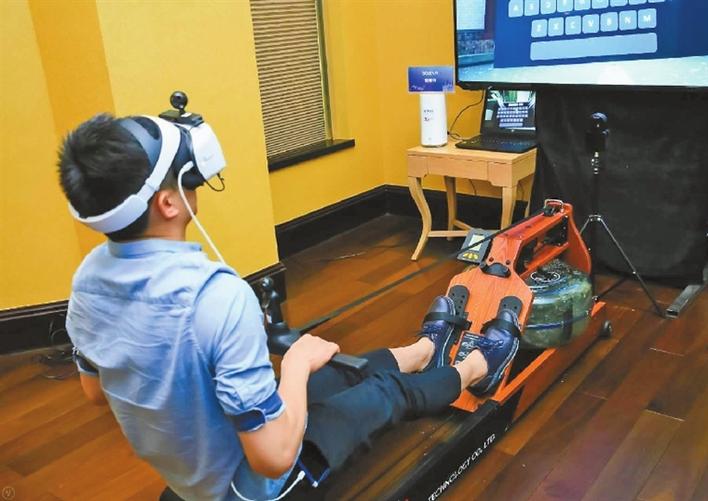 A man tries a 5G VR Rowing Machine at InterContinental Hotel yesterday. Ye Sen

Huawei has jointly initiated the construction of the world's first 5G smart hotel, according to an agreement-signing ceremony with China Telecom Shenzhen Co. and InterContinental Hotel yesterday.
Based on a digital indoor system and 5G cloud application technologies, China Telecom Shenzhen Co. and Huawei will deploy devices and technologies for indoor and outdoor coverage, and provide guests with the ultimate innovative high-end accommodation experience.
With Huawei 5G smartphones and Customer Premise Equipment, visitors can enjoy an innovative 5G experience, including reception by 5G robots, using a 5G Cloud Computer, 5G Cloud Games and a 5G VR Rowing Machine. This will make InterContinental Hotel the first in the world covered by a 5G system.
The system was first piloted on the first floor and the presidential suite of the hotel. Users can access the 5G network through CPE to experience Gbps-level downloading and uploading speed.
They can also use 5G robots for inquiries, guidance to destinations and delivery services. The VR Rowing Machine, Cloud Games and 4K movies provide customers with an immersive experience.
Jin Yang, general manager of Shenzhen OCT Hotel Development Co. Ltd., said the application of 5G will open up more possibilities for hotels to provide satisfactory services to customers and upgrade their consumption level.
The application of 5G in the hotel is the beginning of a full-fledged digital and intelligent transformation. The three sides will explore more applications and provide model experiences for hotels and the tourism industry in digital construction.
Through the partnership, Huawei and China Telecom Shenzhen Co. will transform the hotel into a smart hotel covered by a 5G network and a benchmark for 5G hotels around the world.