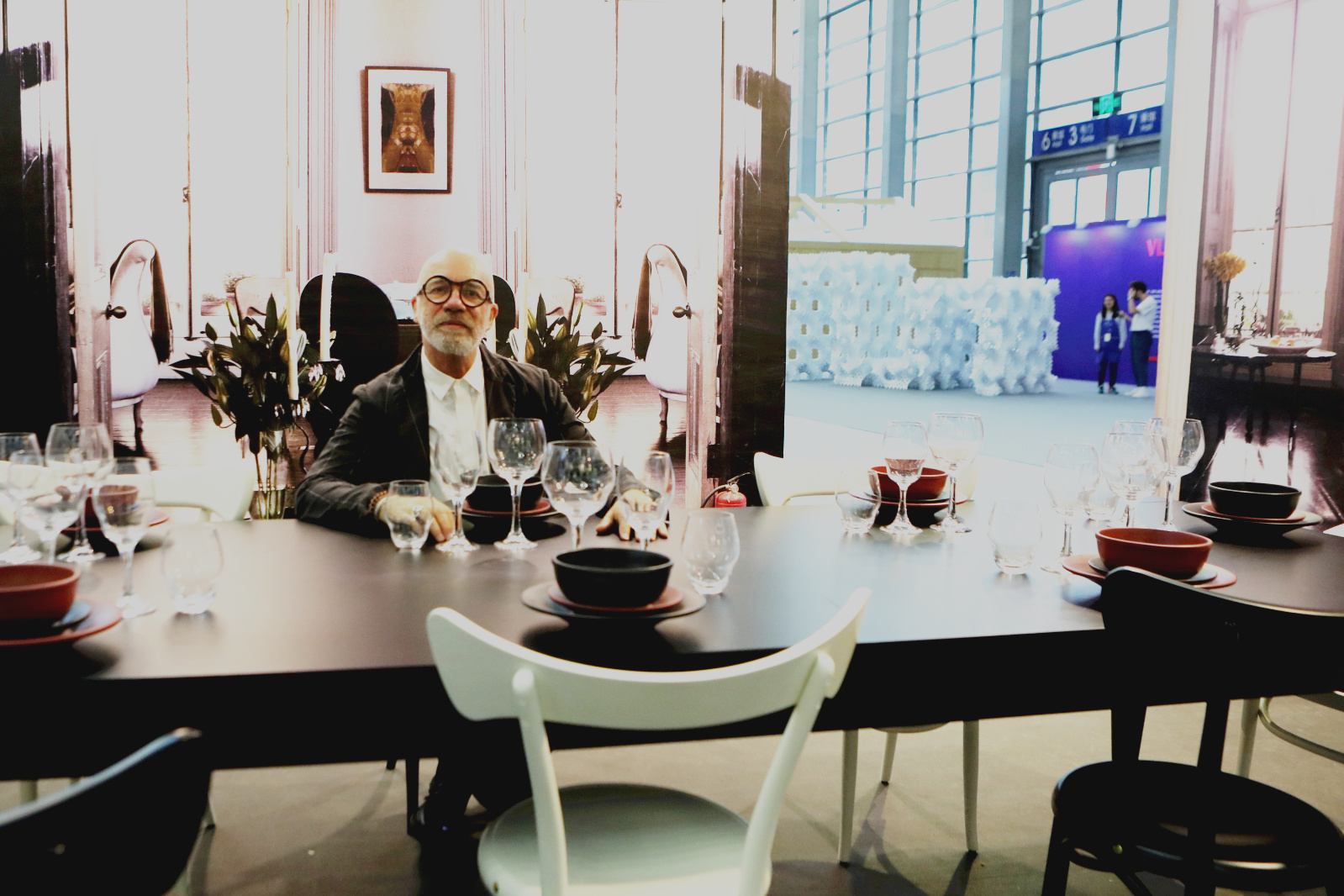 Nigel Coates presents part of his London apartment at the "Meet London Design" exhibition Friday. Sun Yuchen
Julian Maynard, managing director of Maynard who is attending the Shenzhen Design Week, finds the connection between Macao, Hong Kong and Shenzhen interesting.
"Quite often in the world, cities compete against each other. I think that's quite a smart approach [combining three cities]. It would be a lot richer for designers to be able to work in all those cities. We are also here to understand the culture, meet fellow designers, hopefully clients as well," Maynard told the Shenzhen Daily in Hall 6 of Shenzhen Convention and Exhibition Center on Friday.
Maynard is a design practice that creates wayfinding, graphics, products and environment for clients in the transport, commercial and urban realm sectors.
"For example, when you come out of a station into a precinct area, there might be smart street furniture or signage to get you around the city. That's the work that we do," said the managing director. He also exhibited a sample of the pilot project they did for Hong Kong and are rolling out to the rest of the SAR.
Hall 6 of the Shenzhen convention center hosts a delegation of London designers to the Shenzhen Design Week.
Vlad Tenu, an architect based in London, is in the London delegation. He has studied architecture in Iasi, Romania, Lisbon and in London at the Bartlett School of Architecture, UCL, where he was awarded an MSc. in Adaptive Architecture & Computation and a certificate in Advanced Architectural Research.
"My exhibit is a system called Mini-Complexity. It's a module system that works like a puzzle or a Lego system. It's about demonstrating how it can be used and assembled to create different shapes, which you can always change and add to, and evolve," said Tenu.
Tenu said he finds Shenzhen a very exciting city. "I admire, a lot, the setup of the buildings and the green areas. I am honored to be here. There are a lot of great designers in the same space I am sharing with."
Nigel Coates, a famous architect and designer whose drawings and furniture designs have been collected by the Victoria and Albert Museum in London, is presenting part of his London apartment at the exhibition.
"The idea here is to introduce myself to Shenzhen. I thought: what's better than bringing my apartment? It's a slightly imaginary apartment, there is no bathroom, no kitchen. But you can feel a little bit of my spacial sensibility," said Coates.
"The space itself is a 19th century apartment in an old house with classical details. But the furniture has a quirky, friendly, amazing contemporary feel. I wanted to feel comfortable in its classical environment. So it has got both things going: the classical and the forward-looking," introduced Coates.
It was Coates' first time in Shenzhen. "The intensity, energy, willingness to be open to all kinds of ideas, broad-minded and modern [impressed me]."
London serves as the guest of honor at this year's design week.