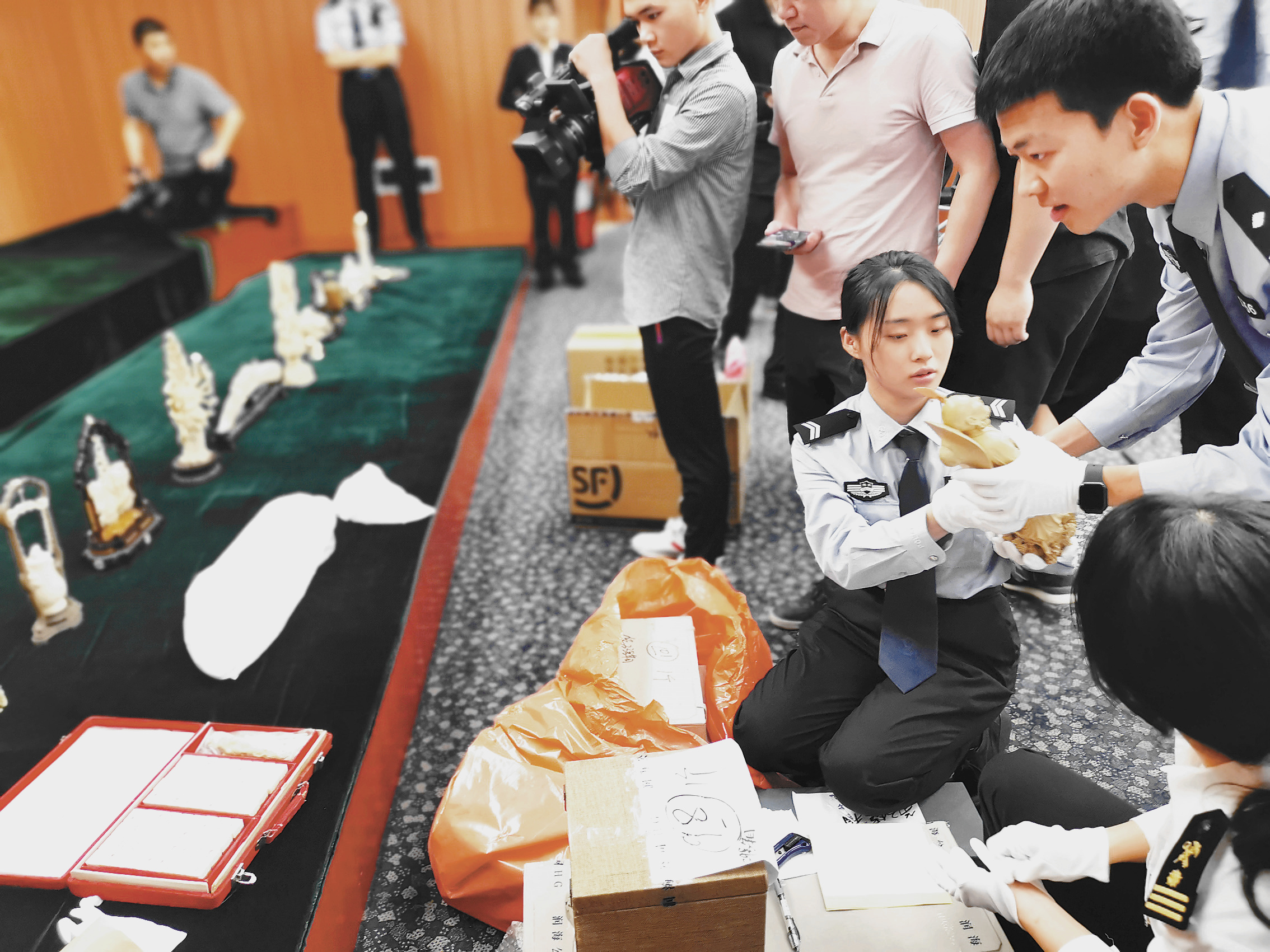 Customs officers put ivory products on show at a press conference at the Civic Center in Futian District, Shenzhen, yesterday. Shenzhen Customs announced yesterday that 206 ivory products were seized in a recent action, with 10 suspects arrested. Hong Kong China News Agency
Shenzhen Customs arrested 10 suspects and seized 206 ivory products, including two African tusks, in a coordinated action led by the General Administration of Customs this March, a news conference said Thursday.
Shenzhen Customs set up a task force on ivory smuggling in January and followed two clues that were found in an ivory product smuggling case in March 2018 involving parallel traders and an organized smuggling of animal products last June.
In the action March 8, following two months of investigation, the Shenzhen Customs anti-smuggling bureau arrested the suspects in Shenzhen, Wuxi in Jiangsu Province, and Shanghai.
"The products seized included two tusks weighing 28.28 kilograms, rhino horn products weighing 12.8 kilograms, and red coral weighing 6.9 kilograms," Dai Haifeng with the Shenzhen Customs anti-smuggling bureau said at the news conference held at the Civic Center.
This year, the anti-smuggling department has filed 32 smuggling cases involving endangered species and seized 246 kilograms of products including 181 kilograms of ivory and ivory products, crocodile skin, sperm whale teeth and Pacific Parakeet eggs.
"Most of the smuggled ivory and endangered species products were confiscated from returned Chinese who had traveled overseas and were unfamiliar with Chinese laws," Dai said.
In March, Luohu Customs caught a woman carrying 4.39 kilograms of tortoise shell. Huanggang Customs caught a mainland traveler at Futian Checkpoint carrying 13 live corals weighing 7 kilograms, including the water.
"Some products are allowed to be traded locally but are not allowed to be carried across the border. Some Chinese travelers carry or mail the products disguised as art products, or even hire parallel traders to carry them across the border," said Dai.
China imposed a complete ban on trading ivory for commercial purposes Jan. 1, 2018, as part of its commitment to protecting wild animals.
According to Chinese law, those involved in smuggling endangered species and related products will face jail terms of five to 10 years. The prison sentences could be longer than 10 years, and even life, in serious conditions.