Note: The following article is taken from the Chinese-language "Commentaries on International Affairs".
During a gathering on Tuesday in the city of Qingdao with the heads of foreign delegations at the commemorations for the 70th anniversary of the founding of the Chinese People's Liberation Army (PLA) Navy, President Xi Jinping called for concerted efforts to safeguard maritime peace and the building of a maritime community with a shared future.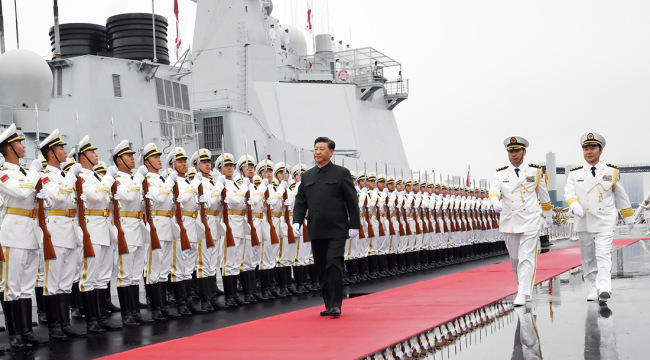 China's President and Central Military Commission Chairman Xi Jinping inspects the honor guards of the Chinese People's Liberation Army Navy before boarding the destroyer Xining at a pier in Qingdao, Shandong Province on Tuesday, April 23, 2019. [Photo: Xinhua]
As part of Tuesday's events, 32 vessels of the PLA Navy were joined on parade by 39 navy warplanes. The vessels included China's first aircraft carrier, the Liaoning; the Long March-10, the biggest strategic missile submarine made by China; and other newly-developed destroyers and fighters. Taken together, the event was a display of China's military capability, openness, and confidence.
While pursuing continual self-improvement, the PLA Navy has been actively fulfilling its obligations to protect the safety of international waterways, maintain good order at sea, and provide maritime medical assistance. The navy has sent 32 escort formations, 103 vessels, 69 helicopters, and more than 27,000 officers and soldiers to escort more than 6,600 Chinese and foreign vessels. And its Peace Ark hospital ship has visited 43 countries and regions in the past 10 years, providing over 230,000 medical services.
Around 20 vessels from 13 countries took part in Tuesday's parade, including a Russian fleet led by the Admiral Gorshkov-class frigate on its first long-distance voyage. Japan's Akizuki-class destroyer Suzutsuki also took part, which the Kyodo News agency says was part of efforts to promote trust-building defense exchanges.
Trust is critical, given China is faced with challenges and opportunities in safeguarding its maritime security, especially as the country tries to promote the development of the 21st Century Maritime Silk Road Initiative, which is a part of the broader Belt and Road Initiative. Maintaining peace and stability along the route will be a key responsibility for the PLA Navy.
As President Xi said during his meeting with the foreign delegation, our planet is not divided into islands by the oceans, but connected by the oceans to form a community with a shared future. The PLA Navy will continue to develop a posture that is defensive, not offensive, and that champions new thinking on comprehensive, cooperative, and sustainable security. The navy is ready to work with their foreign counterparts on ensuring that all countries can enjoy the benefits of maritime development and prosperity.