When he was 28, Kris Verstockt, currently owner and executive director of CRE8 DESIGN, was offered the future ownership of a design company by an ODM electronics manufacturer in Taipei, which wished to keep him in the city to work for them for a longer time.
Kris Verstockt at his office in Taipei. Courtesy of the interviewee
Back then, he had already worked and lived in Taipei for eight years and was at the point of deciding whether to continue his career in Asia or start a career back home in Belgium.
"They said they would give me the design division to set up a company if I could guarantee to work with them for another three years. The division I had set up with them was quite successful. They really wanted us to stay. So it's a win-win situation," recalled Verstockt.
Nobody was going to give him a company in Belgium at 28 years old. So he stayed and later founded his company CRE8 DESIGN in 2001 with seven people. Under his leadership, the company has grown to a team of 45 designers and has built successful partnerships with international clients such as Best Buy, Dell, Corsair, ASUS, and 3M.
Excelling in design and innovation, Verstockt is honored with 90 major design awards including the iF, Red Dot, and Good Design awards and has been invited to judge for many renowned programs such as the iF Design Award.
Right time to open design house in SZ
Many people have asked him on various occasions why he hasn't started a design house on the Chinese mainland. Verstockt said he had been pushing the idea back for a very long time because the Chinese mainland was going through a different growth path and did not need design yet.
However, at the beginning of 2017, Verstockt finally opened his office in Futian District of Shenzhen.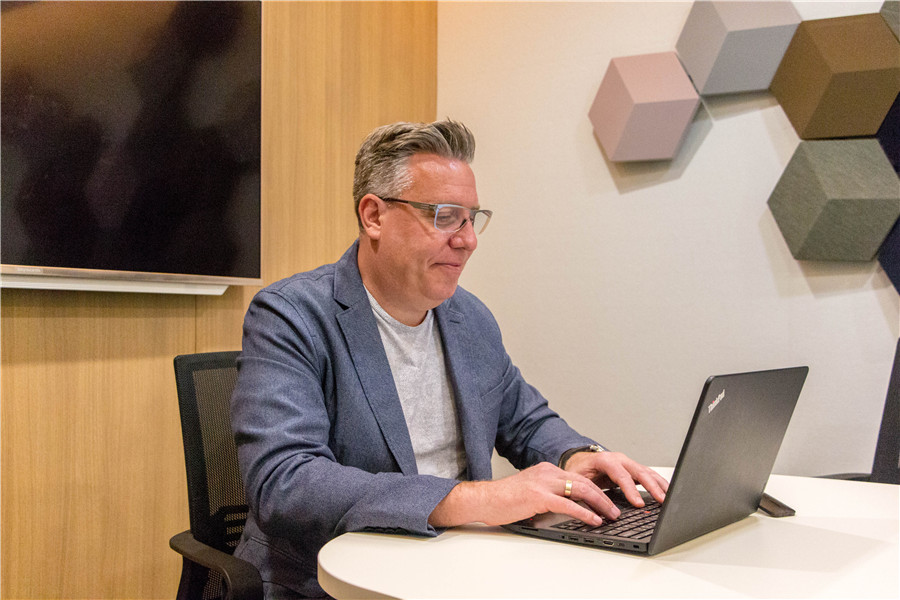 Kris Verstockt works at his office in Huaqiangbei, Shenzhen. Lin Jianping
According to Verstockt, over the past 20 years, the Chinese mainland has become the production powerhouse of the world, but not necessarily the innovation powerhouse. For a very long time, when the Chinese mainland market talked about product design, it was only about making things look beautiful.
"But that's not right. That's a very narrow understanding of what good product design is. Things looking beautiful is just the side effect of good product design, not the reason," said Verstockt.
As the times have changed, Verstockt grew to believe it was time to open a design house on the Chinese mainland.
"Since two or three years ago, Chinese cities, especially Shenzhen, have started to understand they are No. 1 in production, but they need to move forward and become an innovation-based society. So a company like mine is more important. That's why we decided to act," said Verstockt.
For Verstockt, Shenzhen provides a good environment not only for manufacturing, but also for innovative startups.
"Things are going very well and very fast here, much faster than in other places. I like the can-do spirit and how quickly we are getting good success stories in Shenzhen," said the designer excitedly.
Verstockt is very impressed by how design is supported by the Shenzhen government. "To be honest, the Shenzhen International Industrial Design Fair is the only one of its kind all over the world. I was very impressed with how that was organized. It gave me confidence that there is a market here."
Actually, before they opened the office in Shenzhen, his company attended the design fair to test the local design environment. There they met their local client Delux, which immediately decided to hire them for the whole year only after one or two projects.
"We redesigned Delux's entire product portfolio of gaming mice, computer mice...They won three iF awards not long ago. They are starting to realize that their portfolio is being upgraded a lot and the success rate is going up. We did that in a market with fierce competition. So I am very proud of that," said Verstockt.
For one very good reason, Verstockt is 100 percent sure that China will succeed in moving from production to innovation. "China has a huge domestic market so that you can sell product locally first, learn experience and then go overseas when you are successful."
Good design helps solve users' pain points
For Verstockt, to design is to immerge themselves and think like the end consumer. "A good designer doesn't design something he likes, but something the target group likes. We always put ourselves in the shoes of the target group. That's what our second nature is."
One successful example is a project with the company Corsair, which builds products for people who assemble their own computers. The company reached Verstockt's team some nine years ago and asked them to design two keyboards, two mice, and two headsets for it to enter the computer gaming industry.
"We said, 'That's great, but allow us to step back from the product design and build the product language for you first. All your products in the future can follow the same language, and people will come to recognize that the product is from Corsair, thus helping you establish your brand and credibility in the market,'" recalled Verstockt.
They agreed and the company is still using the product language today. "It was a million-dollar company when we started to work for it. Now it is a billion-dollar company, and the No. 2 or No. 3 gaming company in the world. So we are very proud of that."
Verstockt thinks what good design does is to help relieve users' pain points. "If you solve those paint points, users will subconsciously wow at your design," he said.
The first product portfolio they designed for the gaming company is a gaming keyboard. "Ten years back gaming had just started. So we started looking at gamers and realized that for FPS gaming or first person shooting gaming, they only use a few keys," said Verstockt. So they made those keys special. They made rubber keys with different slopes and different hardness and allowed users to change them.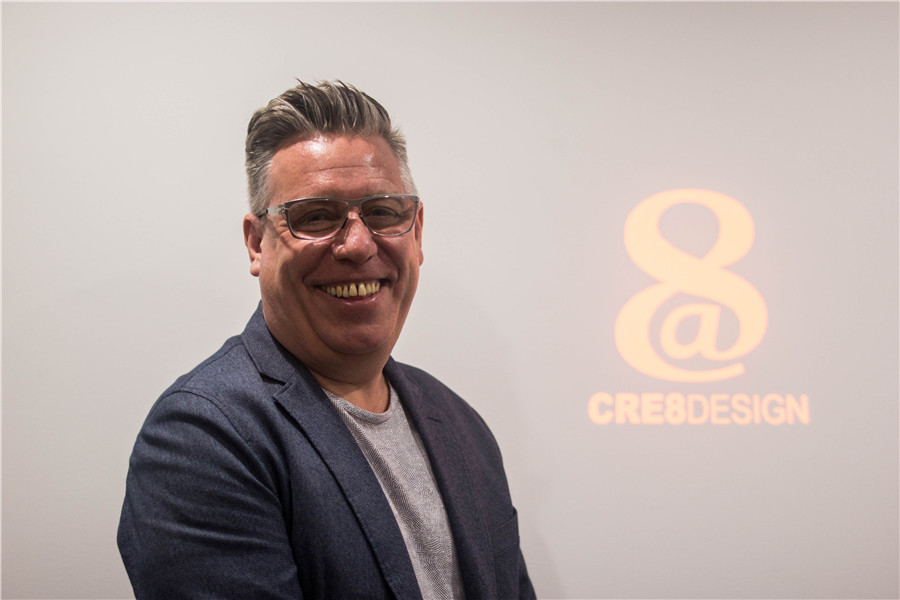 Kris Verstockt at his office in Huaqiangbei. Lin Jianping
They also designed a special palm support to help gamers feel more comfortable using a certain part of the keyboard. "Nobody had ever done that. So when that keyboard got launched, gamers immediately said: 'These guys understand what we do. I am going to believe in it and buy a lot.' That is innovation," said Verstockt, adding that they designed the palm rest as an addition to the project, though the client didn't ask for it.
Additionally, the company was the first to create gaming keyboards with an exposed metal plate as its backbone. The client wanted to make a mechanical gaming keyboard to show off the premium performance switches, so Verstockt and his colleagues suggested they take off the top lid to show the inner metal structure. "Metal is much cooler and premium. You use brushed aluminum for its texture, and it's going to look very high-end."
Speed, a blessing and a risk
Though attracted by the speed of Shenzhen in making business decisions, Verstockt thinks speed can become a risk when it comes to innovation.
"When you are a production house of the world, speed is one of your main advantages. But when you are an innovation house, speed can be a disadvantage. If you are too quick, the quality might be compromised and you may not create the results that you want," said Verstockt.
Innovation takes time and designers need to do their homework. Verstockt cited the typical example of Apple, which takes two or three years to develop one phone.
Verstockt thinks that it's the job of designers to teach local enterprises to change their work style. "The young designers in Shenzhen have to fight with established manufacturing companies and teach them to change and to think of new ways of doing business. We call that design thinking, which can be very powerful if it's really taken serious."
For Verstockt, with a successful company backing him and giving him enough to survive, it's easy to say no and walk away when clients don't listen. But he knows it's not easy for young designers.
"Be patient. Don't go for quick money and keep your integrity," Verstockt said. He advised young designers in China to find a partner that listens. "It doesn't have to be big, just something that can put a foot in the door. Then you can say, 'I have the bare minimum to survive upon. I don't have to listen to what people say. I can tell them what I think they should be doing.'"