Carlos Enrique Berreondo Quezada at Civic Center. Chen Xiaochun
Since traveling to Shenzhen from Guatemala for the first time in 1996, Carlos Enrique Berreondo Quezada has lived through many of the changes Shenzhen has undergone in recent decades.
He arrived in Hong Kong and spent around 20 days in Guangzhou and Shenzhen during the Canton Fair.
"We took the ferry directly from Hong Kong to Guangzhou in 1996. Shenzhen at that time was a different city. Now it's very advanced, very beautiful with many buildings, and the Metro network, which didn't exist at that time. What I like the most are the people here, the tranquility and the security. In our country it's very unsafe and you need to be very careful," Berreondo told the Shenzhen Daily.
Since that time, either Berreondo or his brothers have attended the Canton Fair every year. "It's important to attend the fair because we can see the trend of new things here, and according to this, we produce and export new products in order to take the lead in the technology field in Latin America," said Berreondo.
Born in the municipality of Zacualpa in the Guatemalan Department of El Quiché, Berreondo is currently the CFO of Microsource (SZ) Electronics Tech Ltd., a Shenzhen-based company which produces electronic products like smartphones and tablets for kids in Latin America.
"I founded my first Chinese company with my brothers and a Chinese partner in 2002 in Foshan. We produced electronic products such as UPS, a power supply for PCs and TVs, for the Chinese and Latin American markets."
In 2012, Berreondo founded his current company in Shenzhen with his Peruvian friends. The company is now under Grupo Deltron Peru, a Peruvian computer manufacturer and wholesaler of computer equipment, components, supplies and peripherals that has established itself as the market leader in information technology in the South American country.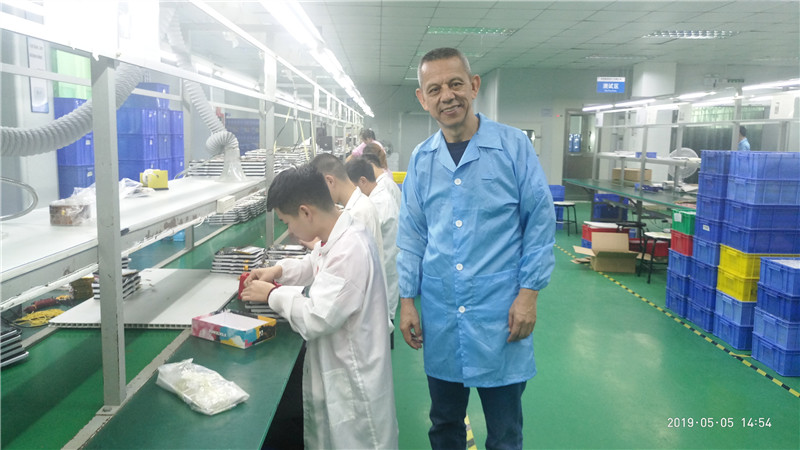 Berreondo working at their factory in Bao'an yesterday.
"In 2014, I decided to live in Shenzhen to supervise the operation of the company. Before that, I worked and lived in Guatemala, and traveled to China every year," recalled Berreondo.
Berreondo told the Shenzhen Daily that manufacturing in Shenzhen has many benefits. First of all, Shenzhen is one of the largest electronics capitals in the world. Secondly, it's easy and low-cost for them to handle defective products, and the other advantage is that the government's subsidies and tax incentives for exports.
"For example, we have participated in the Global Sources fair in Hong Kong as an exhibitor for three years, and the Shenzhen city Government supports us by providing 50 percent of the costs."
Berreondo said there are a lot of job opportunities and security. "This gives us confidence to invest in China. We are also generating many jobs here. What we want is to have long-term economic benefits. It's a win-win," said Berreondo.
Being a sports aficionado who has organized sports clubs for years, Berreondo compares his experience in China with sports. "We enjoy being winners and now we are winning here in China. It's nice to be in China and I am content with my life," he said.
For his next step, he plans to bring Guatemalan goods, such as agricultural products, to China.