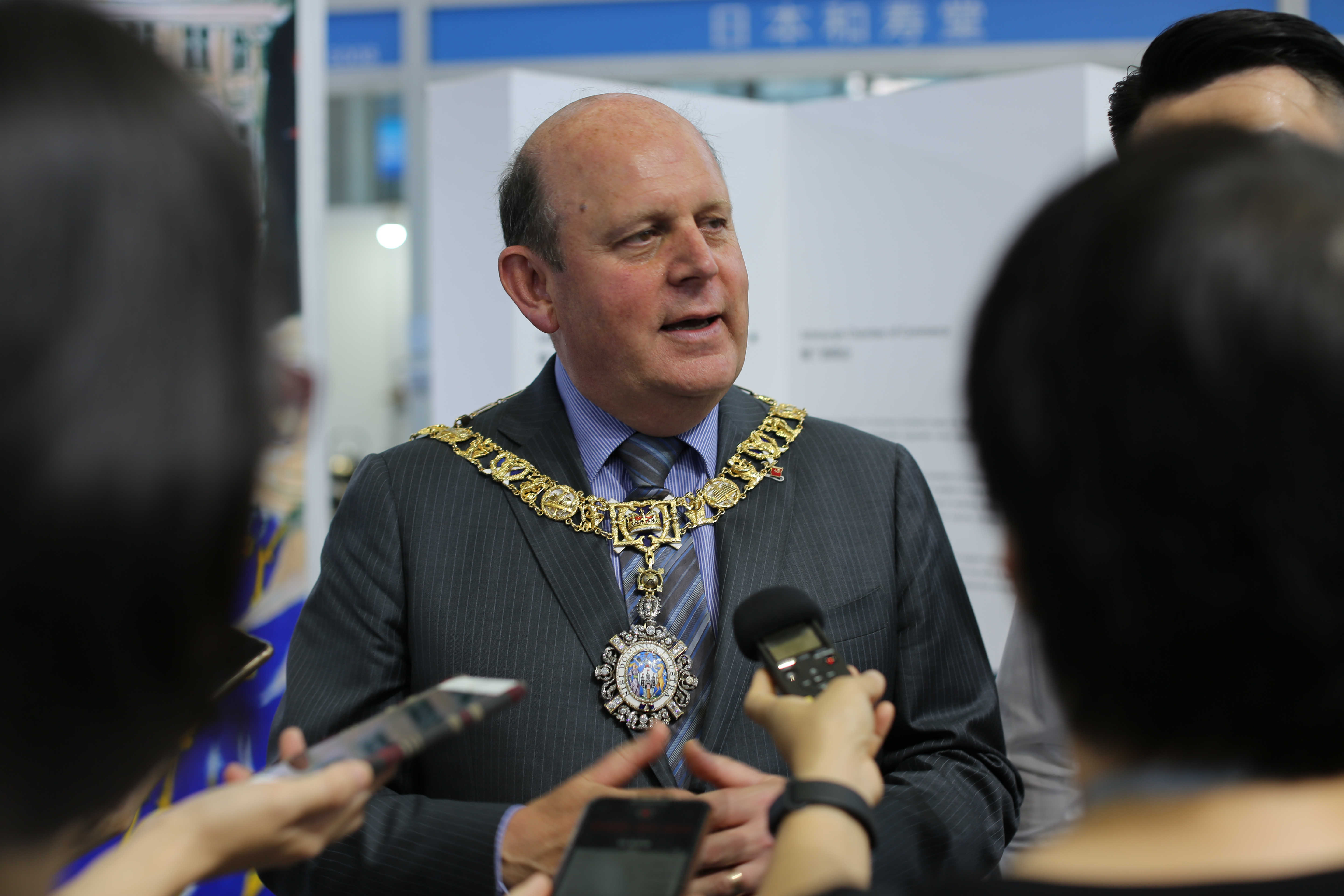 Frank Ross, lord provost of the city of Edinburgh, takes an interview yesterday. Photos by Zhang Yu
Frank Ross, lord provost of the city of Edinburgh, said at the 15th China (Shenzhen) International Cultural Industries Fair (ICIF) on Thursday, the opening day of the fair, that ICIF is now firmly on the agenda for Edinburgh and they will use the fair as a base to introduce new companies to China.
Ross, along with Andrew Kerr, chief executive of the City of Edinburgh Council, and other delegates, visited the Scotland Pavilion in Hall 7, namely, the Belt & Road International Hall, at the Shenzhen Convention and Exhibition Center on Thursday morning.
"I anticipate that we will bring many different companies here each year. Edinburgh has gained for having introduced companies to Shenzhen who have gone on and expanded into the Chinese market. But we have also benefited from Shenzhen companies coming to Edinburgh and sharing their knowledge and technologies with us," Ross told the Shenzhen Daily.
He hopes that the sister-city relationship between Shenzhen and Edinburgh is a new starting point, from which the relationship between the two cities can blossom. "I think it confirms that both Edinburgh and Shenzhen have very similar ambitions in areas of innovation and creativity," Ross said.
Ross disclosed that a key element for the future is improving the connectivity between the two cities. "A short-term goal of ours is to have a direct flight from Edinburgh to Shenzhen. I'm also very keen that we start exchanging young people so that students can travel between the two places and experience the different cultures for themselves."
An eye-catching pavilion in Hall 7, the Scotland Pavilion has gathered five Edinburgh exhibitors. Museum Context, a store that sells Harry Potter merchandise, curios and collectables, makes visitors feel like they are in the wizarding world of Harry Potter.
"What we've brought here is a small showcase of some of the officially licensed Harry Potter items that we create, but our ambition is actually to bring this concept into China," said Andrew McRae, CEO and founder of the store. McRae currently has two such stores, one in Edinburgh and the other in Hong Kong.
The Belt & Road International Hall, covering an area of 7,500 square meters, has attracted nearly 50 countries under the Belt and Road Initiative, as well as other countries and regions, to seek cooperation and business contacts.
Some exhibitors have attended the cultural fair for years. Turkish exhibitor Imran Rah, for instance, has participated in ICIF for three consecutive years to promote Turkish culture and show how their handcrafts are made.
"I think the fair is a good opportunity for us and that's why we come again every year. That's a positive sign for us, because we feel that every year we're doing better than the last year," Rah said.
The fair will run through Monday.