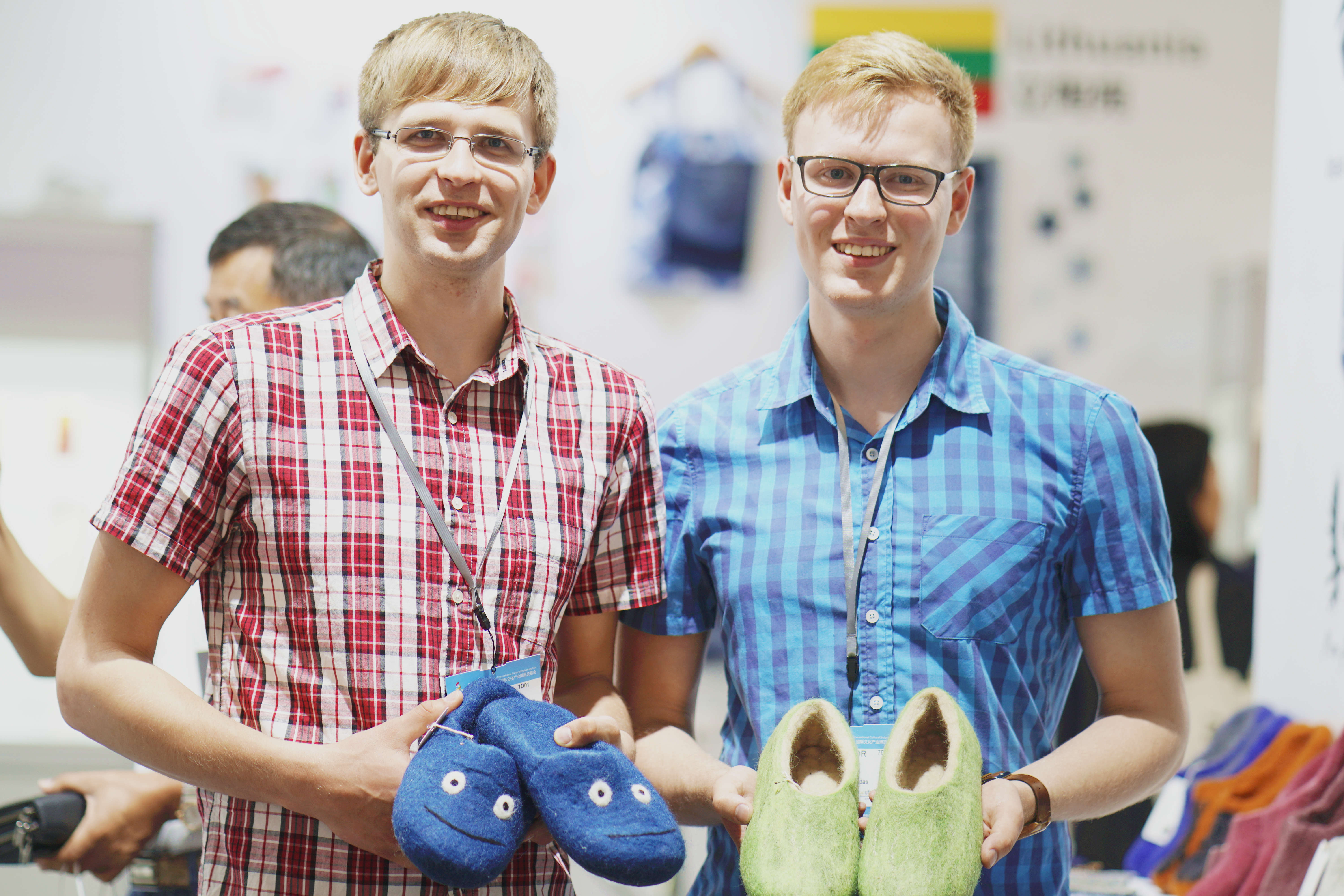 Lithuanian exhibitors show woolen slippers. Wang Haolan
If you are looking for an option to upcycle your worn-out jeans, a good choice would be to grab some inspiration from the Lithuanian designs that wowed fairgoers in Hall 7 at the 15th China (Shenzhen) International Cultural Industries Fair (ICIF) at the Shenzhen Convention and Exhibition Center.
A Baltic state famous for its sporting flair, the Republic of Lithuania enjoys rich mineral and forest resources. Therefore, according to a message from Ante Litteram, a Lithuanian public organization and one of the organizers of the country's exhibition at this year's ICIF, Lithuanian designs greatly emphasize the combination of functionality, aesthetics and sustainability.
Designer Milda Paukste was the major curator of a booth named Denim Diaries, a design studio focused on the upcycling of worn-out denim. "We upcycle each part of an unwanted denim garment into handcrafts and accessories. For instance, the fabrics and pockets are used to make carrier bags, while the zippers and buttons are beaded into earrings," she said.
Those who are willing to find a witty accessory for black suits can also return home fully supplied.
Echoing the emphasis on functionality, the exhibitors introduced specially designed bowties made of concrete materials, including shells and pieces of wood, which were creatively carved into wearable, butterfly-like shapes, adding unique elements to an otherwise serious dress code.
Handcrafts featuring the country's specialties, such as amber and wool, were on display as well.
The Republic of Lithuania has been a regular participant in the ICIF since 2013 and was given the "Outstanding Organizer Award" by the fair's organizing committee in 2017.
Generally coordinated by Shenzhen Central and Eastern European Countries Economy and Culture Promotion Association, other countries such as Poland, Estonia and Romania also participated in this year's ICIF, which concludes today.