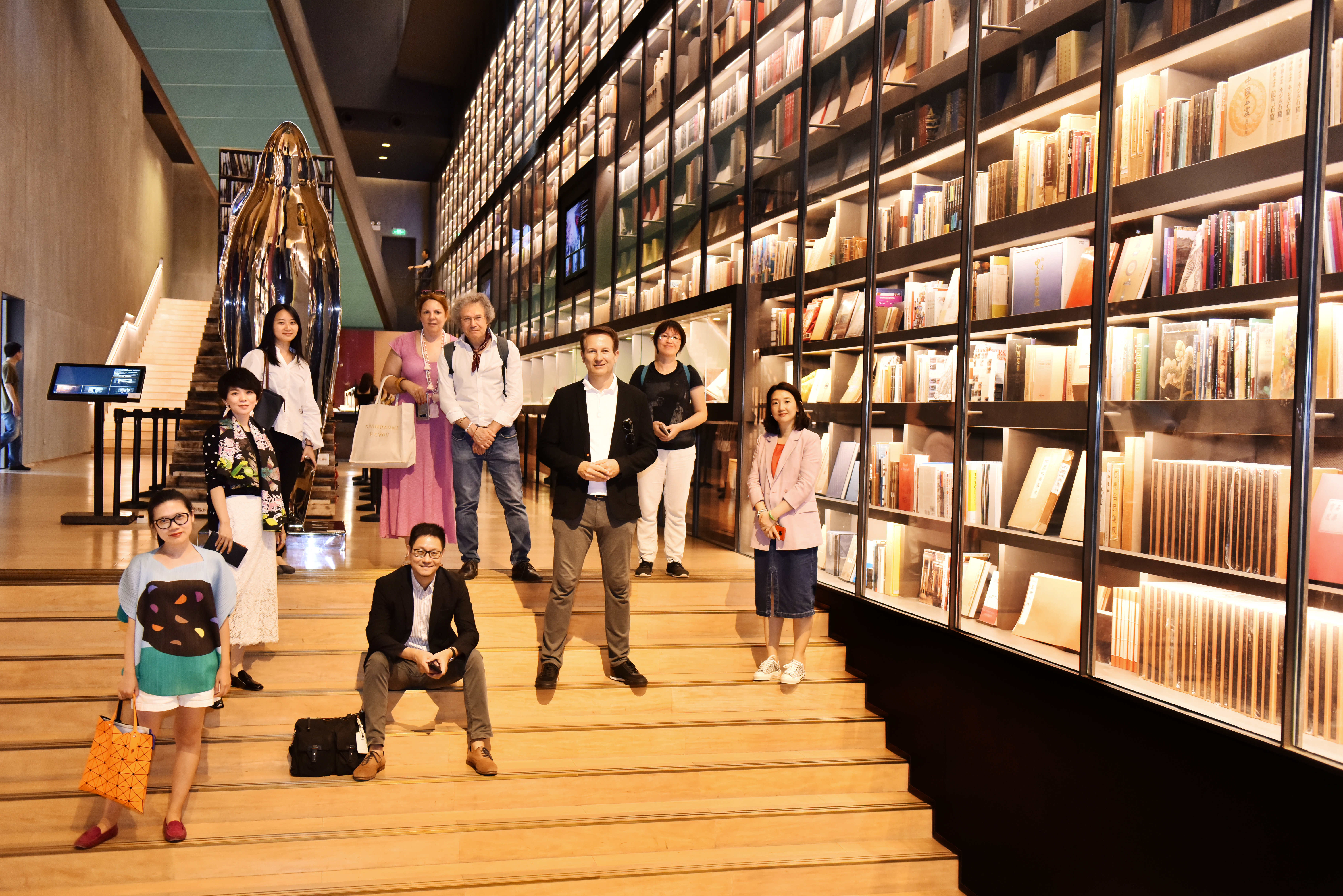 Participants visit Gankeng Hakka Town and Artron Arts Center in an organized tour Saturday. Courtesy of organizer
More than 300 government officials, scholars and enterprise representatives attended the 2019 International Cooperation Forum on Culture and Tourism Service Design at the Shenzhen Convention and Exhibition Center on Friday.
Seven Chinese and overseas experts in the fields of culture, tourism, creative design and service design gave keynote speeches at the forum, which was undertaken by the National Base for International Cultural Trade (Shenzhen). They discussed ways to promote the integrated development of culture and tourism, and to carry out thematic dialogues between China and foreign countries.
"China has seen great achievements in the culture and tourism industries in the past five years. However, our understanding of the international market is not enough," said Ma Feng, deputy director of the Industrial Development Division of the Ministry of Culture and Tourism, adding that the experts' speeches would shed light on service design in the culture and tourism industries.
The keynote speakers included Professor Fan Zhou, dean of the Institute of Cultural Development of the Communication University of China; Mario Sepp, a service design expert from Austria; Hu Meilin, general manager of Overseas Chinese Town Cultural Group; Daniel Raichvarg, emeritus professor of Information and Communication Sciences at the University of Burgundy in France; Zhu Decai, art director of Shenzhen Fringe Art Center; Professor Anne Gombault, director of the Creative Industries and Culture Research Center of Kedge Business School in France; and Li Zhixiang, founder of Lesages Consultant Inc. and a former core member of Eslite Group in Taiwan.
The experts visited Gankeng Hakka Town and Artron Arts Center in an organized tour Saturday. They were all deeply impressed. "Hakka (Town) is an efficient theme park promoting the 'recreation' of heritage to provide knowledge and entertainment, and Artron Arts Center uses excellent design and digital technology to value art books. It creates a fascinating aesthetic experience unseen elsewhere. Shenzhen is really this creative city able to mix tradition and creation," said Gombault.
"It's very interesting for me to see the ancient site (Gankeng), and the new and indulging place (Artron), with art from all over the world," said Sepp. Raichvarg described the Hakka Town's teahouse and the art center as "jewelry boxes."