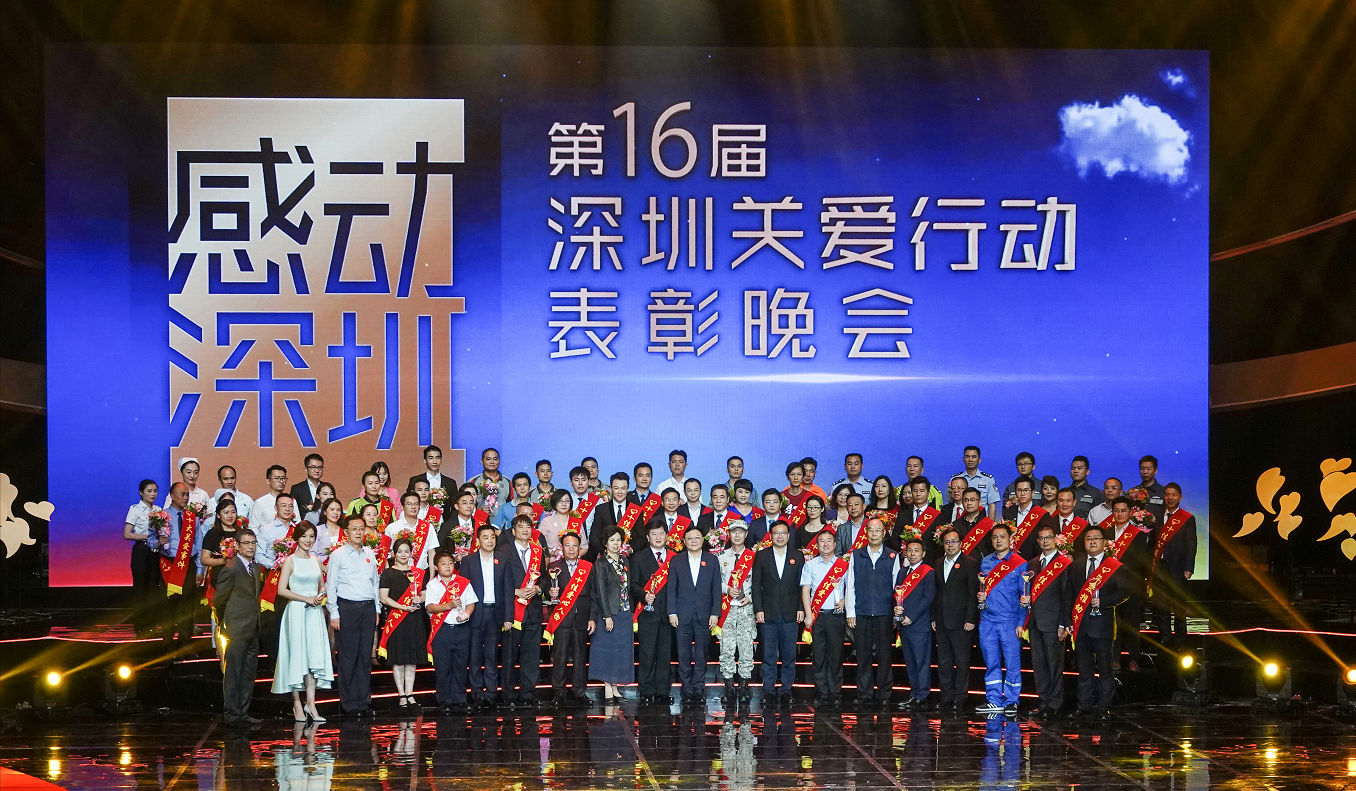 Individuals and representatives of organizations pose for a picture after being awarded for their benevolent acts last year at an awards ceremony held in a studio hall in the Shenzhen Media Group building Monday night. Courtesy of Shenzhen Project Care Office
Several lists of individuals and organizations awarded for their benevolent acts last year were announced at an awards ceremony held in a studio hall in the Shenzhen Media Group building Monday night.
Among those awarded were sanitation workers, traffic police officers, teachers, nurses, deliverymen, taxi drivers and others from all walks of life who had lent a hand to those needing help in everyday life or emergency situations.
The annual awards ceremony was hosted by the city's spiritual civilization construction office and organized by the city's publicity department and the Shenzhen Project Care Office along with several other government departments. It was the 16th city-level awards ceremony held to honor those bravely stepping forward to help those in need.
One of the 10 awarded individuals was a primary school student named Wei Hanyu. For four years, the boy assisted his classmate, who is an Amyotrophic Lateral Sclerosis (ALS) patient, with moving and participating in school activities in his wheelchair every day at school.
Another awarded individual was Zhong Shan, who is director of Shenzhen Children's Hospital and also an activist helping promote voluntary medical services among registered volunteers in Shenzhen. The director established an organization focused on the mental and physical health of medical practitioners to reduce the burden of their work.
A handful of enterprises and social organizations, including some well-known corporations like SF Express, Starbucks, DJI and BYD, were also recognized for their generous donations and contributions to help solve social problems.
A special award was given to people who had stuck to their posts during the destructive Super Typhoon Mangkhut, which hit Shenzhen last September. These people included journalists who made live reports despite the strong wind and rain, staffers from the power supply bureau who restored electricity overnight, medical staff who stayed at hospitals to treat those injured during the typhoon and more.
Top government officials in Shenzhen, including Wang Weizhong, the city's Party chief, and Chen Rugui, mayor of Shenzhen, participated in the awards ceremony Monday.