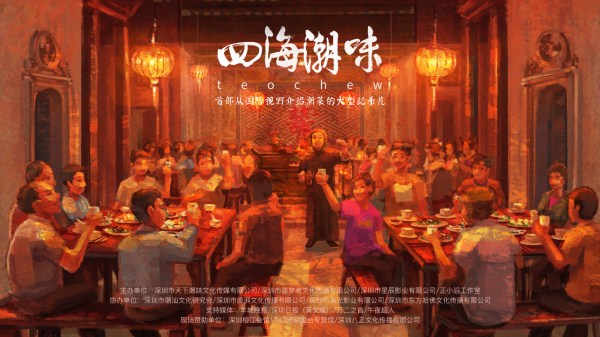 A documentary on Chaoshan food is expected to debut in late 2020. Intrigued by the interesting details about Chaoshan food, Lan Hongchun, a Chaoshan native, decides to dig into the story behind his home's cuisines.
Located in East Guangdong Province and facing the South China Sea, Chao-shan encompasses three administrative cities — Chaozhou, Shantou and Jieyang — and has a distinct dialect and culture.
Chaoshan people are migrant people. Over two-thirds of Chaoshan people leave their hometown to fight for a better life at different corners of the world. To cure their homesickness, they bring their food culture along with them, which explains why nowadays it's quite easy to encounter Chaoshan (also called "Teochew") cuisine from wherever you might be.
However, Chaoshan cuisine in other parts of the world, including Hong Kong and Southeast Asia, are somewhat different from that which is found at home on the mainland. For example, pettitoes (the feet of a pig used for food) made by Chaoshan cooks in Thailand are different from the original Chaoshan recipe. In the Chaoshan region, normally people cook it with flour, taro and soybean, but in Thailand they cook it with ormosia, a type of legume.
Another example is the char kway teow, literally "stir-fried rice cake strips." In Southeast Asia, it is topped with a layer of blood clam, differing from the usual way it is prepared in Chaoshan.
Lan's documentary, titled "Teochew," will focus on the evolution and story of Teochew cuisine.
"The documentary will search for Teochew cuisine around the world. It will be the first documentary to introduce the cuisine in a systematic way. The food evolves as Chaoshan people migrate. My team will present Chaoshan delicacies as the carrier of the development and status quo of Chaoshan food from a global perspective. We will also depict Chaoshan culture, customs and bonds through Chaoshan food, trying to savor the hardworking and daring spirit of our people," said Lan.
Famous scholar Lin Lunlun, also a Chaoshan native, encourages and supports the filming of the documentary. "It's both easy and hard to make this film. 'A Bite of China' episodes, especially 'Once Upon a Bite,' were all so good that when people watched them they wanted to eat Chaoshan food. So it's really hard to exceed these two (earlier shows) in terms of technical aspects."
"So why do I still encourage him to make the documentary? Because we are Chaoshanese and we of all people understand the bond and family affection behind the food best. The documentary will not merely be a documentary about food, but a film that will touch the heartstrings of Chaoshan people across the world, a film that will instill pride and passion in Chaoshanese far away from home, and will prompt them to learn more about Chaoshan culture with the same passion they have for eating beef hot pot and other Chaoshan cuisine," said Lin.
Currently, the team has finished their research stage. They will travel around the world, for example, to Thailand, France, New Zealand, Cambodia, Malaysia and China's Taiwan, to seek out people of Chaoshan descent, Chaoshan food and the stories behind them.