"Touch: 2019 Annil Grow Up Together," an exhibition featuring 149 children's paintings, is being held at Guan Shanyue Art Museum until June 9 to mark Children's Day. The exhibition, in its sixth year, is jointly organized by the museum and Annil kidswear.
To optimize the exhibition for parent-child dates, the curators hung some paintings 2 meters above the floor so that kids can best view the exhibition when sitting on their parents' shoulders.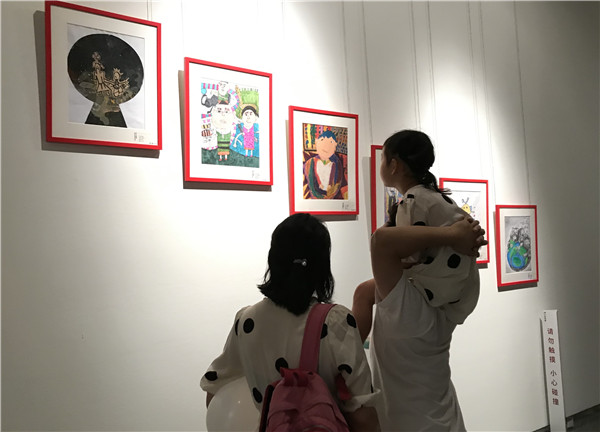 Visitors at the exhibition. Photos by Cao Zhen
On June 8 and 9, children can also sit on the shoulders of museum staff members who will dress up like superheroes, letting kids tour the exhibition halls from the viewpoint of Iron Man, Spider Man and Captain America. Children whose weight is not more than 18 kilograms can apply for this event at the museum's service counter. Parents can also borrow costumes every day until June 9 to dress up like superheroes while visiting the exhibition with their kids.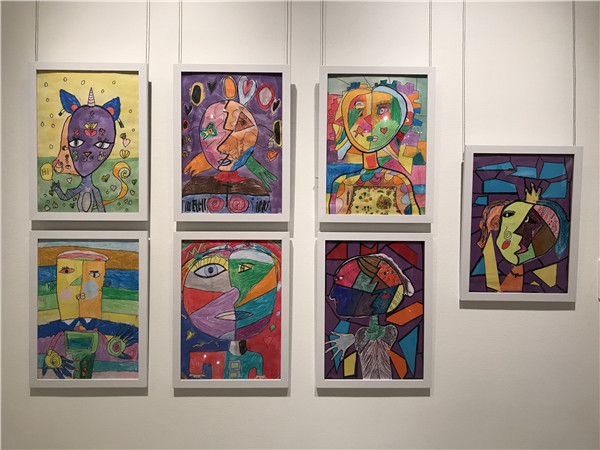 Paintings exhibited.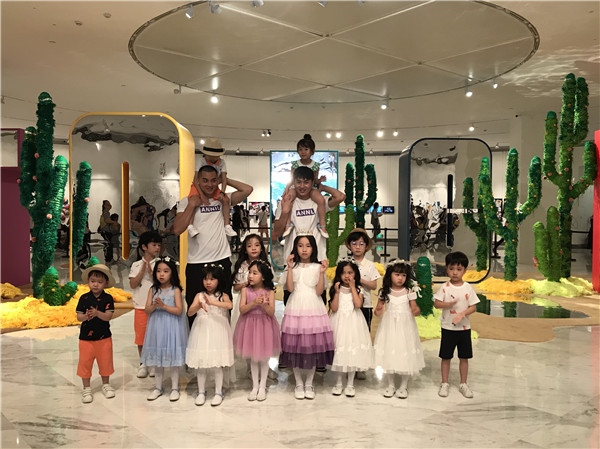 Visitors at the exhibition.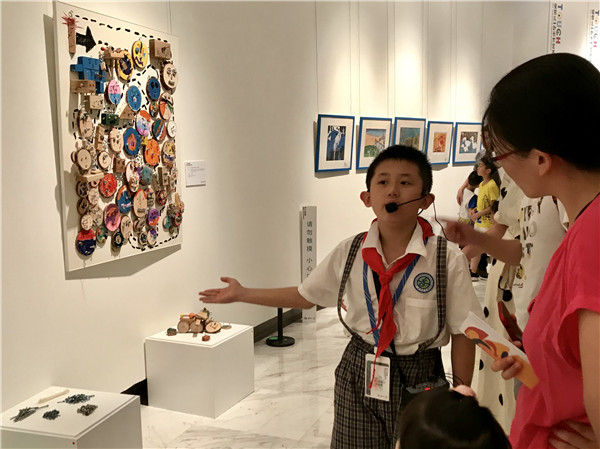 A guider from Tianjian Primary School at the exhibition.
"We received nearly 60,000 children's paintings from around the country and finally selected 149 pieces for the exhibition," said Yan Weixin, deputy director of the museum. "We hope to present children's inner world, the colors inside their hearts, through the exhibition."
"This year, we use 'touch' as the theme because it is one of the ways that children get to know the world. Meanwhile, when a child sits on his or her dad's shoulders, the child not only gets a close interaction with his or her dad but also has a higher vision of the world," said Cao Zhang, general manager of Annil Co. Ltd.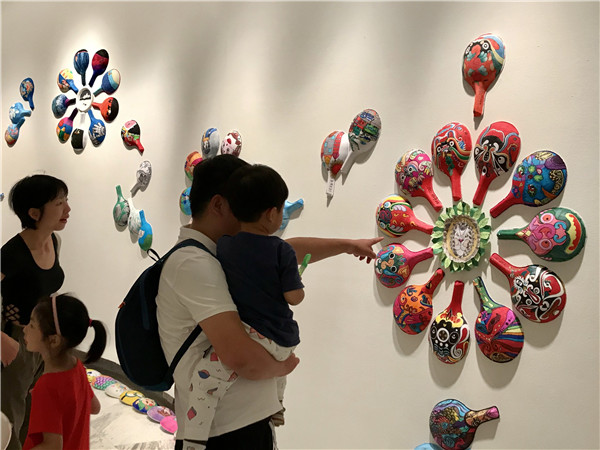 Visitors at the exhibition.
In addition to children's paintings, installations created by adult artists are also on display at the exhibition. Children can indulge themselves inside a "special jungle" created by Ken Malson and Tian Yuanjing, or explore a maze-like origami and light installation created by Qian Honglin and Xu Zhenbang. Various painting workshops will also be held all day from June 7 to 9.
Venue: Guan Shanyue Art Museum, 6026 Hongli Road, Futian District (福田区红荔路6026号关山月美术馆)
Metro: Line 3 or 4 to Children's Palace Station (少年宫站), Exit B