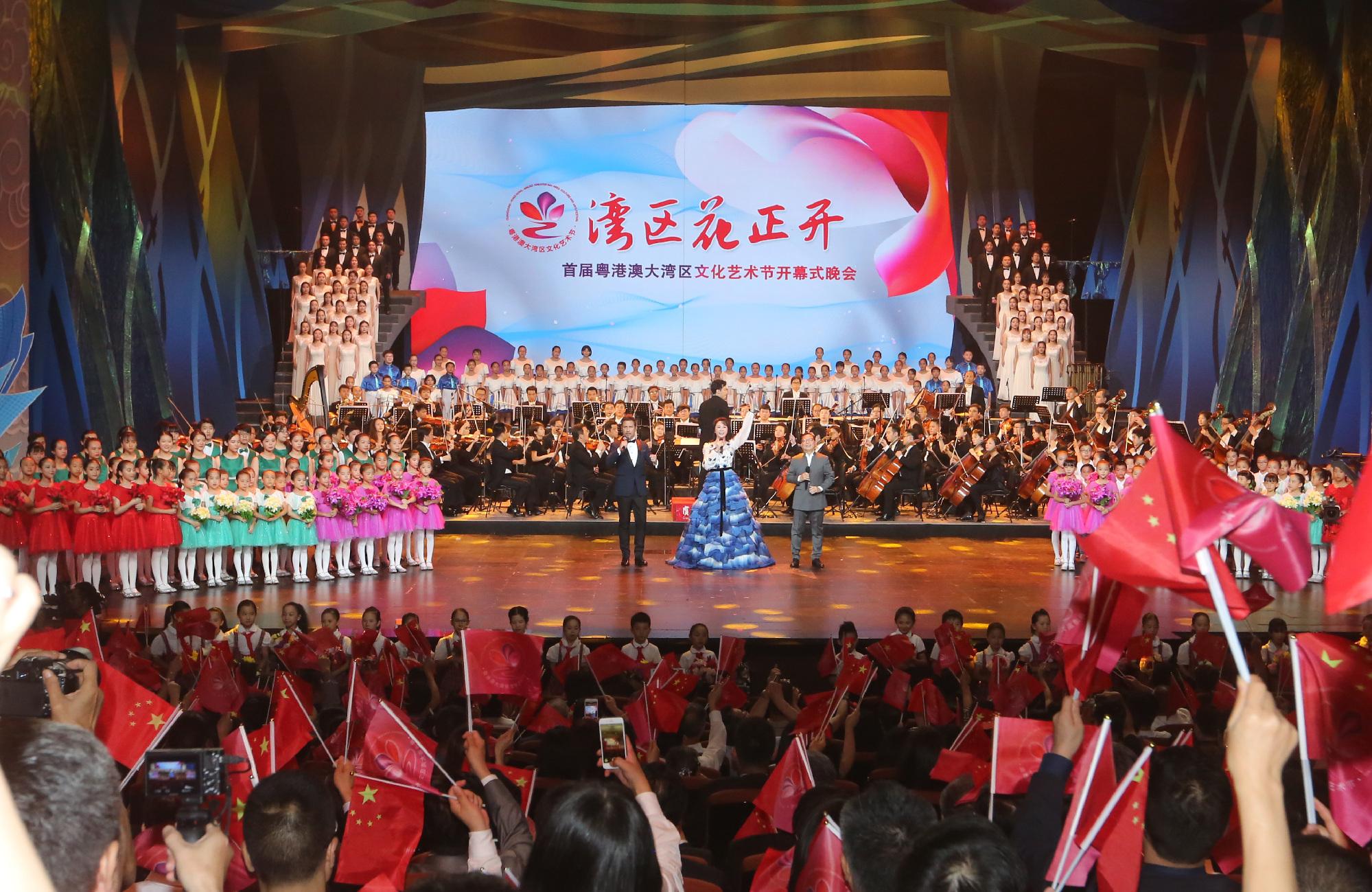 Singers and an orchestra perform onstage at yesterday's event.
The first Guangdong-Hong Kong-Macao Greater Bay Area Culture and Arts Festival opened at Guangzhou Opera House yesterday.
The event, jointly organized by the Guangdong, Hong Kong and Macao governments and the Ministry of Culture and Tourism, will be an annual event to be hosted by one of the11 cities in the Greater Bay Area.
Major activities of this year's festival will last until next month, with some follow-up activities to run through the rest of the year.
To promote the cultural resources of Guangdong, Hong Kong and Macao, the festival will have a unified logo.
The logo for the2019 festival, themed"Blossom of the Greater Bay Area," is a combination of the petals of flowers from the three regions— the kapok, the Chinese redbud and the lotus— which form the Chinese character for"arts" with a river-shaped symbol below it, indicating the cultural integration and arts prosperity of the three regions that share the Pearl River.
The opening ceremony featured songs"Shared Homeland" and"We Love Each Other"— the theme song of the festival— performed by singers from Guangdong, Hong Kong and Macao, symphony"Beautiful Greater Bay Area" and ballet dances, aiming to convey an idea that the three regions share the same cultural roots, breath and branches.
Simultaneously with the opening ceremony, a boating display consisting of one major boat and11 smaller boats representing the11 cities in the Greater Bay Area was held on the Pearl River, which runs through Guangzhou. Through activities, decorations, beams and city elements on the boats progressing through the river, the display signified the prosperity of the Greater Bay Area.
During the festival, more than100 activities in11 categories, including art tours, opera weeks, international dance seasons, art exhibitions, literature weeks, students' poetry recitals, and international music and film festivals will be held.
Hong Kong will organize the2019 Traditional Chinese Opera Festival, Canton Opera Music Festival and South Ridge (Lingnan) Ethnic Indoor Orchestra. Macao will introduce the2019 International Youth Opera series under the theme of a Sino-Portuguese culture festival.
The nine cities in Guangdong will also present programs of local features. Guangzhou will organize art festivals, citizen festivals and music festivals, while Shenzhen will organize youth carnivals. Zhuhai, Foshan, Zhaoqing, Huizhou, Zhongshan, Dongguan and Jiangmen will also organize events featuring their localities.
The organization of the festival is aimed to implement the strategy mentioned in the Outline Development Plan for the Guangdong-Hong Kong-Macao Greater Bay Area, which was approved by the CPC Central Committee and the State Council in February.