Every year, when world-class musicians come to China to perform some of the masterpieces of classical music, many music lovers leap at the chance to enjoy live music but are daunted by steep ticket prices. However, Zong Xiaojun, an associate professor of Central Conservatory of Music (CCOM) in Beijing, believes that one can still enjoy concerts from cheap seats.

"I don't suggest music lovers pay large amounts of money for one seat at a concert. Buying cheap tickets for back seats or attending small-sized music events doesn't affect a person enjoying music," said Zong, who gave a lecture titled "The Essence of Music" June 22 at Shenzhen Library.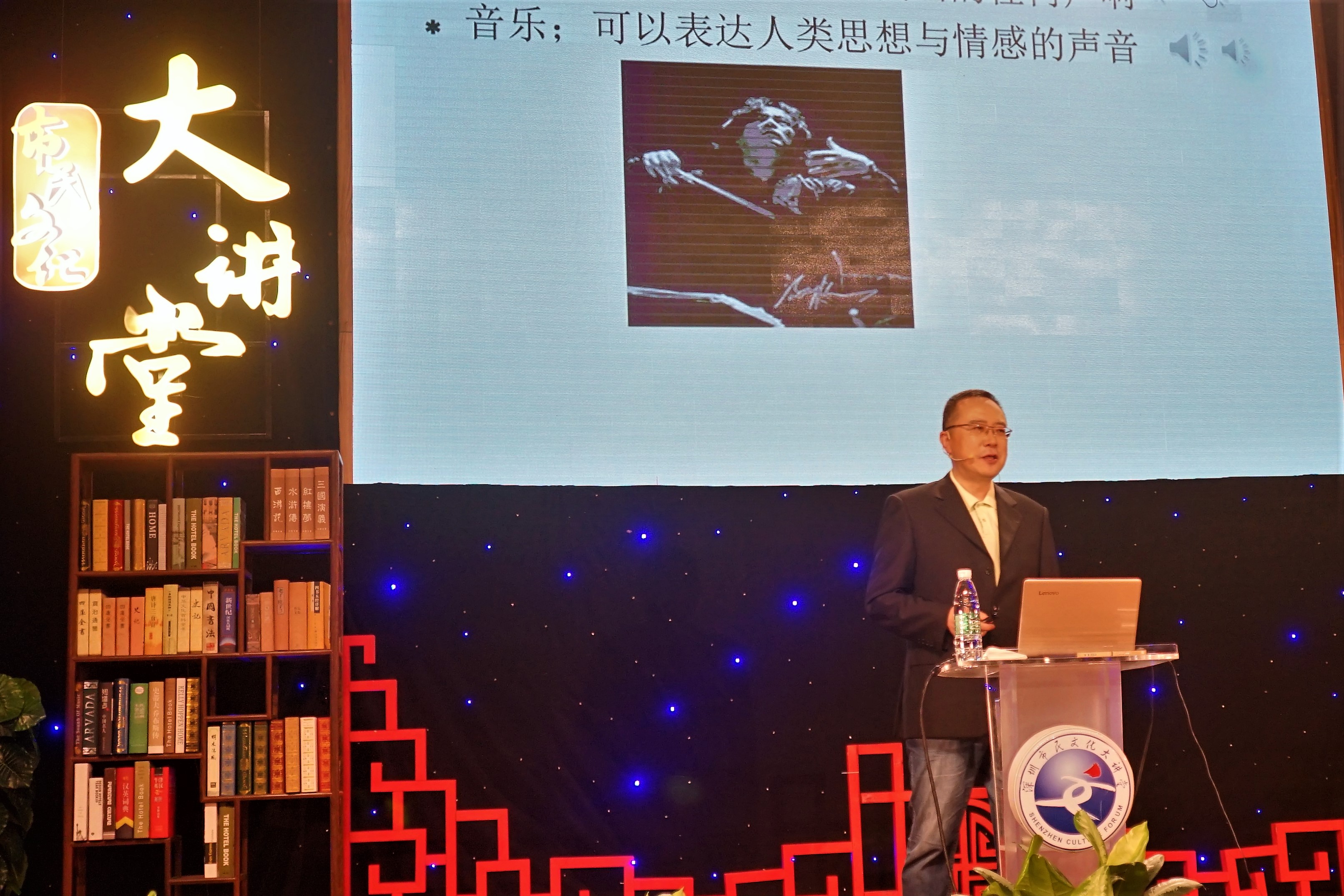 Hosted by the Publicity Department of Shenzhen Municipal Committee of the CPC, the lecture attracted hundreds of audience members. Zong raised three perceptual points that music brings to a society: aesthetics, emotions, and imagination. Then he elaborated saying that the three points all come from people's hearts before they are immersed into all types of music, and then the music spreads those perceptions out to humans again.
"Creation often comes from imagination," said Zong. "Emotions bring out a colorful life, and aesthetics give us an understanding of beauty." Therefore, Zong said, as music enriches people's lives, more creations may come about, people's lives become more colorful and emotional, and humans will improve their aesthetic sense.
Majoring in cello performance, Zong graduated from CCOM in 1991 with a bachelor's degree. He later obtained his master's degree in music business and the entertainment industry from the University of Miami in the United States in 1997. "I appreciate my parents because they led me on this path of music," said Zong, whose father is a cello professor and mother is a composer. "Yet it was until I obtained my master's degree that I understood that the essence of music is to express human thoughts and emotions."
Since 2002, he has worked in the musicology department of CCOM and established China's first music and art management program in the conservatory. As an associate professor, he strives to enhance the public's understanding in music and developing a better music atmosphere in a society through the program he created.
From 2010 to 2018, Zong served as assistant to the director of Shanghai Philharmonic Orchestra (SPO). During those eight years, he spoke out about the perceptual meanings of music to people in Shanghai, receiving positive responses. According to his work report issued by SPO, he has held more than 500 free public lectures around the country and attracted more than 50,000 audience members to SPO's concerts.
"As a cellist, how many people can I attract in a single recital?" asked Zong. "If I am a speaker of music, how many people can I attract to love music? Those people will become the real members of the music family. That's my goal for these free lectures."