Rarely do classical music lovers see piano soloists performing with a score. But this is what renowned Japan-based Russian pianist Irina Mejoueva was doing when she gave her recital in Shenzhen on June 23, and she regards the practice as a special "conversation" between her and the score.
Wearing a beautiful ocean-blue fitted dress, Mejoueva performed several pieces from the Romantic period during her recital at Mountain View Theater in Shekou, featuring Chopin, Liszt, Debussy, Scriabin and Medtner. With the score placed on the piano, she became immersed in the music as she simultaneously focused her eyes on the score and the keys.
Her interpretations of the pieces varied. Under Mejoueva's hands, Chopin's pieces were like beautiful love stories replete with fate and adventure. Debussy on the other hand was bright and clear, like a choir singing on a hilltop. Following these, Liszt was completely different. With thrilling emotion and unresolved chords, the pieces portrayed turbulent and unexpected destinations to the listeners.
Scriabin and Medtner, featured in the second half of the performance, are both from Russia. Scriabin's tunes expanded the perspectives of the audience, broad and deep. Last but not least, Medtner provided the high tide of the night with Medtner's "Spring Tale, Op. 39 No. 3." With the unending applause of the guests at the end of the performance, Mejoueva performed two encores, one from Rachmaninov and the other a nocturne from Chopin.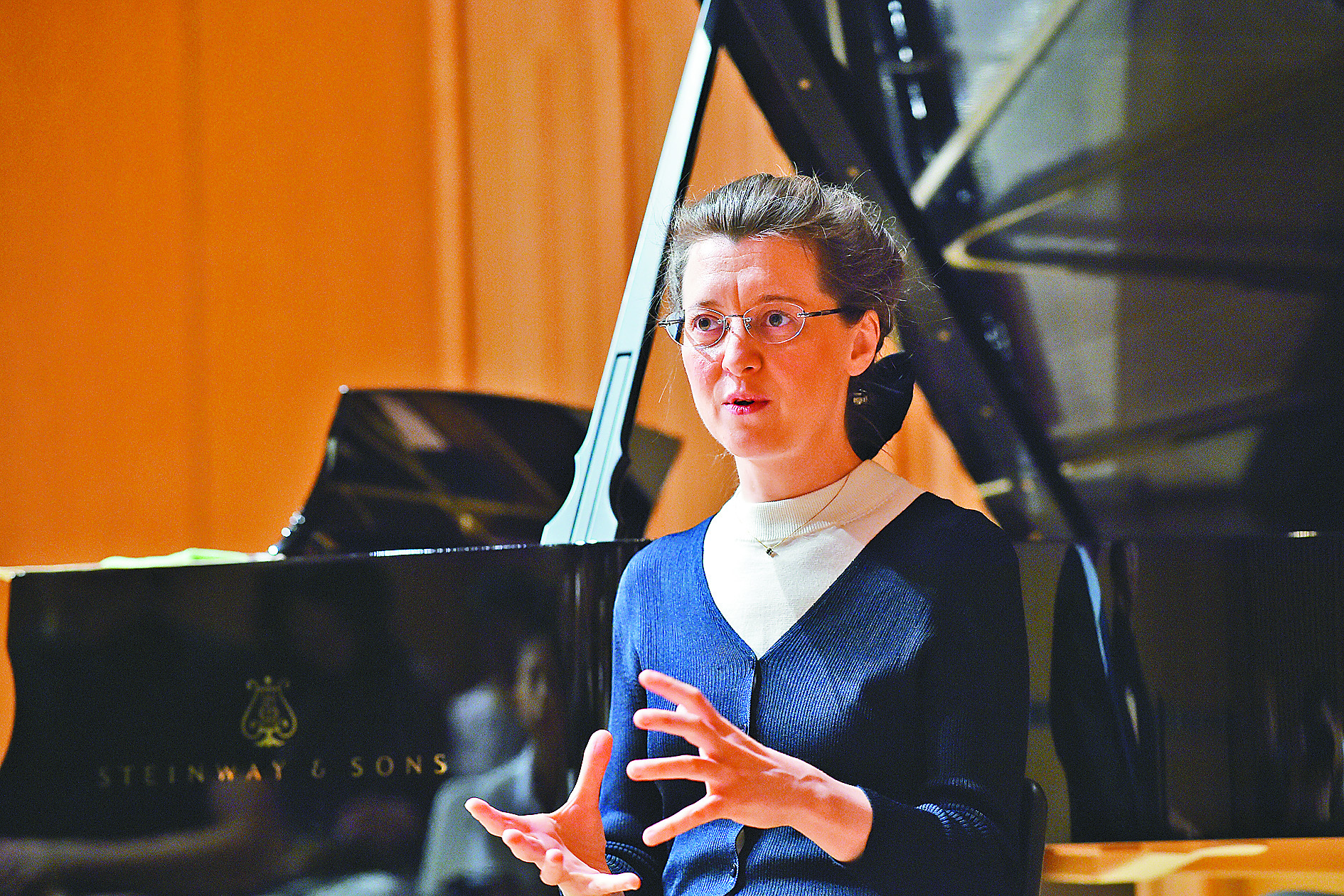 In the morning before the concert, she talked with fans and gave quite unique and powerful answers, which brought the audience members closer to the pianist's life.
Mejoueva studied at Gnessin Institute of Music in Moscow, under pianist Vladimir Tropp. She won the first prize at the Eduard Flipse Piano Competition in 1992, which was followed by numerous performance invitations throughout Europe. Since 1997, she has settled in Japan and made many recordings for Wakabayashi Koubou and other Japanese labels. As a touring pianist playing around the globe, she also teaches at the music department of Kyoto City University of Arts in Japan.
Mejoueva said she does not play as emotional or expressive as other Russian pianists. She moved to Japan because she was fascinated by the traditional culture there. She loves the quiet and almost silent music performed in Japan, and especially the accurate interpretations of the composers.
Although she feels enriched by the music in Japan, she also spreads the musical ideas she inherited from Russia. She wants all of her students to feel the emotions in music and to develop a passion for music gradually instead of moving too fast.
Before the concert, Shenzhen Daily sat with Mejoueva for an exclusive interview.
SZ Daily: Which period of music do you like the most?
Mejoueva: Some pianists want to somehow limit their repertoire. They want to go narrow and deep. I want to go wider and also deep, and I want to get a huge repertoire. I loved Chopin's music from the very beginning. When I was a child, he was my hero. When I was young, I was concentrating on Romantic music, but with age, I fell in love with Beethoven and other music from the Classical period. Somehow inside myself, I have these three — Chopin, Classical period music or Beethoven, and Russian music — at the same time. I am trying to keep all of them together, not limiting myself. I am still trying to enlarge my repertoire, and I have recently been working on Bach.
SZ Daily: You have said, "I am a performer. Since I am not a composer, the piece exists only in the score." When you play those pieces, how do you express the pieces from the scores?
Mejoueva: When I was young and practicing, I would put the score before me but I was not looking at it. This would happen every day. I just followed my feelings. Then I was shocked: It was not what Chopin or Beethoven had written. It was not their things that I was doing. From that point I started to look at the scores not only during practice but also on the stage. Of course, I know the pieces, but it is still so important to follow all these things on the stage. The more you follow what is written on the score, the deeper the score speaks to you, because it is all kind of a conversation between you and the score.
SZ Daily: You feel the composer is speaking to you through the score?
Mejoueva: Yes, I mean it is not so easy but I am trying to have conversations. It is a very spiritual thing because they are dead people, but the pieces still exist. All of us use the same scores, but our interpretations are so different. So it is about how you read, but it should not be from your side, like how I feel or how I see. You are responsible to ask. If you want to ask more, sometimes it "answers." A score is not a dead thing, it is always new. I have played pieces for 30 years, but I still find something new. You are just a helper. You help these scores become alive, to turn them into sound.
SZ Daily: Some pianists do not look at scores when they play.
Mejoueva: I think it is free and you have a choice. For my experience, I can say playing with scores on the stage adds a lot, much more than playing without them. A teacher of my teacher, Heinrich Neuhaus, is a founder of the Russian school of piano. He advised young pianists to play with scores, because you can develop a larger repertoire. Unfortunately, not many musicians follow the advice of great masters. I want to follow their paths.
SZ Daily: Are you going to release a new album soon?
Mejoueva: I have recorded all of Beethoven's sonatas. Next year will be the 250th anniversary of Beethoven's birth. On this date, I am going to release some famous pieces by Beethoven.