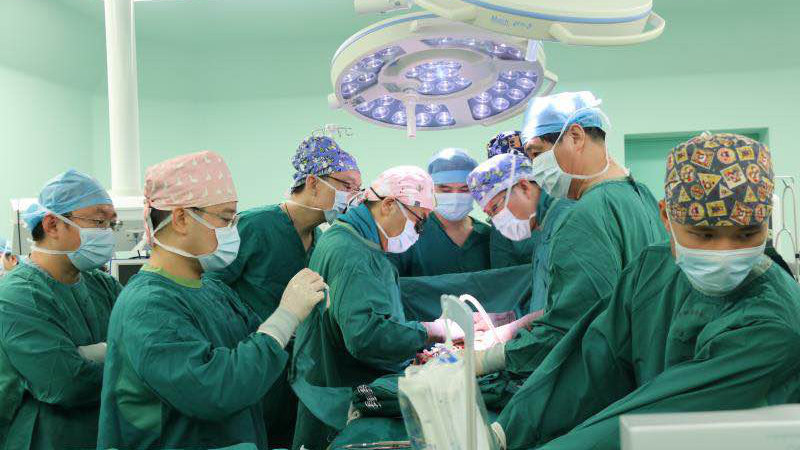 Doctors perform the implantation surgery on Wang. File photo
The implantation of a third-generation all-maglev artificial heart independently developed in China was successfully performed at Shenzhen Hospital of Fuwai Hospital under the Chinese Academy of Medical Sciences on Wednesday.

The surgery managed to bring a man suffering from heart failure back to life, the Daily Sunshine reported.
Performed by Hu Shengshou, academician of Chinese Academy of Engineering and a cardiovascular specialist, the surgery is the first artificial heart implantation in South China and the ninth in China.
The patient surnamed Wang is 36 years old. Four years ago, he experienced chest tightness and shortness of breath after exercising and began panting heavily while climbing stairs. His symptoms worsened over the past two years.
On May 22 this year, Wang was admitted to the hospital and diagnosed with valvular heart disease and severe aortic regurgitation.
The left chamber of his heart had enlarged to 113 millimeters in length.
A normal, healthy heart in an adult usually measures between 80 to 90 millimeters in length.
After a discussion, multi-disciplinary experts determined that drug therapy alone could not alleviate Wang's heart failure.
The experts decided to carry out an artificial heart implantation for Wang after reaching a consensus with the patient.
On Wednesday morning, the surgical team successfully implanted the artificial heart in Wang's body. The surgery lasted more than four hours.
According to Hu, the three-year survival rate of an artificial heart implant is comparable to that of a heart transplant, and the application of the former is wider.
The completion of the surgery shows that Shenzhen has matched the national level, and even the world, in the latest cardiovascular technology.
Hu said that imported artificial heart devices are priced between 1.3 million (US$189,385) and 1.5 million yuan at present.
According to the report, the third-generation all-maglev artificial heart is expected to be officially launched on the market around the middle of next year, and the price is at least half of that of the imported devices.