Solo violin pieces by Johann Sebastian Bach and Eugène Ysaÿe place high technical demands on its performer. Although there are Paganini's "Caprices" and other romantic, virtuosic solo pieces, large-scale works like the ones by Bach or Ysaÿe are very rare.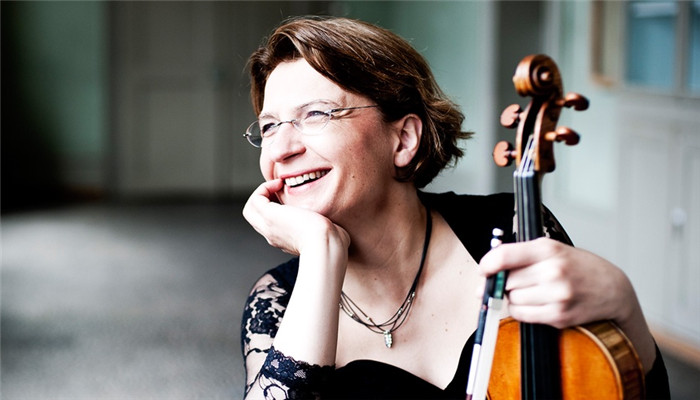 This Saturday night, German violinist and professor Antje Weithaas will present Bach's "Partita No. 1" and "Partita No. 2" as well as Ysaÿe's "Sonata for Solo Violin No. 2" and "Sonata for Solo Violin No. 5" at Mountain View Theater at Sea World Culture and Arts Center in Shenzhen. Audience members will enjoy prominent characteristics and violin techniques from the contrasting Baroque and the 20th century periods.

With compelling musical intelligence and technical mastery, Weithaas is acclaimed by BBC Music Magazine for her "bewitching ability to make the violin 'sing' whatever the technical pressures." Her student, award-winning Chinese violinist Ning Feng, once said she is an all-round musician, playing solo and chamber music as well as in symphony orchestras and teaching students, which influenced him significantly.

Weithaas won the Kreisler Competition in Graz in 1987, the Bach Competition in Leipzig in 1988 and the Hanover International Violin Competition in 1991. After teaching at the Universität der Künste Berlin, she became a professor of violin at the Hochschule für Musik Hanns Eisler Berlin in 2004.

She plays on a 2001 Peter Greiner violin and has an extensive recorded discography. From 2014 to 2017, she released a trilogy of the complete recordings of Bach's six sonatas and partitas for solo violin in conjunction with Ysaÿe's six solo violin sonatas.

Last week, Shenzhen Daily had an exclusive email interview with Weithaas, who gave us a thoughtful commentary on music and career.

SZ Daily: Would you please tell us about your modern Peter Greiner violin? How's this violin different from antique violins in sound quality?

Weithaas: When I think of music, I hear all kinds of sounds in my inner ear and need an instrument that can create all of them. The instrument has to be extremely versatile and colorful. I find all this in my modern violin by Peter Greiner. It can beguile, sound sallow and even ugly from time to time, but it has an enormous dynamic range. It was definitely love at first sound. Greiner often heard me live on stage and I am sure that this influenced him when he built the instrument.
SZ Daily: Why did you record the complete Bach and Ysaÿe works for solo violin? When you arranged the pieces for each album of the trilogy and selected the program for this concert, did you have special considerations in mind?
Weithaas: The Bach works are very well-known, but those by Ysaÿe? He is always put in the virtuoso category, but always wanted to be considered a serious composer. And in my eyes, he is! Ysaÿe sketched out his six sonatas for solo violin in just 24 hours, after hearing a concert by the violinist Joseph Szigeti in which the latter played "Sonata in G Minor, BWV 1001" by Bach. The 65-year-old Ysaÿe dedicated each of his Op. 27 sonatas to a different violinist — he portrayed their characters in the sonatas, but also showed whom he ideally wanted as interpreter for each work.

The relationships between the works by Bach and Ysaÿe are so strong, and that is why I recorded them together and always combine these two composers in my solo recitals. It's a completely new experience for the audience as well. They mostly come because they love Bach. And then they discover Ysaÿe. After Bach, their ears are opened for Ysaÿe's subtleties — and after that, they hear more in Bach's works than they did at the beginning.

In general, I am convinced that it makes a huge difference for the listener, in which order he/she listens to certain works. For example, I often try to include a contemporary work before I play Mozart — I am absolutely sure that the ears of the audience will be much more open to Mozart's dissonances and abysses after having experienced a contemporary work.

Concerning the order of the program, I tried to consider comprehensible pairings between Bach and Ysaÿe. There is either a clear structural proximity or a musical message which connects the works.

SZ Daily: Apart from technical capability, is there anything emotional or musical inside the Bach and Ysaÿe pieces that a violinist should render?

Weithaas: Bach can be clearly felt as a model in many passages in Ysaÿe's sonatas, whether in the relationship between major and minor, in note-for-note quotes or in the movements' structures.

However, whereas Ysaÿe's Op. 27 sonatas are full of the sagacity of age, Bach's sonatas and partitas are very early works. Bach was just 31 years old when he composed these masterpieces of the violin literature. But they still capture the whole of life in unbelievable complexity. Each sonata or partita has its very own character, even each movement within the pieces, and it is of course one of the greatest challenges for every violinist to display this. Technical capability is "just" the basement, musicality comes above.

SZ Daily: When did you first begin to practice the Bach and Ysaÿe pieces for solo violin? When you played the pieces in recent years, do you have different understanding or approach from how you had originally played them?

Weithaas: These works have accompanied me all my (musical) life and of course, my approach changed very much during the course of the years. It will be most discernible in the Bach works, I guess. When I was a student, I was very much stuck to the more romantic aesthetics that was common at that time. This changed a lot due to the preoccupation with Baroque stylistics such as elocution, articulation, and sound aesthetics of original instruments. All in all, I think that I pay much more attention to the scores and the specific language of each composer nowadays, and every time I get back to a work after a certain pause, I find new details and sometimes even new approaches for my understanding of the work.

SZ Daily: Your student Ning Feng once talked about your style. He said that after following the basic features and strict rules of Baroque music, you play Bach with your freedom and you have a very clear musical direction in every phrase of Bach's pieces.

Weithaas: Ning Feng — what a fascinating violinist and musician, and a wonderful human. It was a great joy and inspiration for me to work with him. His words mean a lot to me since they capture my idea of interpretation quite well. Isn't it our task as interpreters to "understand" the idea and language of the composer with knowledge and empathy in order to bring this to life with our individual emotionality and sensitivity? In my opinion, this is how creative freedom comes into being, which I need for my play.

SZ Daily: Having been a professor at the Hochschule für Musik Hanns Eisler Berlin for 15 years, what advice do you often give to violin students, in the aspects of studying and career?

Weithaas: Nowadays, there is a lot of pressure on young people due to social media, competitors, etc. This makes it more and more difficult to find one's own way with peace and concentration — but this is so important in order to become a musician. Students should take their time to prove themselves and we should give them this time. I am convinced that only honest and authentic musicianship creates distinction and can emotionally touch and convince the listener and this is what I always try to teach my students.

SZ Daily: Do you have any upcoming recording plans?

Weithaas: There will be two recordings released this year via cpo (Classic Produktion Osnabrück), both with the NDR Radiophilharmonie under the baton of Andrew Manze. On the first CD, there will be "Double Concerto" by Johannes Brahms with the cellist Maximilian Hornung, and "Violin Concerto" by Robert Schumann.

On the second recording will be "Violin Concerto" and "Concerto-Rhapsody for Violin and Orchestra," both by Aram Khatchaturian. Of course, there are more recording projects in the pipeline for next year.