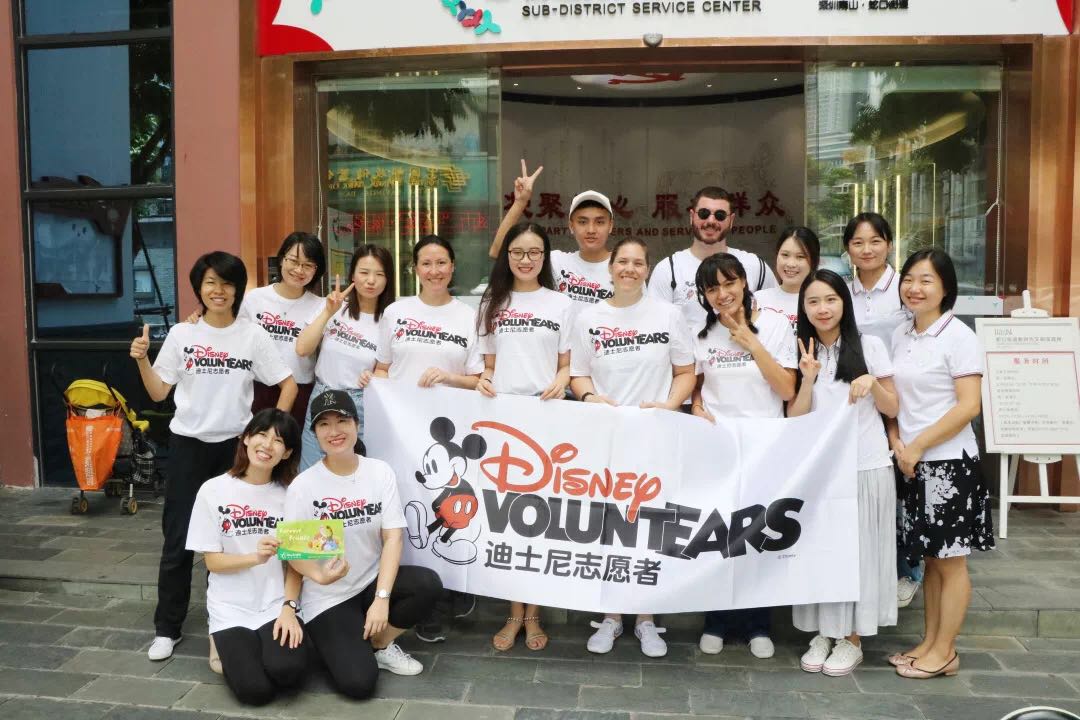 Disney VoluntEARS pose for a photo at Shekou Management and Service Center for Expats on Wednesday. Yang Yan
An English Corner for children from the local community was held Wednesday in Shekou under the joint cooperation between Shekou Management and Service Center for Expats (MSCE) and Disney VoluntEARS.
During the English Corner, Disney VoluntEARS designed and combined a variety of games to incorporate English learning, creating a relaxed and happy atmosphere so the children could learn English.
Ring toss, target ball, cup pyramid, Disney cartoon character coloring and cards activities were prepared to help the children learn English expressions about sports, movement and colors. Even by simply completing a game, or understanding a new word, children could gain a feeling of achievement and enjoyed giving high-fives to the teachers.
Besides developing its own international volunteers, MSCE cooperates with social groups and organizations engaged in volunteer services to provide a broader platform for international volunteer services. The center is devoted to developing a friendly and livable international community. It offers considerate services to both expat and local residents, and encourages residents to give back to the community.
The MSCE international volunteer team dedicates personal time, expertise and effort to making a positive influence on the community. They have helped proofread public signs and a handbook for residents, interpreted for an important forum, assisted in finding a senior citizen who got lost, shared their experience and knowledge in garbage sorting with Chinese residents and helped publicize information that could benefit the lives of expats in the city, such as laws and regulations relevant to expats.