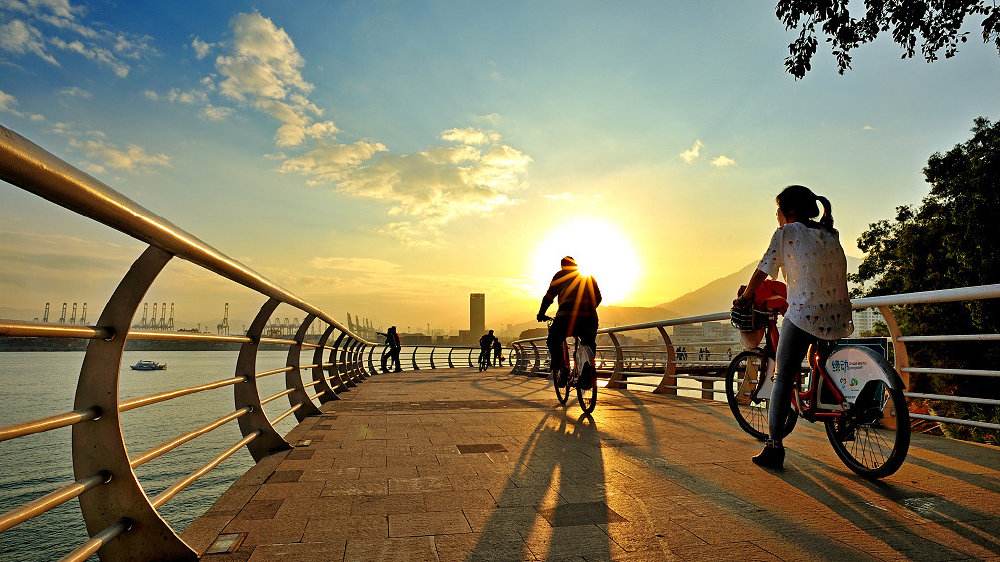 HKMTR (Shenzhen) is inviting the public to join in a BMW activity Saturday to promote green commuting and reduce emissions.
BMW here isn't a car brand, but an abbreviation for a healthy lifestyle revolving around low-emission commuting that combines biking, Metro and walking.
The company partners with the Shenzhen transport bureau, Shenzhen Bus Group and Mobike to invite residents to take Metro trains to Longsheng Station on Line 4 and then ride Mobike bikes for about 1 kilometer before taking a bus to Mt. Yangtai Forest Park. At the park, residents will start walking to the final destination — Lakeview Pavilion.
This is one of the activities to be held this week to encourage green commuting via public transport and mark National Car Free Day, which falls on Sunday.
On Car Free Day, a similar activity will also be held by Shenzhen Metro company to encourage residents to arrive at designated destinations by walking, biking, or taking Metro trains or buses.
During an inauguration ceremony at Xili Bus Terminal in Nanshan District yesterday, the Shenzhen Transport Bureau displayed the development of the city's public transport industry and application of new technologies and services through exhibitions and videos.
The organizers hope to improve the public awareness of low-emission commuting through activities themed around public transportation, intelligent commuting, quality services, and safe and car-free commuting during the week.
In the activities about intelligent commuting that will be held today, Shenzhen bus companies will invite residents to visit the companies to experience the benefits of intelligent commuting and give suggestions for improvement.
A biking event will also be held in the southern square of the Civic Center in Futian District to support World Cycling Day, which falls on today.
On Thursday, local bus operators will invite residents to give suggestions on improving services through activities in their communities and Shenzhen Eastern Bus Company will unveil its fourth batch of customized bus routes.
Statistics released by the Shenzhen Transport Bureau show that the city's public transport system serviced 10.69 million passenger trips a day in 2018, an increase of 6.1 percent year on year. The Metro network saw 5.14 million passenger trips a day last year.
Buses facilitated 4.46 million daily passenger trips, down by 1.5 percent because of the increased use of Metro trains, shared cabs and bikes.
The ridership of traditional cabs increased by 4.6 percent to 1.06 million passenger trips a day.