Roughly a year after Piotr Blaszak was born in the countryside near Poznan, the regional economic center of Poland became sister cities with Shenzhen on July 30, 1993. As if destined by fate, the 27-year-old is now pursuing his dreams in this prosperous city in southern China.
"I've always been interested in learning languages and am fairly good at them," Blaszak said. At 13, he became fascinated with learning English. At 15, he picked up German, which paved the way for his enrollment at Humboldt University in Berlin in 2011.
"When I asked my dad for advice about what major to choose, he suggested Chinese culture and language because of the huge opportunities China can provide," Blaszak said. "There are seldom other places in the world where the economy has grown as fast."
Before he got his bachelor's degree in Asia and Africa Studies, Sinology and Chinese in Berlin in 2015, Blaszak was luckily chosen for a Chinese Government-sponsored one-year exchange program that landed him at Peking University during his junior year.
"I like most things about Beijing except the climate," Blaszak reminisced. "I was definitely in love with China. When a friend told me that PKU has a Shenzhen campus that offers master's degree programs, I applied immediately."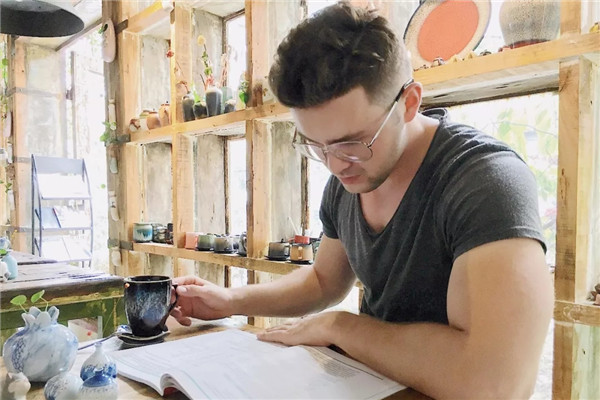 Awarded a 50-percent merit-based scholarship by PKU, Blaszak enrolled in the university's HSBC Business School in Shenzhen in 2015 and graduated two years later with a degree in management.
Unlike his classmates who sent resumes around trying to find high-paying jobs upon graduation, Blaszak wanted to start his own business.
"There are many clothing lines in Europe that feature Japanese and Korean characters on their outfits, but I seldom come upon T-shirts with Chinese characters," he said.
He and an Irish friend, who saw the opportunity for developing a niche market targeting expats who are fascinated with Chinese culture, registered Zai Level in London last year. The company specializes in fashionable street wear. The T-shirts, caps and hoodies they produce feature such characters as "Buddhist youth" (佛系青年) and "Don't panic" (不要惊慌).
"Chinese people may think it unoriginal and dull to wear Chinese characters on their tops, but some expats have found the idea interesting," he said. As the company is still in an early stage, he said he sells only about 30 pieces a month, chiefly via social media.
"It was more important that I learned a lot about sourcing and marketing during the process, which gave rise to my second project," Blaszak said.
He started a consulting company in Shenzhen earlier this year, providing social media marketing solutions for Chinese factories and small companies as well as helping Polish manufacturers find a footing in the Chinese market. "Not long ago, I helped a Polish wooden crafts manufacturer find Chinese customers," he said.
On a two-year entrepreneurship visa, Blaszak couldn't be more grateful to China.
"Successful or not, wherever I go in the future, I'll be pursuing projects related to China," he said.
Having met each other's parents, Blaszak and his Chinese girlfriend, whom he first met on Tinder, are serious about their relationship.
"Shenzhen is a miraculous place," he said. "You don't really expect to find your soul mate on Tinder, but it worked out for us."