A total of 791 organizations gathered at the Seventh China Charity Fair held in the Shenzhen Convention and Exhibition Center in Futian District from Friday to yesterday, showcasing 896 projects and 917 types of consumer products.
This year, the fair continued to focus on poverty alleviation, emphasizing the needs of people living in severely impoverished areas and exploring the role of charity in the country's poverty alleviation efforts.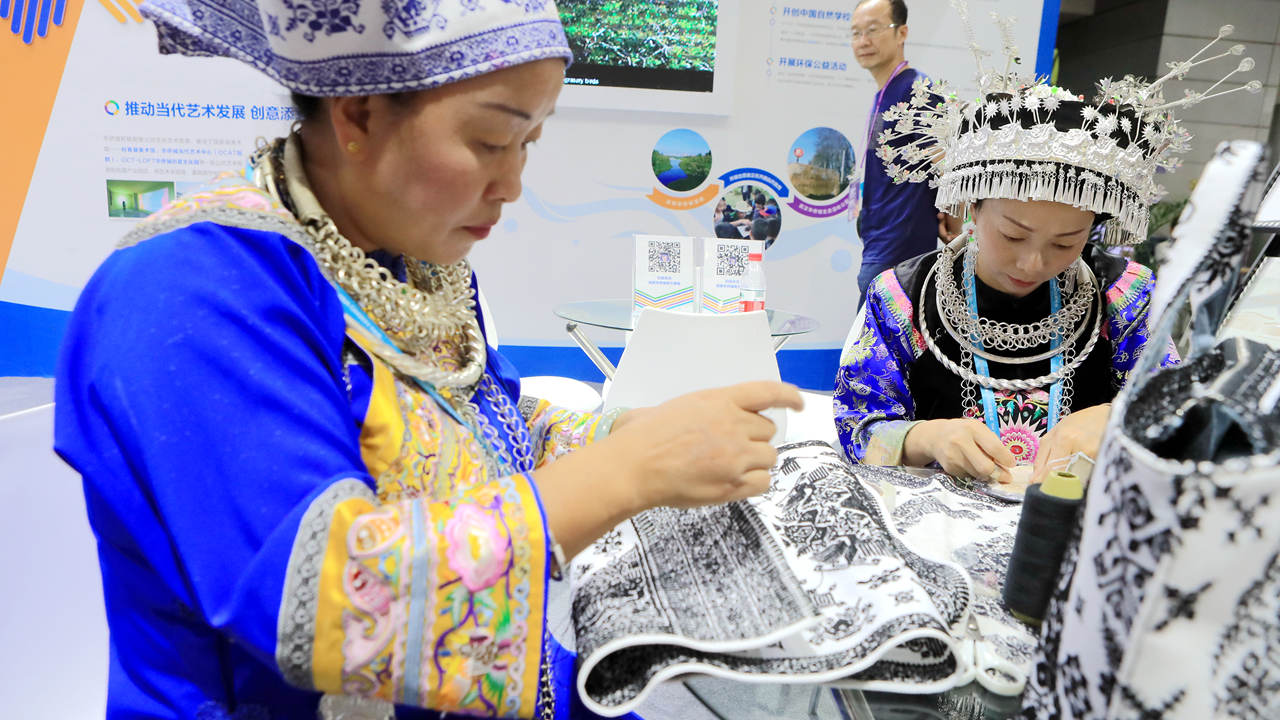 Craftswomen from Qiandongnan Miao and Dong Autonomous Prefecture display embroidery skills at the fair. Sun Yuchen
Examples of successful and innovative poverty alleviation projects were on display, exhibiting some products from poverty-stricken areas and highlighting the diverse social forces and achievements in the field of poverty alleviation in China.
Halls 1, 5 and 6 of the exhibition center were the main venues of the fair this year. Exhibitions, seminars, salons and other supporting activities were also held to mobilize the society to promote poverty reduction.
On the opening day, the fair witnessed the signing of nine major poverty alleviation projects and two purchase orders for consumer products in poverty-stricken areas, which are worth more than 4.3 billion yuan (US$606.3 million) in total.
Wang Aimin, deputy minister of the Ministry of Civil Affairs, said at the 2019 International Charity Summit, a sideline event of the charity fair, that China's poverty alleviation has entered a critical stage that requires the concerted efforts of all sectors and the extensive participation of social forces.
The Chinese mainland received 162.42 billion yuan in charitable donations from home and abroad in 2018, according to a report released by China Charity Alliance at the fair Saturday.
According to the report, private enterprises and State-owned enterprises in China donated about 45.03 billion yuan and 31.09 billion yuan in 2018, respectively.
A total of 20 Internet donation platforms approved by the Ministry of Civil Affairs received 3.17 billion yuan last year, up 26.8 percent year on year, the report said.
Having vowed to eradicate poverty by 2020, China is making an all-out effort to meet the goal.
The charity fair was first held in Shenzhen in 2012 and has become an important platform for mobilizing and guiding all sectors of society, especially charities, to participate in the fight against poverty.