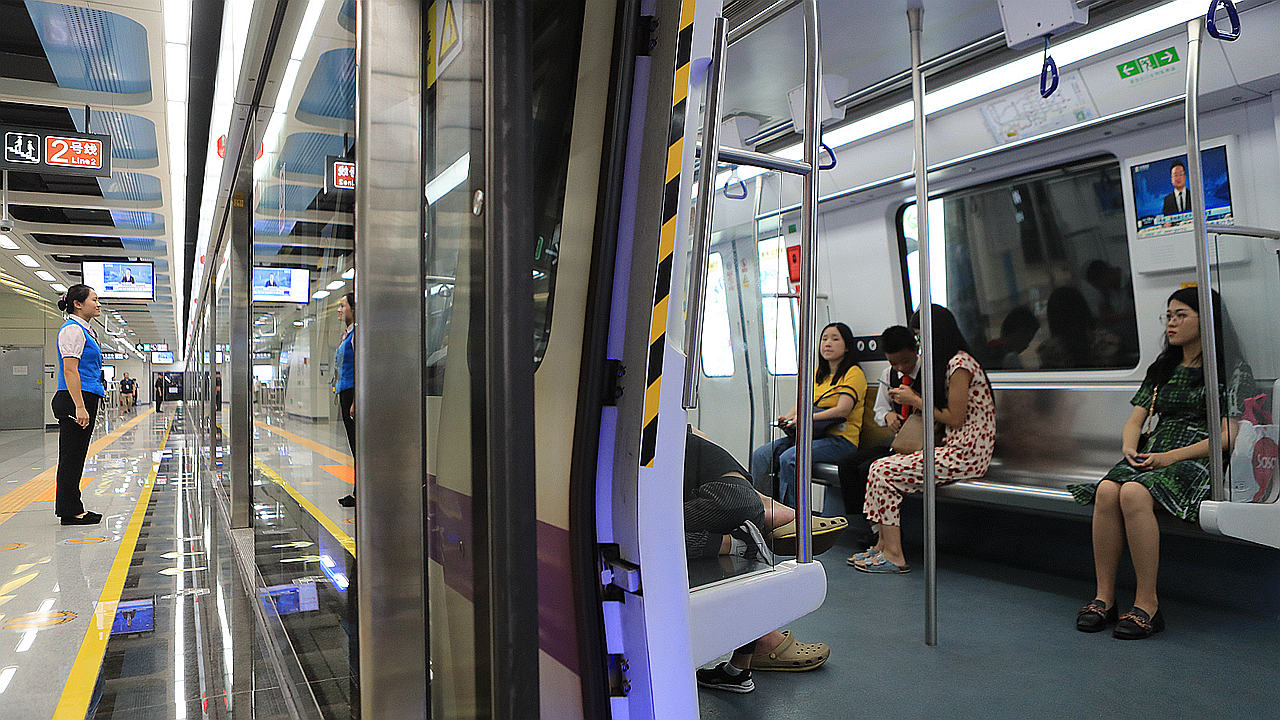 Passengers sit in a carriage of the southward extension of Metro Line 5. Sun Yuchen
The southward extension of Line 5, the first Metro line to pass through Qianhai, was put into operation at 11:08 a.m. Saturday, three months in advance, bringing the length of Shenzhen Metro network to 292.6 kilometers.
The 7.6-kilometer extension, also called Phase II of Line 5, starts at Qianhaiwan Station and ends at Chiwan Station. It has seven stations, including three transfer stations with the existing lines 2 and 9 and future Line 15. It runs through the Qianhai and Shekou Area of the China (Guangdong) Pilot Free Trade Zone and will bring the total number of stations on Line 5 to 34.
"Qianhai is a calling card of Shenzhen, and the opening of the Metro line will stimulate its economic and land development, while bringing convenience to the neighborhoods," said a resident surnamed Lin, who came for a ride on the new line Saturday.
According to Shenzhen Metro Group, the ridership on Line 5 is 1 million per day on average. With the development of the Qianhai-Shekou area, a key area for the city's development, the ridership will surely increase.
Using the extension line, passengers from Qianhaiwan will be able to reach Chiwan in 15 minutes. This will greatly shorten the travel time between Bao'an, Qianhai and Shekou. As Liwan and Chiwan stations are close to the Dananshan and Xiaonanshan areas and residential neighborhoods, the opening of the extension line will attract more people to the Shekou area.
During the initial operation period, the train departure intervals between Qianhaiwan Station and Huangbeiling Station during morning and evening rush hours will be three minutes and three minutes and 15 seconds, respectively. The intervals for the section between Qianhaiwan Station and Chiwan Station will be six minutes and six minutes and 30 seconds, respectively, during rush hours. During the off-peak period, the intervals along the whole line will be six minutes.
Passengers can transfer to Line 2 at Chiwan Station, Line 9 at Qianwan Station and the future Line 15 at Railway Park Station.