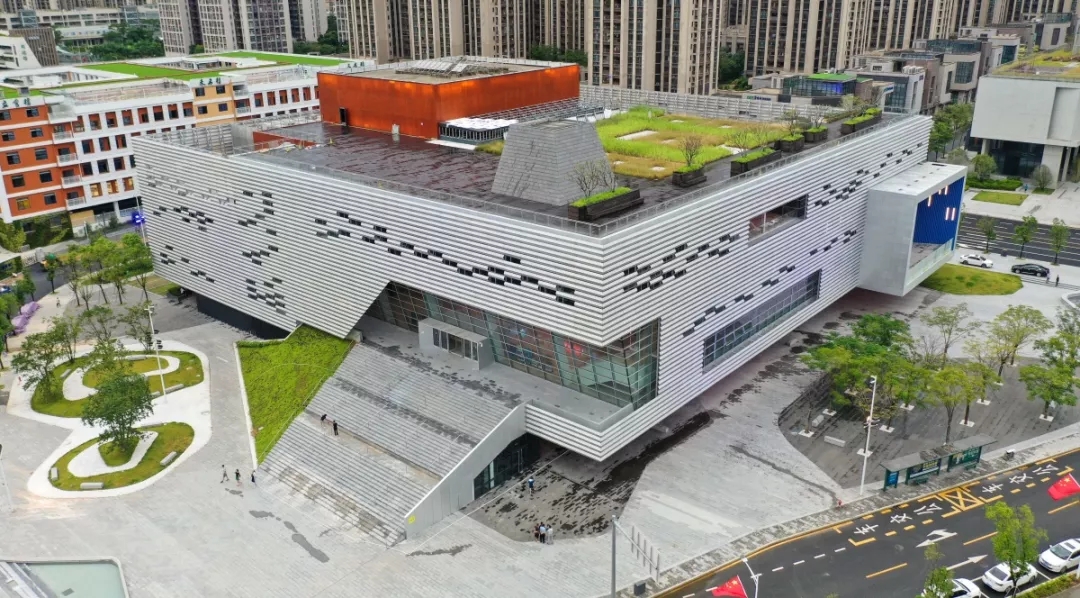 An exterior view of Pingshan Theater. Courtesy of Pingshan Theater
Pingshan Theater, a new cultural landmark in Pingshan District, will open to the public Saturday.
Hong Kong Ballet will present "Swan Lake" at the new theater Saturday and Sunday, marking the ballet company's world premiere of its new version of "Swan Lake."
Located in Pingshan Cultural Cluster, the theater has a floor area of some 17,000 square meters and resembles a "drama box." It was designed by a team from OPEN Architecture led by Li Hu and Huang Wenjing.
There are 1,200 seats in the theater, including 794 seats on the first layer, 390 seats on the second layer and 16 seats in the private box.
The theater also boasts a small black box theater that can accommodate 260 audience members.
A black box theater, a relatively recent innovation in the field, is a simple performance space that varies in size, and is usually a square room with black walls and a flat floor. The simplicity of the space is used to create a flexible stage and audience interaction.
Walking down a public promenade at Pingshan Theater, people can traverse through the different floors and take a tour of all the "informal" and small-scale spaces inside and outside the iconic complex, such as dance rehearsal halls, an art training base, singing rooms, piano rooms, rooftop balcony and a park.
The theater has first-class lighting, acoustics and stage machinery and equipment. Various high-end and advanced equipment creates a great artistic space for editing, directing and performing, satisfying the performance requirements of various large-scale dramas and operas from home and abroad.
The first-rate facilities of the theater will allow Pingshan residents to enjoy world-class high art at their doorstep, a Shenzhen Economic Daily report said.
"Pingshan Theater is the carrier and creator of Pingshan culture," said an unidentified official with the Pingshan culture, tourism and sports bureau. It not only displays the stage of art, but also serves as a window for spreading civilization, a base for original, pioneering drama and a new cultural landmark for Pingshan, the official said.
The theater will be a high-end performing arts center featuring the incubation of original works, drama education, leisure and dining. It is committed to attracting outstanding artists from both sides of the Taiwan Straits, Hong Kong and Macao, inviting excellent domestic and foreign teams to present original plays, giving full play to their advantages and introducing classic repertoires, according to the official.