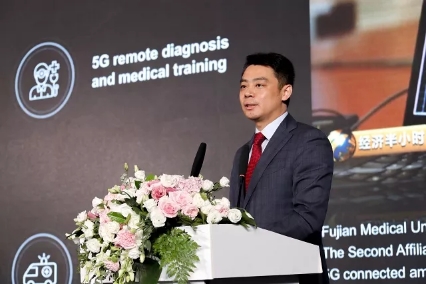 Peng Honghua, chief marketing officer of the Huawei Wireless Network.
MOBILE communication technologies have become an indispensable part of society over the years. 5G technology will no doubt usher in a new era.
According to the latest information disclosed at the 5th Huawei Asia-Pacific Innovation Day, Huawei has signed more than 50 commercial 5G contracts globally, delivering more than 200,000 stations by the end of August.
The U.S. sanction on Huawei didn't crash the company. Instead, Huawei has achieved faster development after a series of adjustments. What is the secret behind this? Peng Honghua, chief marketing officer for the Huawei Wireless Network, offered an answer to this question during his keynote speech titled, "Gather together, maintain innovation and commence the 5G decade."
In his speech, he pointed out that Huawei always adheres to the concept of "keeping complexity for itself and simplicity for customers," and continues to innovate and cooperate with openness.
Peng stressed that Huawei is committed to providing end-to-end 5G products and solutions, leading 5G business innovation, bringing the best 5G into reality together with operators, and creating greater social benefits and economic value.
According to a report released by the Global Mobile Suppliers Association in August, 56 operators from 32 countries have announced a plan to apply 5G technology. Thirty-nine of them have declared they will launch 5G network services that comply with Third Generation Partnership Project (3GPP).
At the same time, it is expected that more than 50 countries and regions around the world will issue a 5G spectrum. A total of 100 different types of 5G terminal devices have been unveiled around the globe.
Peng said that 5G technology offers an amazing experience to consumers, which will further take mobile broadband to a new stage of prosperity.
"More importantly, 5G can be a driving force for promoting digitalization, giving birth to more applications in different industries and improving industrial efficiency," said Peng.
Although South Korea is the first country in Asia to have successfully put 5G into commercial use, with over 2 million 5G users so far, China will be the biggest 5G market.
Peng said that the three operators, China Mobile, China Unicom and China Telecom, had built 38,000 5G bases as of July.
According to a plan, there will be 130,000 bases in China by the end of this year.
Peng said that Huawei will make full use of its strength in 5G technology and combine its global experience in this regard to better serve operators and support China to lead the industry.