Tasting panda-flavored ice cream, choosing a condom that guarantees you to have the baby of your chosen gender and wearing a motorized exoskeleton suit that gives you the power of a gorilla — these bold and debate-provoking concepts are presented at the "Next Nature" exhibition at OCT Art and Design Gallery.
The ice-cream of future. Photos from OCT Art & Design Gallery unless otherwise stated.
The playful exhibition depicts futuristic scenarios that will make an impact on human nature. It showcases the results of some experiments from the Next Nature Network (NNN), an Amsterdam-based international research, design and development network that aims to trigger discussion on the changing relationship between humans, nature and technology through multidisciplinary projects, publications, workshops and exhibitions.
The NNN, a network of artists, designers, architects, scientists, economists, astronauts and philosophers from around the world, claims that it approaches the concept of nature in a new manner: It wants to go forward — not backward — with nature. It believes that the human impact on our planet can hardly be underestimated and our image of nature as static, balanced and harmonic is up for reconsideration. Our task today is to face the irreversible future.
"The NNN's research model, collaborative approach and working methods embody the typical Dutch interdisciplinary collaboration system and represents the world's leading interdisciplinary innovative lab model with subjects involving art, design, new media, technology and biotechnology," said Yang Xiaoling, curator of the exhibition.
The exhibition is divided into six sections: "Habitat," "Meat the Future," "Bistro in Vitro Ice Cream," "Nano Supermarket," "Hubot" and "Pyramid of Technology Workshop Exhibition." Most of the exhibited items are still in the concept or prototype stages, and what visitors see here are simulations of ideas such as lab-cultured meat and smart daily items.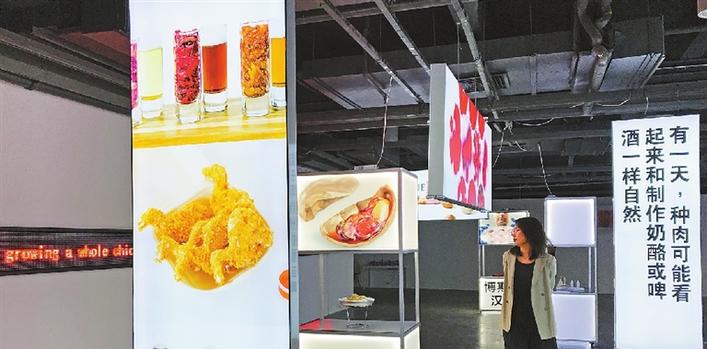 A visitor walks around the "Meat the Future" section of the exhibition. Photo by Cao Zhen.
The first lab-grown meat burger in the world was created in 2013 by Dutch professor Mark Post, and now scientists at the NNN have proposed concepts for more in vitro food without slaughtering animals, such as transparent sashimi with a pure and delicate taste and polar bear-flavored ice cream.
In the "Nano Supermarket," designers exhibit nano-tech products that may hit the shelves within the next 10 years. Some products are interesting, such as "Wallsmart," a smart wall coating that changes colors automatically via user controls over a mobile phone, and "Coating Cola," a soft drink with a nano-coating that blocks fat consumption by the human body. Some products may be controversial, such as the "Conception Control" condom which only allows sperm with the chosen chromosome (x for girls and y for boys) to pass through to guarantee a baby of the user's chosen gender.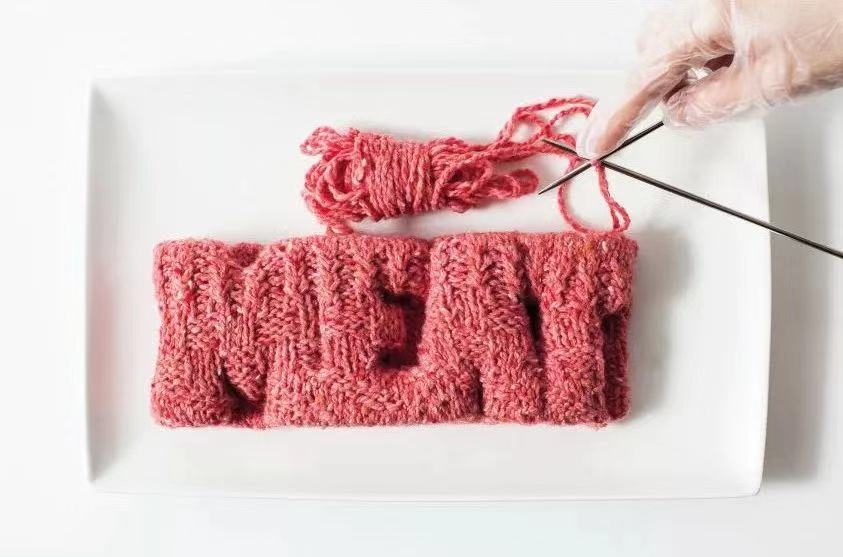 Knitted Meat

In "Hubot," designers envision 10 occupations of the future in which humans enhance their physical abilities by embracing robots as colleagues. In this way, a visually impaired person may become a traffic regulator when he or she wears a smart suit with sensors that translate the traffic situations into impulses on the user's back. Or a human laborer can carry a piano or washing machine by wearing a motorized exoskeleton suit that simulates the muscular strength of a gorilla.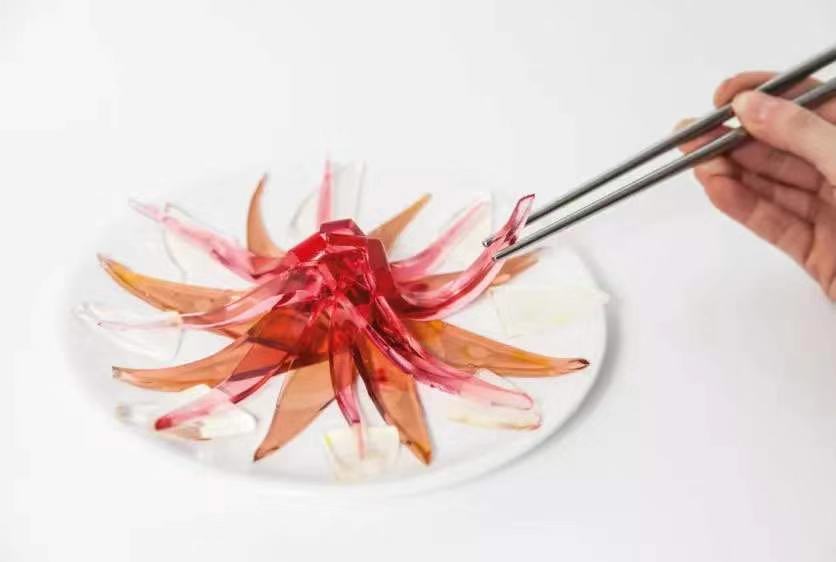 Transparent sashimi
"The simulation of the future is experimental and revolutionary. It represents the responsibility of artists, designers and scientists and also conveys the responsibility to a larger audience, thereby achieving the social practice of the work itself," said Yang.
On the first and third floors of the gallery, visitors are invited to participate in interactive activities. In "Habitat," visitors can wear a pair of VR goggles to experience four types of future worlds and choose what kind of world they would like to inhabit in the future. In "Pyramid of Technology," they are invited to leave a star in the starry night of technology, envisioning the future as either a dream or a nightmare.
Dates: Until Feb. 9, 2020
Hours: 10 a.m.-5:30 p.m., closed Mondays
Tickets: 15-30 yuan, free on Tuesdays
Venue: OCT Art & Design Gallery, 9009-1 Shennan Boulevard, Nanshan District (南山区深南大道9009-1号华·美术馆)
Metro: Line 1 to Overseas Chinese Town Station (华侨城站), Exit C