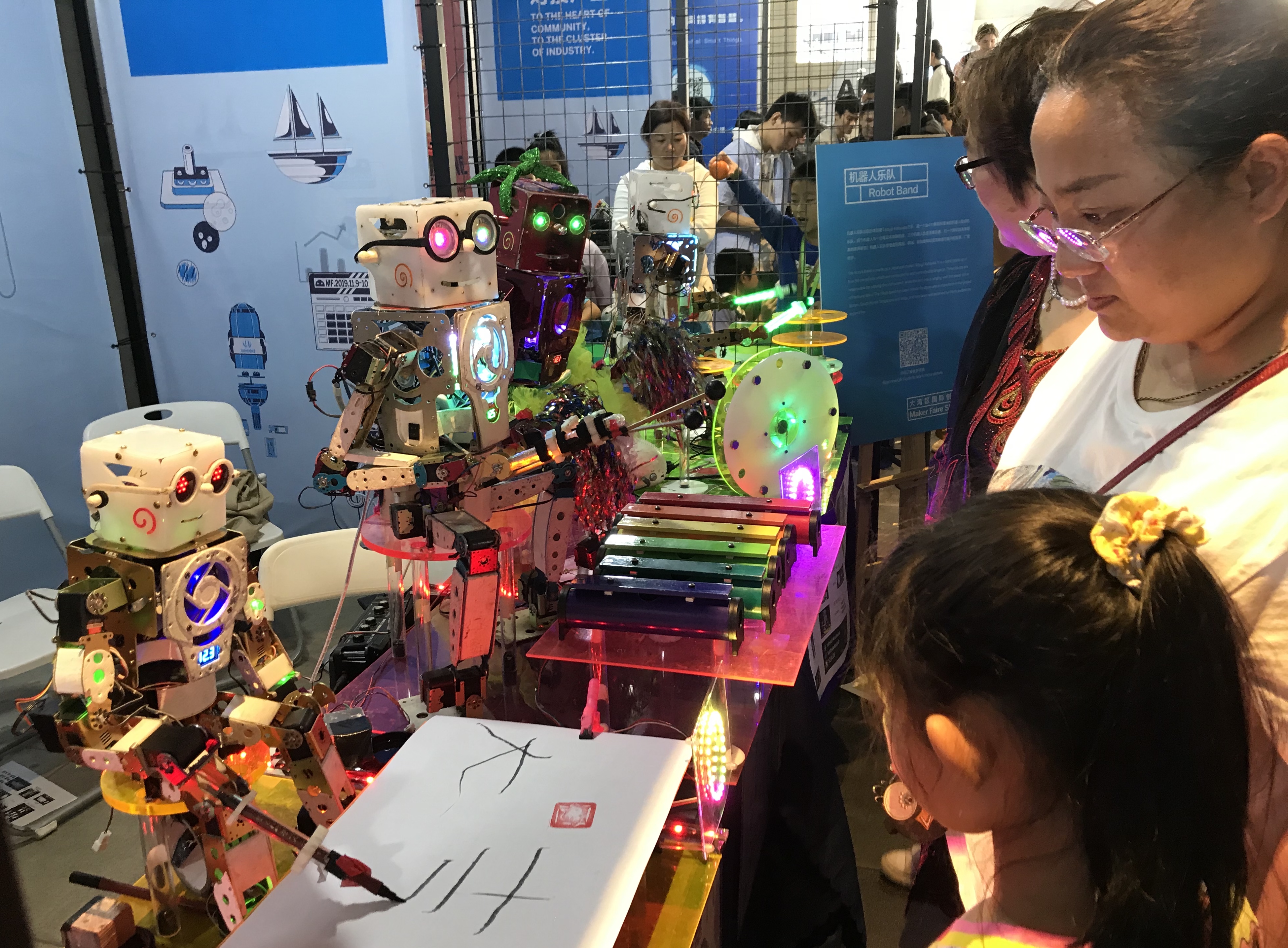 Visitors watch a "fortune-telling" robot writing Chinese characters and a robot band playing music on a metallophone and an acrylic drum set at Maker Faire Shenzhen 2019 on Saturday. The robots were created by Japanese engineer Tetsuji Katsuda. Cao Zhen
FIGHTING robots, racing cardboard cars, a robot band playing music and a skeleton robot giving high fives to passers-by … these are some of the cool products that provided eye-opening experiences for visitors to Maker Faire Shenzhen 2019 over the weekend at Design Commune, Vanke Cloud City, in Nanshan District.
Part family-friendly science fair, part professional meet-up, in its eighth year Maker Faire Shenzhen attracted makers, educators and entrepreneurs from 30 countries and regions to display their projects in education, entertainment, agriculture and home life at 108 booths and 30 workshops. Organized by Chaihuo x.factory, the two-day event not only featured various kinds of robots and products for tech enthusiasts but also exhibited cutting-edge technologies for industries.
Speakers from home and abroad shared their stories and insights on the U.N.'s sustainable development goals (SDGs) at Saturday's forum. Zhang Xunyu, project officer of the Nature Conservancy Shenzhen Program, introduced the "Sponge City," an ongoing project to help Shenzhen store rainwater and prevent flooding.
She said that the project, which has been developing for two years, utilizes plants and ecological technologies to create "sponges." "If a large residential community only has roads for pedestrians and cars, without grasslands, plant-covered buildings and rain gardens, heavy rain will cause water logging," she said.
"We've seen more makers are contributing to the fast growth of the global open-source community while also providing services to meet the demands of the local segmented markets. Problems involved in the SDGs are hard to solve via traditional business models, so this is exactly what makers are urged to do. And the strong supply chain and technologies in Shenzhen are also offering support," said Eric Pan, founder and CEO of Seeed Studio, a technology service company that provides open hardware and agile manufacturing services. He is also the founder of Chaihuo x.factory and Maker Faire Shenzhen.
Experts on maker education for children also agreed that teaching programming, electronics and manual work to children is only a part of maker education, while learning to be forward-thinking and anticipating the future scenarios of various industries is equally important for children.