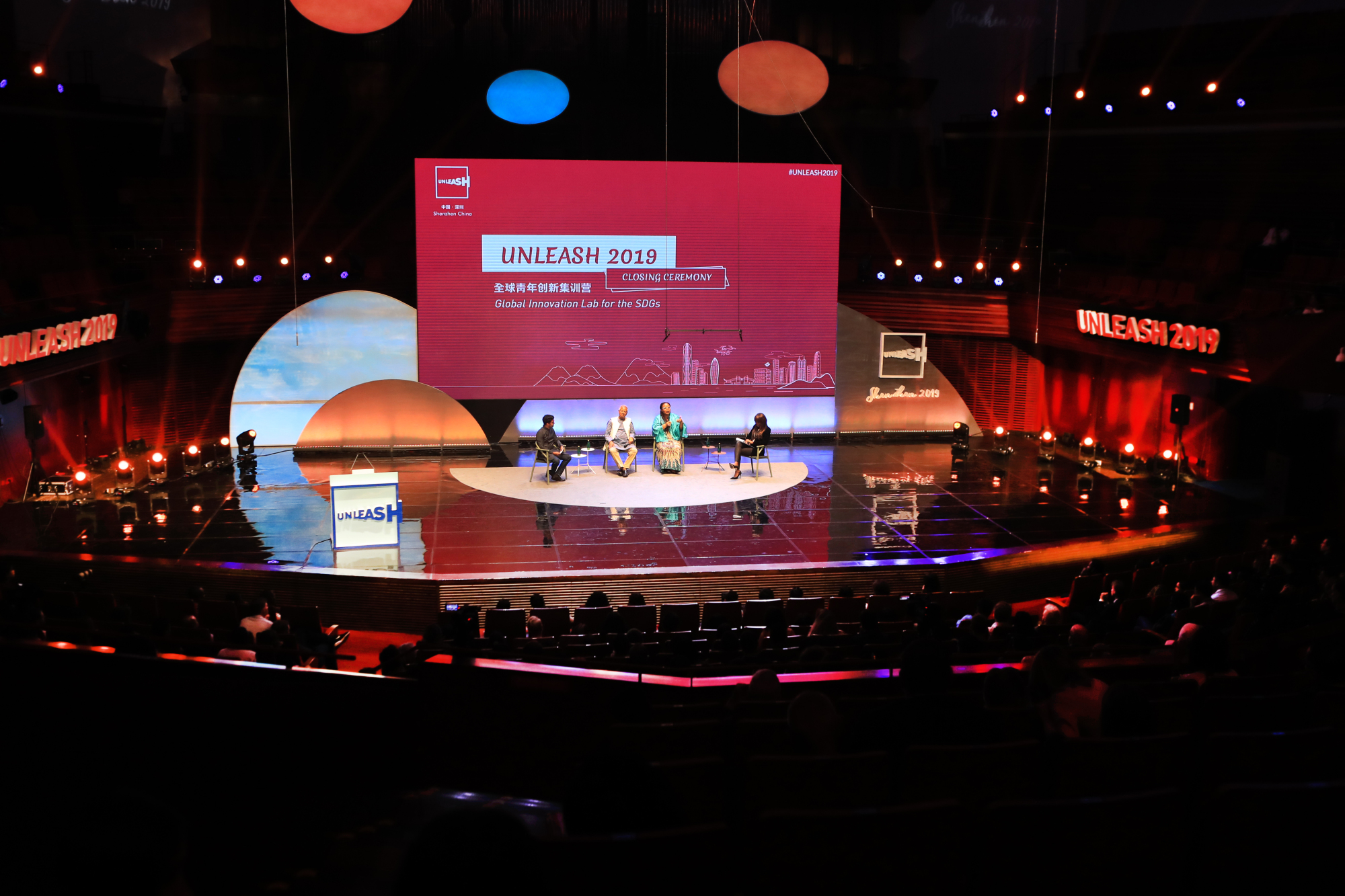 The closing ceremony of the UNLEASH Innovation Lab. Sun Yuchen
The UNLEASH Innovation Lab, a weeklong event that has brought together more than 1,000 bright minds to develop solutions to the world's pressing problems, officially wrapped up at Shenzhen Concert Hall yesterday.
On the last day of UNLEASH 2019, the energy and vibes in the concert hall were palpable — not because it was the closing ceremony — but because the global cohort of talents has reaffirmed its commitment to helping achieve the United Nations' Sustainable Development Goals (SDGs) and making the world a better place.
The closing ceremony started with a traditional Chinese dance and continued with some keynote speeches delivered by distinguished guests and government officials.
Flemming Besenbacher, chairman of UNLEASH, the Carlsberg Group and the Carlsberg Foundation, said that the energy, dedication and creativity the talents put into their solutions in the past week have certainly lived up to his expectation.
"UNLEASH is committed to making a better and more sustainable world. After tonight's ceremony, I believe you will bring the spirit of problem-solving and cooperation to all aspects of work and life," said Besenbacher.
Liu Hongpeng, director of the energy division of the United Nations Economic and Social Commission for Asia and the Pacific, said that the SDGs have been in place for four years. "The strong combination of Shenzhen and UNLEASH has enabled us to know great potential can be unleashed through such an event," he said.
A congratulatory video from U.N. Secretary-General António Guterres was also played at the ceremony. Guterres recognized the efforts of the global youths in pushing the SDGs. "We need strong effective partnerships such as yours, and we need to harness the benefits of new technologies for the common good," Guterres said.
Shenzhen Mayor Chen Rugui said the fact that UNLEASH was held in Shenzhen for the first time shows the recognition of China's promotion and implementation of the United Nations' 2030 Agenda for Sustainable Development, as well as Shenzhen's achievements in sustainable development.
Meng Qinghai, vice president and executive secretary of China Association for Science and Technology, hopes that all young talents can build up friendship, strengthen cooperation and jointly create a bright future for human development.
Two Nobel Prize laureates, namely Muhammad Yunus and Leymah Gbowee, were received with hearty rounds of applause from the audience for sharing their stories and actions in promoting the SDGs.
Four innovative and goal-oriented projects were awarded at the ceremony, with the Most Promising Partnership Solution Award, Most Disruptive Technology Award, Most Innovative Award and Most Scalable Solution Award going to KINDS, Chloe Assist, Cryptics and Waste Awayers, respectively. The winners also got a chance to pitch their projects in front of all the attendees.
UNLEASH 2019 was hosted by China Association for Science and Technology and the Shenzhen Municipal People's Government, and organized by Shenzhen Industrial Design Profession Association.