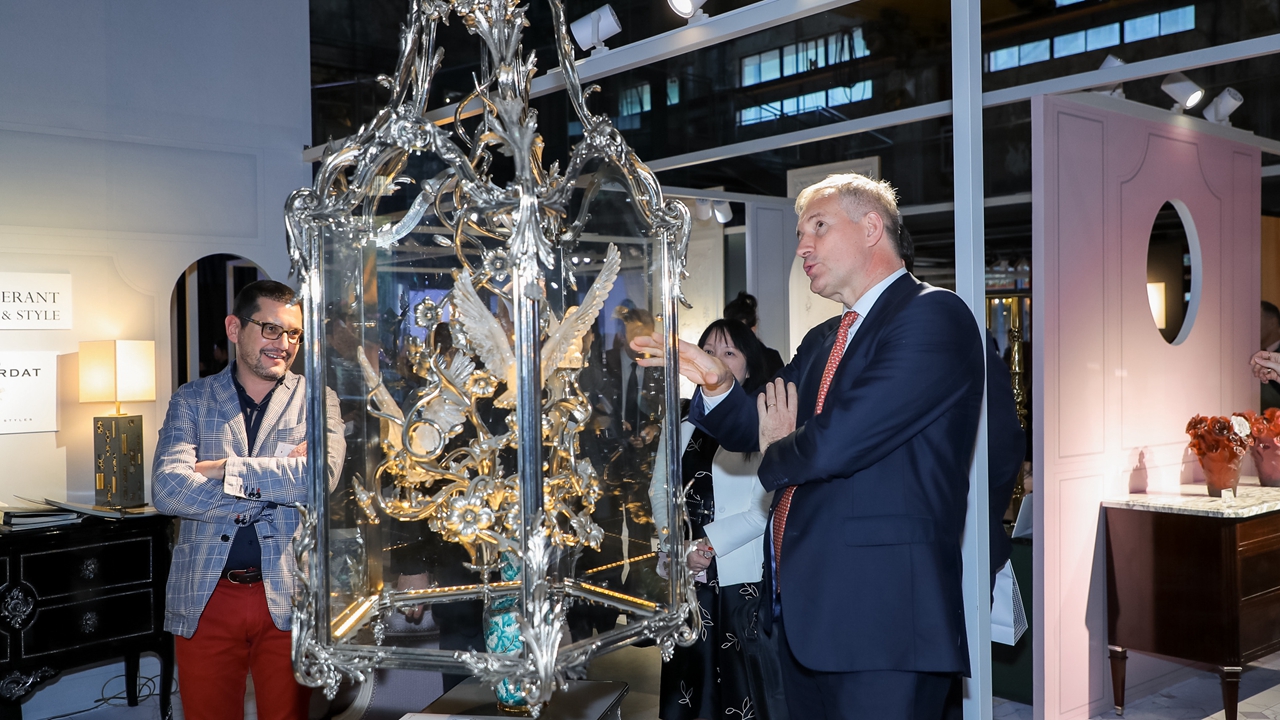 Bili (R) checks out an exhibit at Wednesday's event.
China and France share the same love for the art of living, said Laurent Bili, ambassador of France to China, at the opening ceremony of "Art de Vivre a La Francaise (French Art of Living)" held at G&G Creative Community in Shekou on Wednesday night.
"We both master and inherit rare and exquisite crafts, perfectly combining tradition, innovation, creativity, work and love," said Bili.
Bili told Shenzhen Daily that China and France influence each other in art. "For example, during the period of Louis XIV, artifacts like bronzeware, enamel and porcelain from China deeply influenced the French art of living. Both China and France are strong in this field."
The exhibition initiated by Business France lasted from Wednesday to Friday. For this edition, Business France partnered with the organizer of Shenzhen Creative Week to expand the event.
The whole exhibition unfolds like a French-style home to the visitors. Altogether, 20 exhibitors are participating in the exhibition. Most of the brands have obtained the label of EPV (Living Heritage Companies), a label that testifies to ancestral know-how. The exhibition includes several rare and precious exhibits, some of which are limited edition.
"The request and partnership we have with Business France to organize Art de Vivre is to promote and showcase for the visitors all of the knowledge and expertise of the French art of living. The idea is to be like you walk into a big home that has different categories. It's a bit like a journey through the French art of living," introduced Matthieu Rochette-Schneider, China general manager of centdegres, which designed the exhibition.
"Quality, innovation and creativity are all key words for French exhibitors," said Bili. "Every company has its unique design, which reflects its rich creative concept and innovation as well as the tradition and arts that France has inherited in this area over the years. It also represents the perfection of French interior decoration."
According to Bili, the fact that this year the exhibition chose Shenzhen as its destination is a matter of course. "Shenzhen is one of the main cities in the Greater Bay Area and the first city in China to be appointed as a UNESCO City of Design. It's a fast-growing city with strong creativity."
Oliver Hou, executive president of Shenzhen Furniture Association (organizer of Shenzhen Creative Week), said that France was the first major Western country to establish diplomatic relations with China and many of the leaders of China went to study in France, so the Chinese people are not unfamiliar with France and its culture.
"Actually most Chinese people advocate French culture. Currently, high-end consumption faces insufficient supply. So these exhibits have a huge market in first-tier cities, including Shenzhen, Guangzhou, Beijing and Shanghai. That's why we invite French enterprises to attend Shenzhen Creative Week to be held in March," said Hou.
For Jacob Vogelsang, CEO of Shenzhen Creative Week, Art de Vivre has definite synergy with the exhibition at Shenzhen Creative Week. Through the partnership, they aim to bring more high-end design-oriented lifestyle products to Shenzhen.
This is Bili's first time visiting Shenzhen, and what impresses him most is that Shenzhen is a very modern city, with a beautiful skyline. "It's a city full of greenness. From the buildings of the city, I can feel that it's a fast-paced city, full of creativity."
Apart from culture, the ambassador said that technology is also an area full of potential for cooperation between the two sides. "In Shenzhen, I can see that the people here are ready for a high-tech revolution. I also see that some French companies have already settled in Shenzhen, ready to cooperate with China in technology and innovation."
Bili said that France is a big country in terms of innovation and startups, which is often overlooked, but they stress innovation.
"Many French startups have settled in Shenzhen because the process from innovation to production is very fast and Shenzhen reacts super fast in this area. This is what French enterprises recognize and what they consider as a key factor. I visited a French startup company yesterday that produces carbon bicycles. The bicycle is light and foldable."
The main fields of cooperation between China and France are mainly civilian nuclear power, aerospace and the auto industry. "Airbus has set up an R&D center in Shenzhen and is considering increasing its industrial investment in South China. Regarding the auto industry, this morning I visited Valeo, which specializes in spare auto parts. The company has 1,000 employees dedicated to R&D, mainly in automatic drive and driving assistance, in Shenzhen," said Bili.