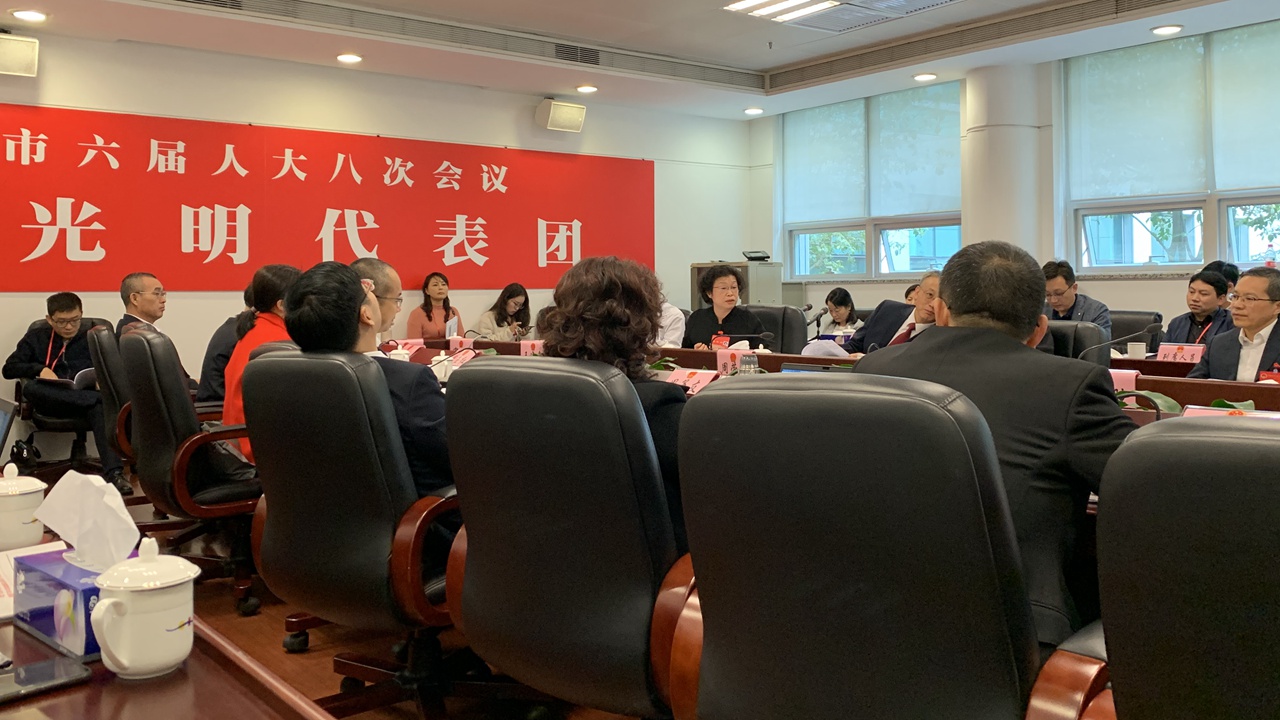 Deputies of the Guangming delegation to the annual session of the city's legislature discuss on the government work report at a panel session yesterday. Chen Xiaochun
Deputy Cai Qiaoyu of the Guangming delegation to the annual session of the city's legislature said she was deeply impressed by the concept of building a livable city in the government work report during the panel meeting Thursday.
Cai gave the report a thumbs-up, saying that it is very concrete with lots of data and summarizes the work that the government has done in a comprehensive way. She truly appreciated some of the concepts therein. For example, Page 23 of the report talks about building a livable and happy home for citizens. The expression "livable and moderate" on this page impressed Cai a lot.
"A city doesn't necessarily need to pursue luxurious things that look exciting but won't leave a legacy to its citizens after a short period of time. We should build things that make our citizens, the builders of the city, feel practical, comfortable and convenient. We have visited other [well-developed] cities where, after interacting with the locals, we found that convenience is at every corner of their life," said Cai.
Talking about the challenges facing the city's development, which include unbalanced and uncoordinated development, Cai stressed that the biggest imbalance lies in the gap between the original Shenzhen special economic zone (SEZ) and the districts outside of the original SEZ.
"The transport and infrastructure in the districts outside of the original SEZ have improved a lot, but it is still far from enough. Some have said that there is a 20-year gap. We should bridge the gap in all ways, especially in those areas where less attention is paid but affect the daily lives of our citizens," said Cai.
Additionally, Cai proposed building a full-life-cycle mental health service system to serve people at different life stages. "From kids, to primary and middle school students to seniors, we all have different mental health issues, and this affects our happiness."
Deputy Deng Huaxiang from the education sector called for the government to pay more attention and invest more in building schools for special children, and to introduce more talents in this aspect to educate these special kids.
"At our school we have around six kids who need their parents' company at school. Every school has special kids. Most of our teachers are not able to teach these special kids," said Deng.