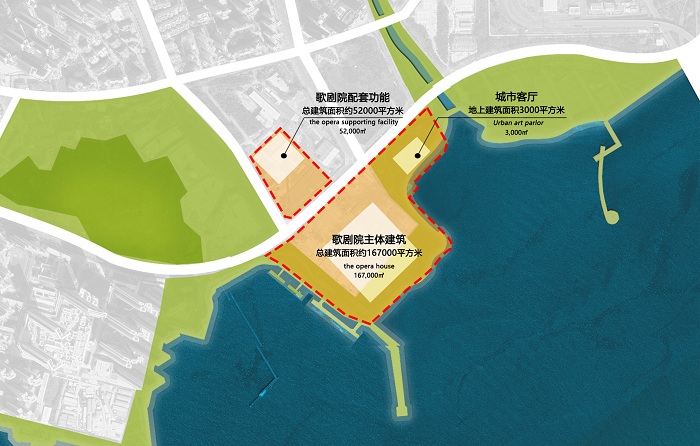 A map shows the general layout of Shenzhen Opera House. Bureau of Planning and Natural Resources of Shenzhen Municipality
The Shenzhen Municipal Government said Thursday it has started seeking creative design proposals from all over the world for Shenzhen Opera House, one of the city's top 10 new cultural facilities.
The city government will adopt a selection mode of "global invitation + open bidding" to solicit excellent design schemes from around the world, according to a press conference held Thursday.
Through the global invitation, eight design institutions with achievements in the field of international public facility design have confirmed their participation in the competition.
The eight invited design institutions are Ateliers Jean Nouvel, Calatrava International LLC, Diller Scofidio + Renfro, Herzog & de Meuron World Ltd. + CCDI, Snohetta, Steven Holl Architects, Renzo Piano Building Workshop and China Architecture Design & Research Group.
Another 12 design proposals will be selected through open bidding and a shortlist of a total of 20 candidates will be formed in the first round.
Shenzhen Opera House will be built in the Dongjiaotou area of Shekou, Nanshan District. It is planned to consist of a core performance area, a public service and cultural and creative experience area, and a supporting functional area.
Covering an area of 175,000 square meters, the opera house will face Shenzhen Bay Bridge to the east, Shenzhen Bay Coastal Leisure Belt to the south and Hong Kong across the sea.
"In the process of site selection, we have carefully considered many factors, such as location, landscape and traffic. But overall we've attached more importance to location and landscape," said Ding Qiang, deputy head of the city's planning and natural resources bureau.
Ding added that five proposals will be selected in the second round and the design institutions will be required to hone their proposals in terms of feasibility. The final winner will be selected from the top three before July 1, after considering the opinions of the public and the city government.
All interested individuals and organizations from home and abroad are welcome to inquire about the competition's rules and design assignment on www.szdesigncenter.org.
Shenzhen Opera House is aimed at becoming a world-class performing arts center, a new platform for international cultural exchanges in the Guangdong-Hong Kong-Macao Greater Bay Area and a top tourist destination in the world.