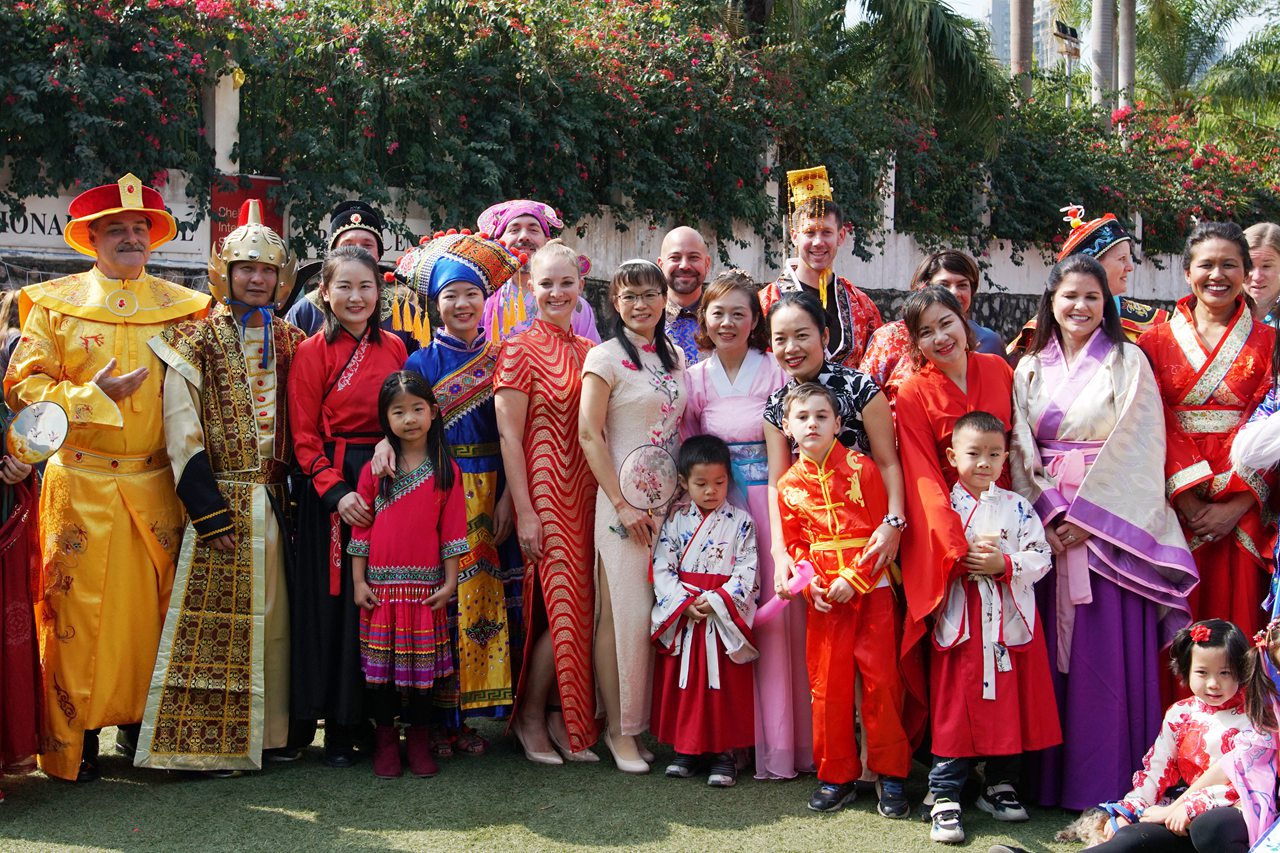 Teachers and students donning in Chinese costumes with SIS pose for a photo at Saturday's event. Wang Haolan
The last Saturday before the Chinese New Year of 2020 was infused with reddish festive vibes, as the fourth Discover China Day of Shekou International School (SIS) was kick-started with a fashion show featuring traditional Chinese outfits at Jingshan Villa in Shekou, Nanshan District.
Entering its fourth edition, the annual event has been favored by expatriate and local residents at the compound, where they can dress up their children and pets in hanfu or cheongsam, grab bites of Chinese street food, and enjoy performances given by art troupes on Shekou Old Street as well as SIS teachers and students.
Besides the must-see lion and dragon dance performances, audiences feasted their eyes on a face-changing performance, a Chinese ethnic dance, guqin and guzheng performances, a "Three and a Half Sentences" talk show, and more.
Amid a group of Chinese teachers, Annie Ferguson, who teaches Grade 5 students at SIS, was adept at wielding her hand fans to the melody of "Jasmine," a household Chinese folk song.
"I felt privileged to join my colleagues in the performance. The Chinese dance and the techniques of using hand fans were difficult to learn but also exciting. I'm a dancing enthusiast and always wanting to learn different kinds of dance," Ferguson told Shenzhen Daily.
Calligraphers with Nanshan District Federation of Literary and Art Circles gave away freshly written couplets to visitors, making their pavilion one of the most frequently visited booths with the longest lines at the event. Rachel Bishop, a teacher at SIS, chose a set of couplets that wished her and her family all the best for the new year.
"The couplet-writing event has been held in Nanshan for 20 years, and this year marked the first time that it was introduced to an international community," said Chang Hongcai, president of Nanshan's calligrapher association.
"We were pleased by the expats' enthusiasm in celebrating the Chinese New Year and learning about Chinese culture," he said.
Booths promoting martial arts and karate experiences also won the kids' favor. "It's our first time joining the Discover China event. Lots of students at SIS are doing physical training, such as karate and aerobatics classes, at our training center, and their parents recommended that we set up a booth here. It was a great chance for us to get more in touch with the community," said Georgy Nikolenko, a karate coach from a local physical training center named Olymp Sports Club.
Greg Smith, head of SIS, dressed up in a Chinese emperor's outfit and woke up a dance lion with a paintbrush dripping with red pigment.
"It's China's rich culture and marvelous festivals like Chinese New Year that makes me and other expats want to come and stay, and as teachers with a local international school we should understand more about different cultures to bring together minds from across the world. The event is focused on the Chinese New Year, but throughout the year our students will keep learning about Chinese traditions, costumes, history and so on. We also want to help the expats in the community to better understand China and its 5,000 years of history," said Smith.
As Smith mentioned, a display panel depicting chronicles of the Chinese dynasties and China's geographical features and personas indicated by faces painted in the style of traditional Chinese opera has been installed at the venue. Volunteers from the parent support association at the school also gave away quiz books on Chinese culture to visitors at the event.