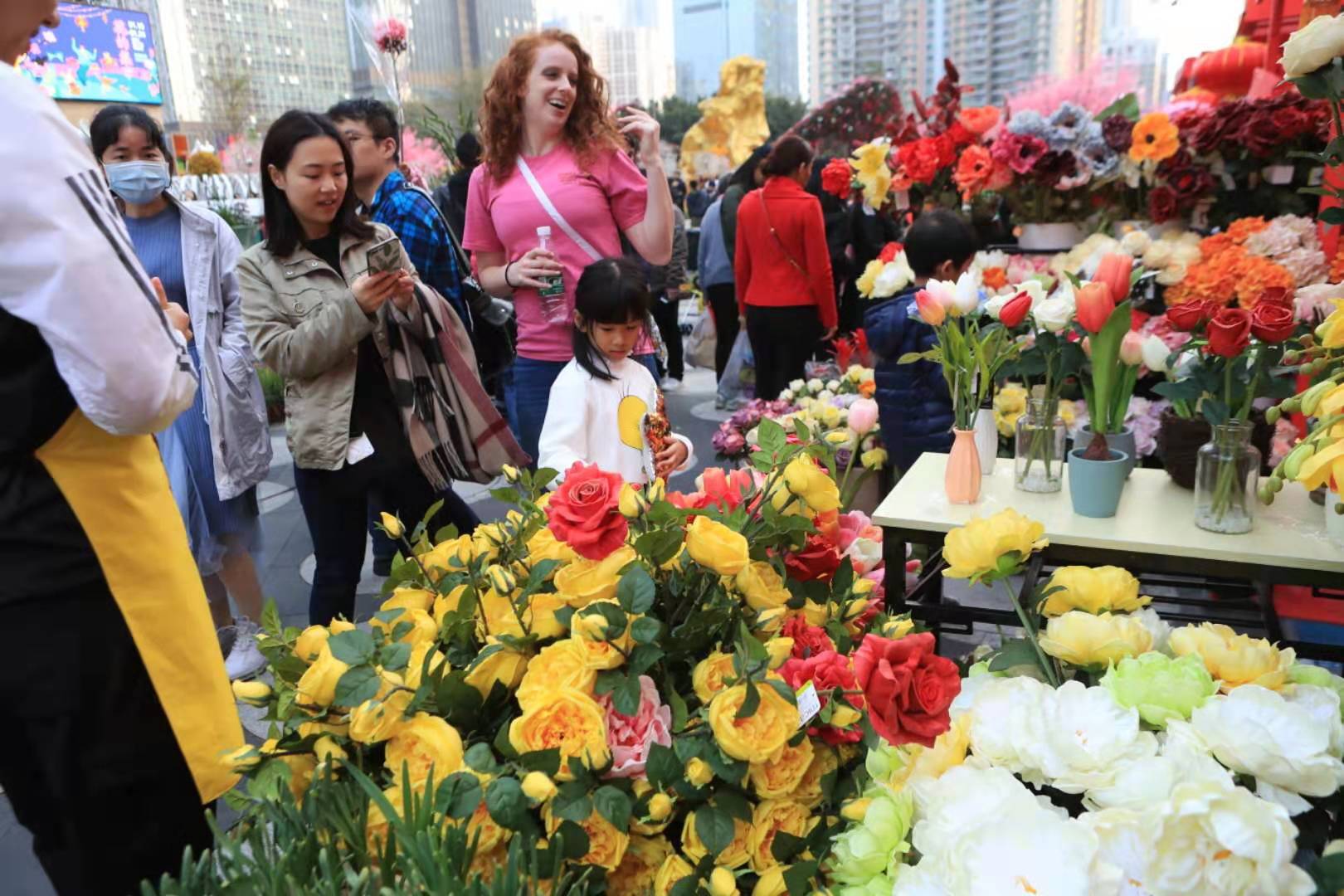 Visitors enjoy flowers at the pedestrian street outside One Palace, a large-scale commercial facility in Futian District, during the 2020 Shenzhen Spring Festival Flower Fair yesterday. Sun Yuchen
A myriad of residents and visitors in Shenzhen packed the pedestrian street outside One Palace, a large-scale commercial facility in Futian District, on Saturday for the 2020 Shenzhen Spring Festival Flower Fair.
Once again, the city's central flower fair, which will wrap up Friday, the Lunar New Year's Eve, was designed to be held outside. For many visitors on site, this is a an improved celebration of the approaching Chinese New Year.
Compared to previous events, this year's flower fair includes many flower-related elements. Residents can not only buy flowers for New Year decorations from around 350 booths but also enjoy different art exhibitions comprised of flowers and rat-shaped designs to mark the Chinese Year of the Rat.
Additionally, musical performances will be staged to entertain visitors, according to Yang Lei, deputy director of the Municipal Law Enforcement and Administration Bureau.
At night, residents can enjoy the lights while walking around the fair. A reporter found that there is a booth spreading knowledge about the recycling of flowers and tangerine trees for the Chinese New Year.
A volunteer at the booth, who was identified by the surname Li, said that he has done four years of work relating to garage classification.
"We prepared interactions for kids to create simple crafts out of waste," said Li, adding that they found their the promotion of garbage sorting among kids is very practical, because kids can develop the habit from an early age so they can in turn encourage their parents to start classifying garbage.
Shenzhen rolled out a system for plant recycling in 2016 and promoted the service across the city in 2017. 2020 marks the fifth year that the city has conducted a special campaign for New Year decoration recycling.
Hakan Dahl, a visitor from Sweden, encountered the fair on his business trip to Shenzhen. Dahl said that it is truly a nice celebration to enjoy with local citizens.
Medical personnel and more than 100 volunteers are offering help at the fair.
Nearby Metro stations include Gangxia (Line 1), Convention and Exhibition Center (Lines 1 and 4) and Civic Center (Lines 2 and 4).
More than 10 bus stations are near the fair.
The public facilities near the fair provide thousands of parking spots, but citizens are encouraged to choose green transport, said the authority.