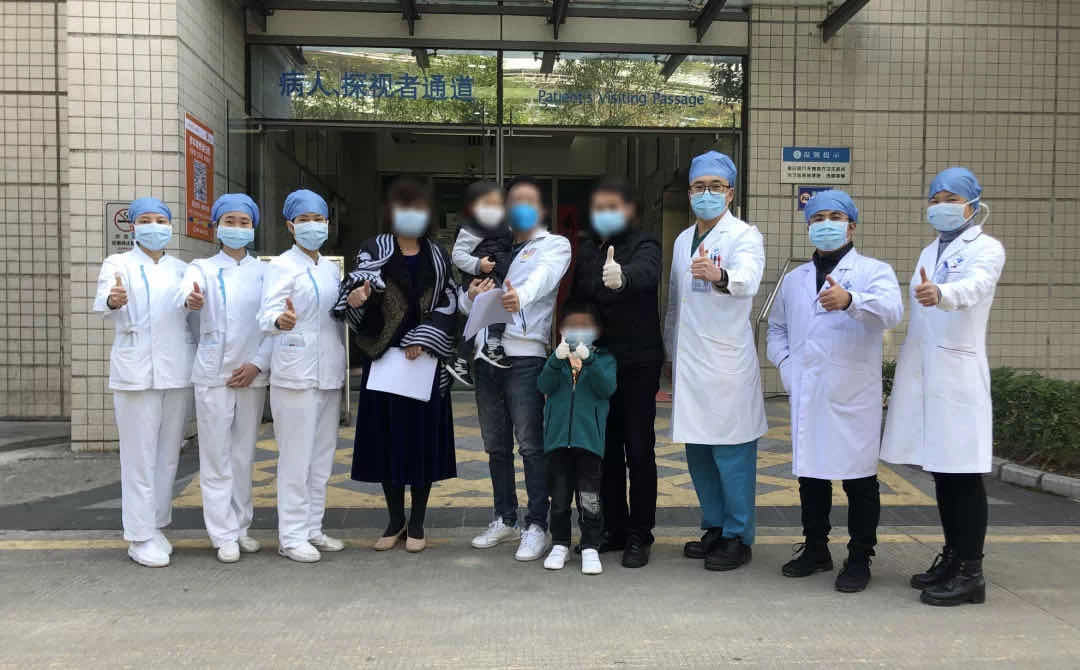 Patients pose for a photo with medics before being discharged from Shenzhen No.3 People's Hospital on Monday. Photos from Shenzhen Municipal Health Commission
Twenty-one patients were discharged from the Shenzhen No. 3 People's Hospital on Monday afternoon after making full recoveries from the novel coronavirus (COVID-19) infection, bringing the total number of fully recovered patients in the city to 152.
Their recoveries set a record in terms of number of patients discharged from the hospital in a single day in Shenzhen, and the city has reported 15 consecutive days of recoveries, the Shenzhen Economic Daily said in a report yesterday.
The eldest patient discharged Monday is 86 years old and the youngest is 6. According to the health authority, the 21 patients had body temperatures within the normal range for the previous three days, each of them tested negative on two nucleic acid tests, and chest CT scans showed the inflammation in their chests had resolved before they were discharged.
They are advised to rest for two weeks and have follow-up examinations at regular intervals, the Daily said.
On Sunday, Shenzhen reported the first two COVID-related deaths since the outbreak after their treatment at the Shenzhen No. 3 People's Hospital, the city's designated hospital for virus treatment, failed.
According to the information released yesterday by the city's health commission, the two male patients, both in their 60s, succumbed to pneumonia inflicted by COVID-19, severe acute respiratory distress syndrome (ARDS) and other complications Sunday.
One of the deceased had suffered from hypertension for eight years. He became infected with the virus when he visited his relatives in Wuhan on Dec. 29, 2019. He started showing symptoms such as coughing, fatigue and fever when he was still in the capital city of Hubei Province on Jan. 3. He returned to Shenzhen the next day and was confirmed as having COVID-19 on Jan. 20. He also died of septic shock, multiple organ dysfunction syndrome (MODS) and lung hemorrhage.
The other 63-year-old man who died Sunday had chronic obstructive sleep apnea syndrome and bronchiectasis. He contracted COVID-19 during a trip to Wuhan on Dec. 29, 2019. On Jan. 8, six days after returning to Shenzhen, he started coughing and suffered from occasional asthma. He was confirmed COVID-19-positive on Jan. 20. He also succumbed to fulminant myocarditis (FM), blood poisoning, MODS and disseminated intravascular coagulation (DIC).