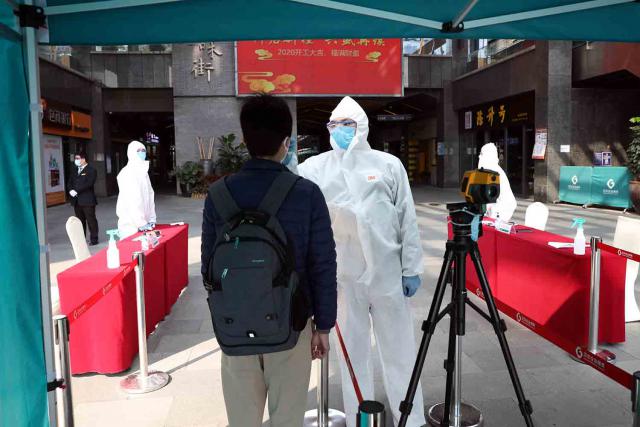 A man undertakes temperature check at the entrance to Kexing Science Park in Nanshan District. D News

The city's COVID-19 prevention and control commanding office recently issued a guideline on strengthening enterprises' measures in preventing and containing the virus spread in a bid to promote orderly work and production resumption.
Based on the actual situation of districts, differentiated moves should be made to enhance outbreak prevention and control in such aspects as health management, transportation, public activities, communities and workplaces, according to the document released Friday.
In terms of transportation, inspection stations on roads into the city will remain in-service for inspecting vehicles, checking temperatures and registering personal information of people traveling to Shenzhen.
Enterprises that have resumed production must implement measures in epidemic control and work safety, employee screening, and ensuring the supply of preventive materials.
Personnel from regions hit hard by the epidemic should be quarantined or put under medical observation for 14 days. Enterprises employing such personnel, if feasible, should set up independent quarantine quarters under the guidance of local center for disease control and prevention and work stations, and the daily health conditions of all employees should be collected and reported to local health authorities.
Prevention and control measures in workplaces, such as twice-daily temperature checks and disinfections, should be developed, while meetings and gathering should be kept to a minimum.
Enterprises should also make efforts to disseminate anti-virus knowledge among employees.
Those enterprises that fail quarantine measures inspections will be ordered to rectify the issues or have production suspended in serious cases. Government agencies at different levels and enterprises should establish strict accountability systems and coordinate closely to ensure measures are implemented and production resumption rolled out in an orderly manner.
By Saturday in Guangdong, 354 key projects had resumed work and 70 percent of key projects will resume work by end-February, according to a news conference by the Guangdong government Friday.
Nearly 42,000, or about 82.2 percent, of sizable manufacturing enterprises in Guangdong have resumed production.
Among them, Huawei Technologies was manufacturing at more than 90 percent of its capacity, Gree Electric Appliances at nearly 80 percent and Midea Group at over 70 percent.
To solve labor shortages after work resumption, cities in the Pearl River Delta region have released 180,000 pieces of job information to their counterpart aid cities in the province and attracted 20,000 people from other parts of Guangdong to work in the region.
Guangdong has also worked with labor-exporting provinces and regions like Sichuan, Guizhou and Guangxi to transport 19,000 laborers to the province by chartered buses.