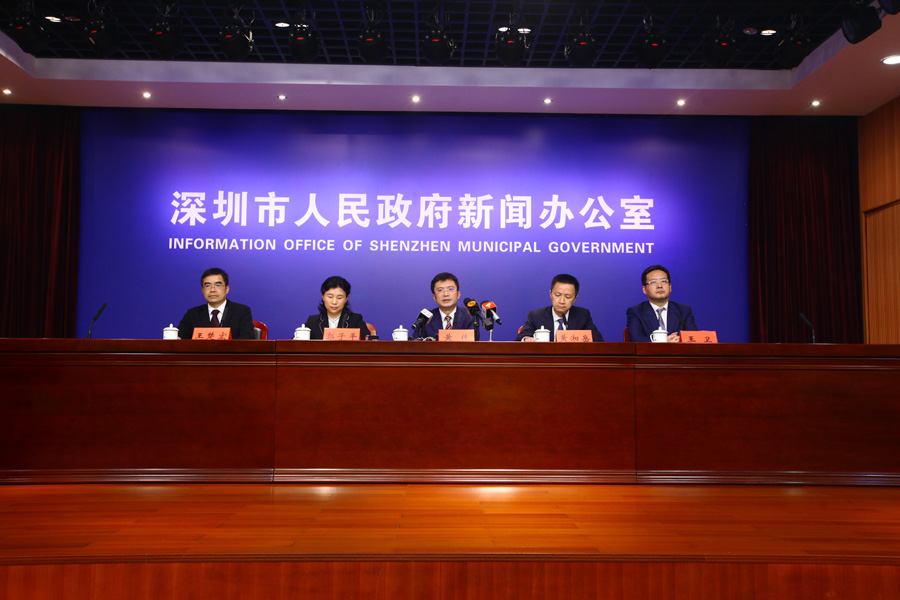 Heads of four districts in Shenzhen attend yesterday's press conference. Shenzhen Government Online
Districts in Shenzhen have mulled measures to boost consumption as the COVID-19 outbreak is being further contained across the country.
The measures by Futian District include encouraging diners to offer light meals such as coffee, milk tea and dessert and bars to set up more outdoor seating areas where citizens can enjoy products while well ventilated, Huang Wei, head of Futian District, said at a news conference yesterday.
The district government has formulated six tour routes of different themes including "green ecology" and "culture and technology."
The district government, which spent 33 million yuan (US$4.65 million) on an online project allowing citizens to monitor real-time situations in restaurant kitchens last year, will put yet another 30 million yuan toward the project this year, according to Huang.
Futian will also organize a promotional shopping festival called Futian Spring-and-Summer Happy Go (福田春夏欢乐GO), which is scheduled to last around two months, to encourage consumption.
Electronic consumption coupons worth around 30 million yuan covering sectors including catering, sports, books and tourism will be given out to citizens throughout the festival, according to Huang.
Longhua District will issue coupons worth a total of 50 million yuan to boost consumption in the commerce sector, such as catering and automotives, said Wang Wei, head of the district, at the news conference.
"Citizens are welcome to buy cars, go shopping and hit restaurants in Longhua. A subsidy ranging from 2,000 to 3,000 yuan will also be available to citizens buying vehicles in the district," said Wang.
In addition to measures aiming to stir consumption, the districts have also increased support to guarantee orderly production resumption.
Futian has allocated nearly 1 billion yuan to support local enterprises, which has leveraged nearly 20 billion yuan of social capital, Huang said.
Bao'an District has provided more than 4.6 billion yuan in bank loans to 300-plus companies so far, according to district head Guo Ziping.