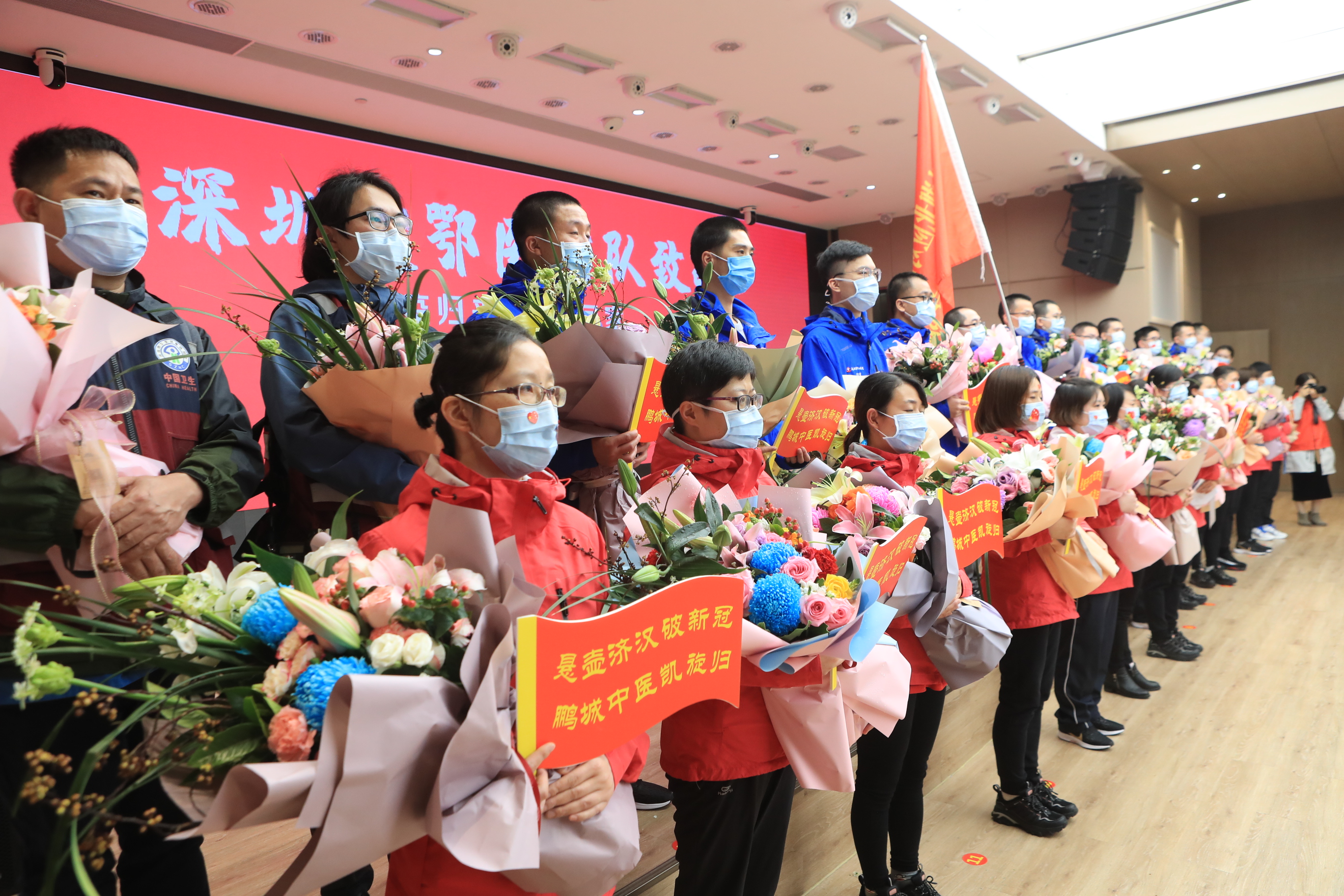 Members of Shenzhen's last medical team to assist Hubei Province during the COVID-19 outbreak pose for a photo at a welcome ceremony held at the Shenzhen Institute of Talent Research in Nanshan District, which was attended by Vice Mayor Wu Yihuan, yesterday.
Member of Shenzhen's last medical team to assist Hubei Province returned to the city yesterday afternoon, marking the successful completion of Shenzhen's medical aid mission to the province now that the epidemic outbreak there is contained.
Consisting of 25 traditional Chinese medicine (TCM) workers, the team is the city's third batch of medics and first batch of TCM professionals sent to Wuhan to fight COVID-19.
The team, which departed Shenzhen on Feb. 17, cared for patients in serious condition at Ward C6 of the makeshift Leishenshan Hospital.
The ward was still empty when the medical team first arrived at the hospital, the team members recalled. Within half a day, all daily necessities and medical materials were moved in and prepared for use in the ward.
The next afternoon, the team started taking patients, all of whom were admitted within three hours.
"When I first entered Leishenshan Hospital, I found that it was different from what I had imagined. The hospital was not completely built," said Liu Yuxiang, leader of the Shenzhen medical team, adding that their first task was cleaning and organizing the premise.
Constructing the ward was arduous as many materials were not delivered straight to the ward. For this reason, the team members conceived the idea of transporting materials unit by unit through a gap between fence pickets along a steep slope near the ward, and then assembling the various shelves and equipment themselves.
"While building the ward, we also took time to complete training about hospital-acquired infection control and practice wearing and taking off protective clothing," Liu said.
The medical team successfully completed the construction of the ward within 54 hours. By the noon of Feb. 20, Ward C6 was in a state of readiness, equipped to take patients at any time, according to Liu.
The Shenzhen TCM team achieved the feat of improving the conditions of all their patients in serious condition. A vast majority of the patients were treated solely with TCM, while a small number of them in critical condition were prescribed a remedy combining TCM and western medicine.
As of March 28, all patients in Ward C6 of Leishenshan Hospital were discharged, official statistics show. The ward had received a total of 99 patients, including 23 critically ill patients.
The Shenzhen medical team looked after 46 patients in the ward, 13 of whom were in critical condition.
So far all five teams of 77 medics from Shenzhen have returned to the city safe and sound. The city dispatched its first batch of medical team to assist Hubei on Feb. 9.