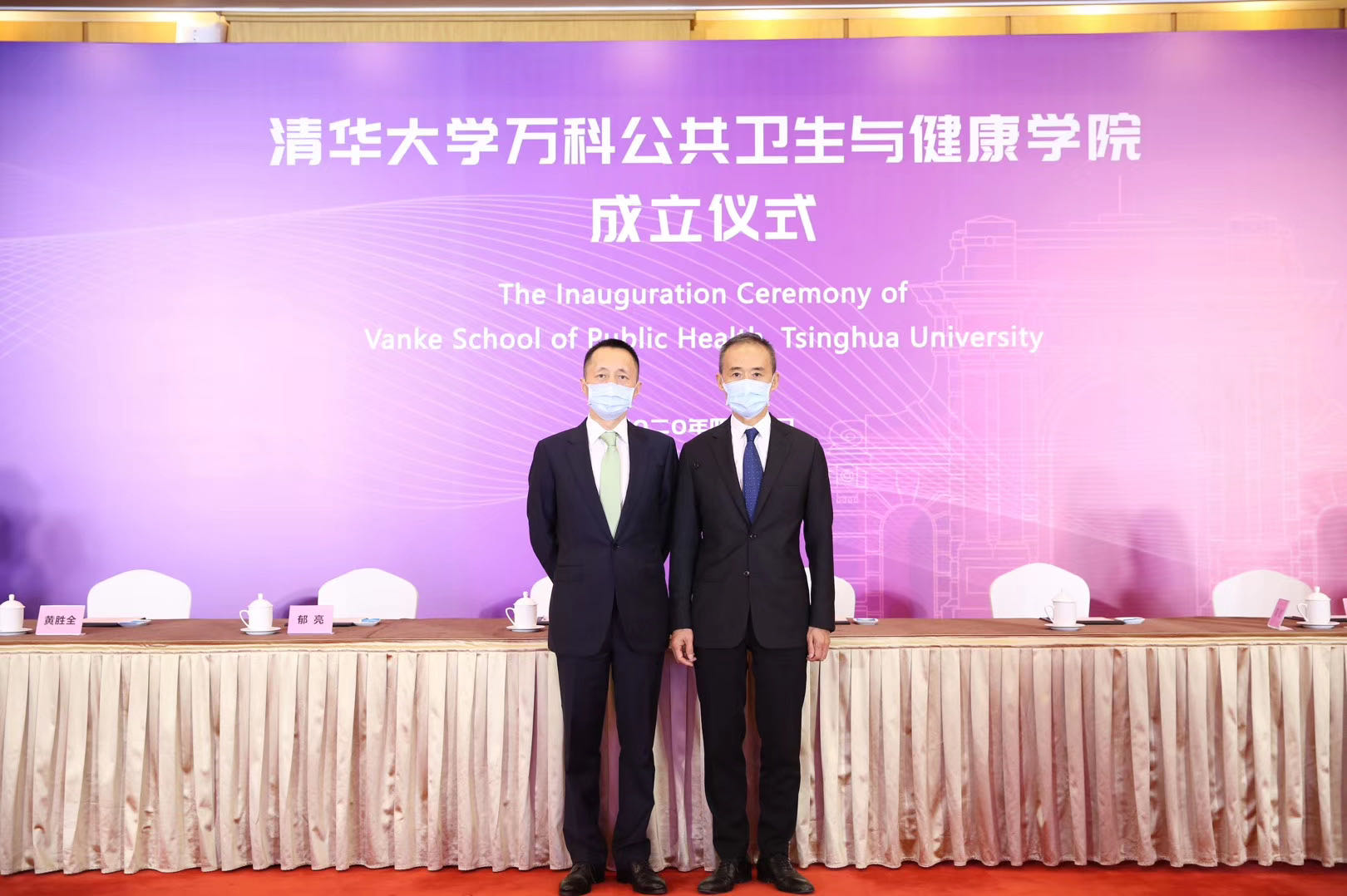 Wang Shi (R), founder of Vanke, a leading real estate developer based in Shenzhen, and Yu Liang, chairman of Vanke, attend a ceremony in Shenzhen to inaugurate the Vanke School of Public Health on Thursday. The inauguration was witnessed by three parties involved — Vanke, Tsinghua University and Hong Kong — via a video conference. Photos by courtesy of Vanke
China Vanke's employees have made the country's largest single donation to a Chinese university foundation to advance medical research as the COVID-19 pandemic wreaks havoc around the world.
The staff gave away 200 million China Vanke shares, according to an agreement signed Thursday between the Shenzhen-based real estate firm and Tsinghua University to establish the Vanke School of Public Health, which will boost talent training and scientific research and further enhance China's capabilities in public health management.
The lot was worth 5.376 billion yuan (US$768 million) based on Thursday's closing price of 26.88 yuan.
The proceeds will be used to form a special fund that contributes to establishing the school.
Drawing on Tsinghua's multidisciplinary advantages, the school will adopt new models of interdisciplinary cooperation and education. It is aimed at covering four research fields and is oriented towards graduate education on preventative medicine, comprehensive health care, big data in health care, and public health policy and management.
Vanke will support the school by providing incentives for research innovation, research outcomes and recruitment of talents.
Aiming to embrace the challenges posed by global medical and health developments and by critical domestic demands, the school will foster leaders in the field and respond to major public health issues at home and abroad.
In the next five to 10 years, the school will provide support to China's epidemic control, vaccine development and decisive think tanks related to major public health policy-making.
In close cooperation with the World Health Organization (WHO), the school anticipates becoming a world leader in terms of epidemiology, holistic health monitoring and early warning, and global systemic public health policy and management.
Vanke's founder Wang Shi said that this was the dream-come-true moment for all employees of Vanke. Given that Vanke came into being and grew stronger in Shenzhen, Wang expressed hope that the school would take part in and generously support improvement of health care services in Shenzhen.
The timing for more work on epidemic prevention could not be more acute.
"Public health will surely emerge from this pandemic as the most prominent subject globally," said Vanke chairman Yu Liang.
"Much more critical research work needs to be done, and done fast."
Margaret Chan Fung Fu-chun, former director-general of the WHO, will be the first dean of the new institution. Wang Shi will serve as a honorary director.