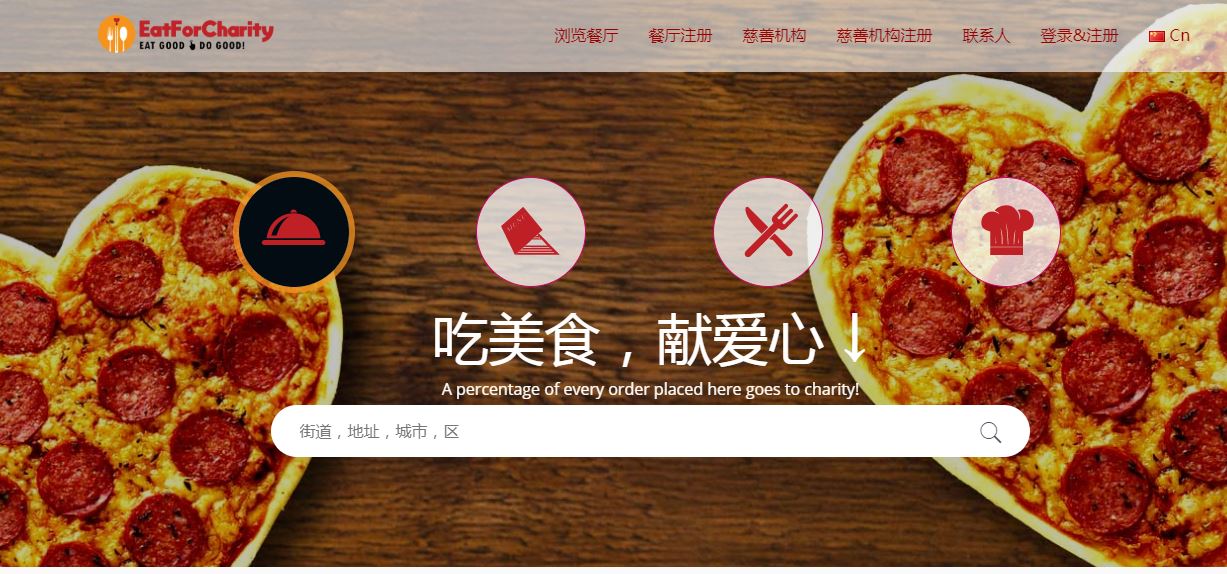 A screenshot of the main page of the Eat For Charity website.
This is the fourth of a series of reports on expats restarting their business in Shenzhen.
Shekou-based American entrepreneur Gary Isse has been busy with a multilingual food delivery platform despite many economic activities have been put on hold due to the outbreak of COVID-19 earlier this year.
The pandemic forced Isse to launch his online food delivery platform, Eat For Charity, on Feb. 17, four months ahead of schedule. It was in response to the needs of many non-Chinese-speaking expats for meal delivery as almost all of the local restaurants had halted dine-in services to curb the transmission of the coronavirus.
Although there were already a few options available for food delivery services, Eat For Charity finds its foothold in the local market by supporting six foreign languages such as English, Japanese, Spanish and Korean, in addition to Chinese.
"As all of the third-party food-ordering platforms currently active in the market are in Chinese, I figured a multilingual platform would be useful to the non-Chinese speakers in Shenzhen," said Isse.
An American resident in Shekou, who gave only his name Drew, said he has been ordering food on Eat For Charity since the multilingual online platform went live in mid-February amid the city's lockdown.
"The platform offers a lot of Western food choices through partnerships with Western restaurants, many of which are popular and award-winning eateries. And they have English-speaking customer service," Drew said of Eat For Charity.
Drew is one of the roughly 7,000 expatriates living in Shekou who do not speak Chinese to have used Eat For Charity to order food since its launch. The platform had only seven registered restaurants, most of which are in Shekou, at the time of its launch, but has now expanded to offer food from 45 restaurants in Nanshan, Bao'an, Futian and Luohu districts after two months of growth.
"We started in Shekou, so most of our initial partners are restaurants located in Shekou," said Isse. "But we are expanding quickly, hopefully to include more restaurants in other Chinese cities."
According to the Eat For Charity website, it has already partnered with some restaurants in Guangzhou, Fuzhou City in Fujian Province and Yiwu City in Zhejiang Province.
Isse attributed the fast growth of Eat For Charity partly to the creative ideas of being charity-friendly and environmentally friendly.
According to Isse, 2 percent of every order placed through the app goes to charity. For example, when a user orders an 80-yuan pizza, the platform will take 1.6 yuan from the sales commission that each restaurant pays to Eat For Charity to donate to local charity organizations.
The Eat For Charity founder said he came up with the idea after years of supporting local charities. He said he had noticed that many local charitable organizations have difficulties in continuously raising funds for their causes and he has been looking for ways to help local charities earn continuous revenue.
"It's a win-win for everyone," Isse said, adding that Eat For Charity has donated about 4,000 yuan (US$564.17) during the epidemic.
The platform has also encouraged its partner restaurants not to provide disposable cutlery unless specifically asked for by customers, said Isse, adding that the "No Cutlery Required" option is checked by default on the check-out page.
He said the move aims to discourage the use of disposable tableware to protect the environment. "We feel that we are all stewards of our environment."