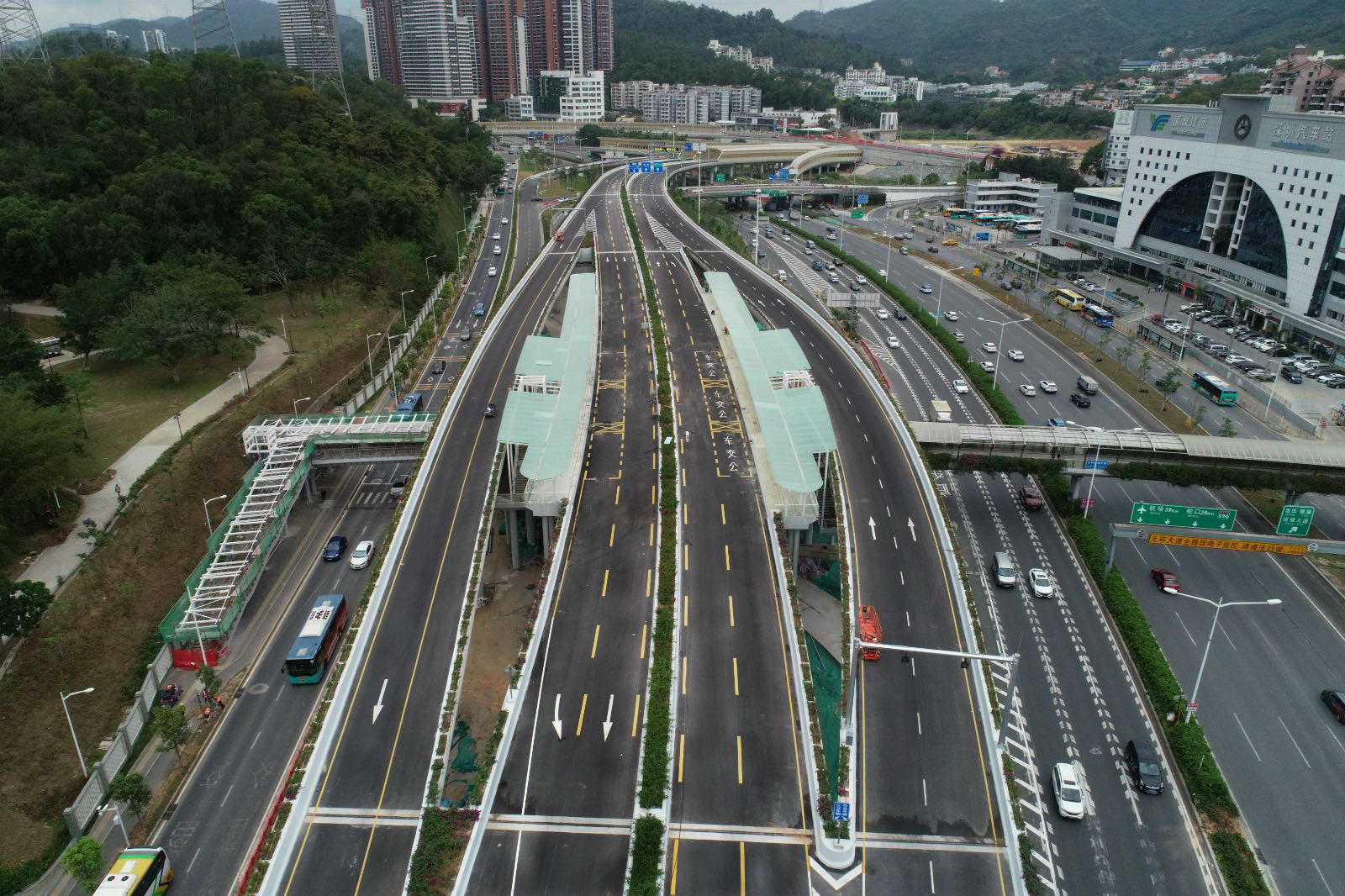 A bird's-eye view of the north-south flyover over Beihuan Boulevard, a section of the Bantian-Yinhu Passage that was put into use yesterday. Liao Wanyu
The Bantian-Yinhu Passage, linking Bantian in Longgang District with Futian and Luohu districts, was put into operation at noon yesterday.
An inauguration ceremony was held yesterday, attended by Shenzhen Party chief Wang Weizhong.
The passage cuts travel time between Bantian and Futian CBD to 12 minutes from half an hour previously.
It will especially strengthen the connection between the Shangbu and Huafu areas with the Huawei headquarters based in Bantian.
The 7.64-kilometer-long passage includes a 4.6-kilometer-long tunnel through Jigong Mountain in the Yinhu area and three interchange flyovers over Nigang Road, Beihuan Boulevard and Nanping Expressway.
Starting from the northern area of Huangmugang Flyover in the south and connecting with Banxuegang Boulevard in the north, the two-way six-lane road is expected to relieve traffic pressure at the former Meilin and Qingping checkpoints.
Public transportation is given priority on the passage as two pairs of back-to-back bus stops, namely Tiyuguan West Station and Yinhu Overpass Station, will be set up in the median lanes, rather than at opposite roadsides, for passengers' convenience.
The Yinhu Overpass Station is the city's first bus stop built on an overpass.
Through footbridges and elevators, passengers can make transfers between the bus stops and Metro stations such as Huangmugang Station of Line 7 and Yinhu Station, an interchange for Line 9 and Line 6.