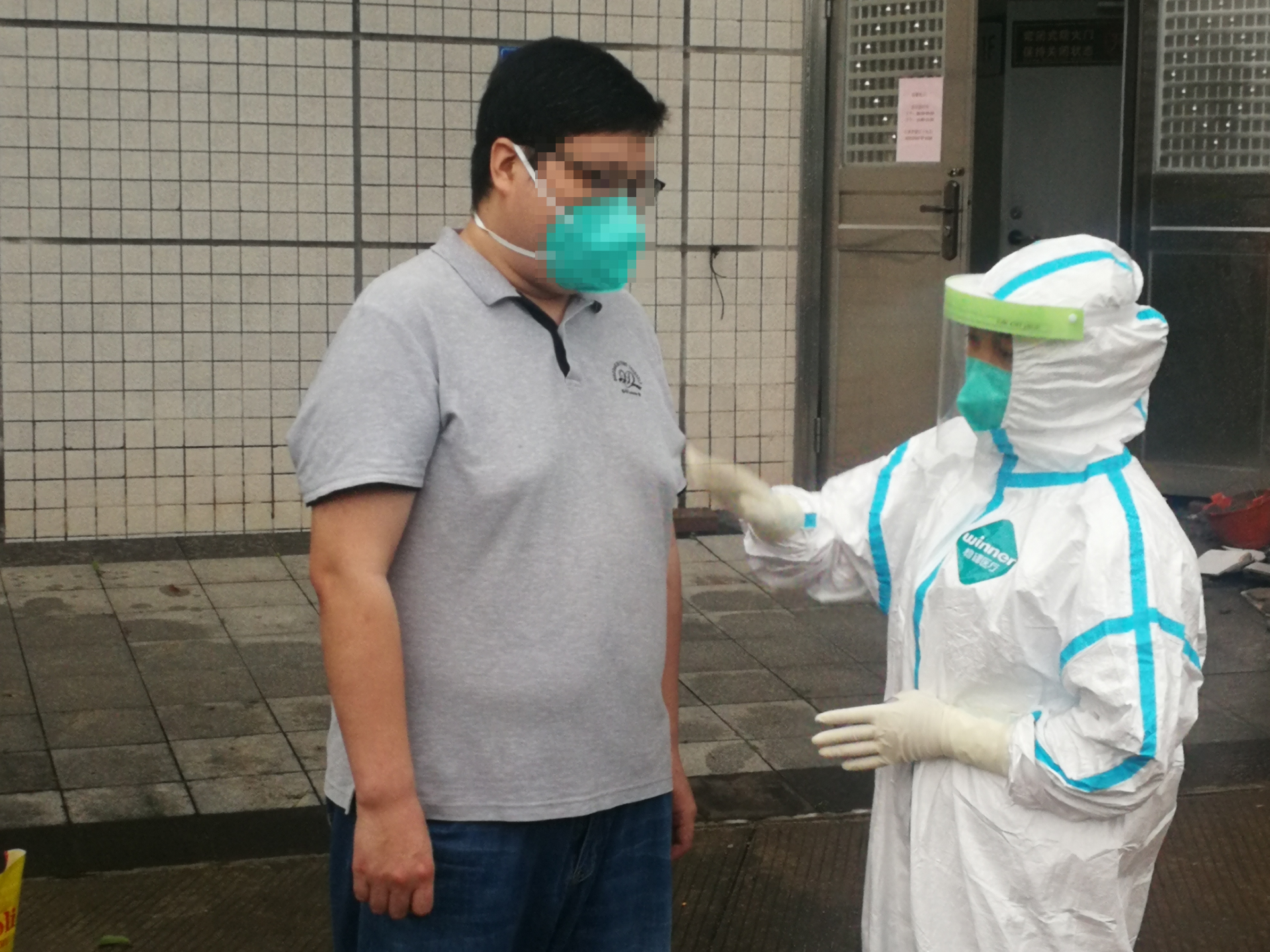 The last confirmed COVID-19 patient in Shenzhen, identity withheld, waves goodbye to a doctor after he was discharged from Shenzhen No. 3 People's Hospital on Thursday. Courtesy of Shenzhen No. 3 People's Hospital
The last COVID-19 patient in the city was discharged from the hospital Thursday, clearing the city of all confirmed cases.
The 29-year-old patient, whose identity was withheld, was taken to Shenzhen No. 3 People's Hospital on April 27 after a positive nucleic acid test.
The 110-kg patient sustained a high fever for three days before he was admitted. He had diabetes and a suspected history of hypertension.
"On the day the patient was admitted, the fever reached 40 degrees Celsius. His condition soon deteriorated and a ventilator was used May 4," said Yuan Jing, director of the No. 2 Unit for Infectious Diseases of Shenzhen No. 3 People's Hospital.
The hospital applied the experience and treatment methods that it had used through treatment of the previous 461 patients. It had tightened monitoring on days 5 to 8 and adopted early intervention to prevent the situation from getting worse.
On the first day that the patient entered into a severe condition, the hospital applied a special plasma antibody which is generally used in the recovery period of a patient, and adopted some comprehensive treatment methods that are proven to be effective, according to Yuan.
Shenzhen has so far reported 462 confirmed cases including imported cases from overseas.
A total of 459 patients were discharged and three died.
The city centralized treatment of confirmed patients at Shenzhen No. 3 People's Hospital following the principle of centralizing medical resources and expertise for treatment. A total of 130 medical employees selected from other hospitals participated in the treatment.
The city's health commission arranged supplies like preventative clothing, N95 masks, surgical masks and ECMO machines and ventilators to ensure treatment.
Authorities also set up an expert team on the treatment of patients with severe symptoms.