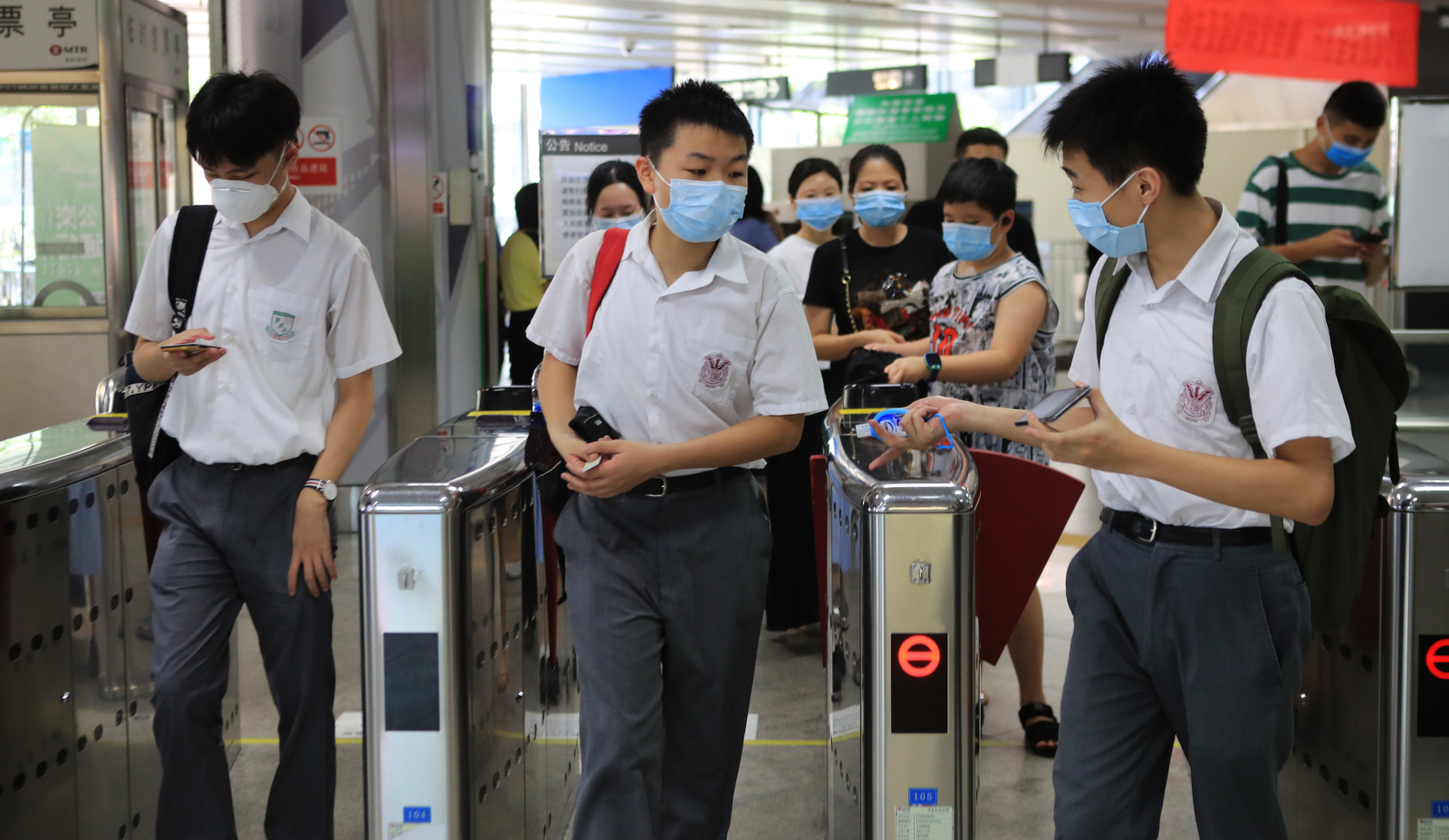 Students go through ticket gates of Metro Line 4 after finishing school in Hong Kong and returning to Shenzhen via Futian Checkpoint yesterday. Sun Yuchen
Shenzhen's Futian Checkpoint, or Lok Ma Chau on the Hong Kong side, partially resumed boundary crossing services yesterday as Secondary 3-5 in Hong Kong resumed classes.

After the lockdown of the border facility for more than four months starting from Feb. 4, the checkpoint reopened in the morning as hundreds of students started to line up to go through checks.
For the resumption of classes in Hong Kong, the checkpoint has joined Shenzhen Bay Checkpoint, the only land checkpoint that remained open during the COVID-19 outbreak, to open special lanes for the border- crossing students.
At the entrance to the hall for departure at Futian Checkpoint, police reminded students to keep appropriate distance, prepare necessary documents, submit health declaration forms, and show health codes.
According to the checkpoint, the service is open to students from 6:30 a.m. to 8:30 a.m. and from 2 p.m. to 4:30 p.m.
"I got up at 5 a.m. and my father drove me to the checkpoint. It was still too early when I arrived, but anyway, I was one of the early birds to cross the border to Hong Kong school," a Secondary 5 student surnamed Zhang said.
Zhang, who lives in Yantian District, was happy to see the opening of the school, though it cost her more time on the trip. Before the outbreak of COVID-19, she used Luohu Checkpoint to go to school in Fanling.
"The trip to and from Hong Kong cost me about three hours. From Lok Ma Chau, we take the buses organized by the school directly, and this saves us a lot of time," Zhang said.
In her Fanling school, there are around 700 students from Secondary 3 to 5 and more than 100 of them who live in Shenzhen have to cross the border to study.
As the students had half-day lessons, they left school at around 1 p.m. and took buses for their return trips.
"We have to go through temperature checks, provide school documents, show our health code during the border crossing. The border crossing is a little bit slow because officers need to check one by one and e-lanes are not used," another student surnamed Chen said, while walking to take the Metro to go back to his home in Luohu District with his classmates.
As only Futian Checkpoint and Shenzhen Bay Checkpoint are available for students for the time being, students hope more checkpoints like Luohu Checkpoint can open soon.
At Shenzhen Bay Checkpoint, students were separated from other travelers for border-crossing checks. Around 2,500 students of Secondary 3-5 crossed the border yesterday.
In early February, Hong Kong and the mainland shut down the land-crossing checkpoints, except Shenzhen Bay Checkpoint, to reduce the movement of people for increased COVID-19 prevention and control.