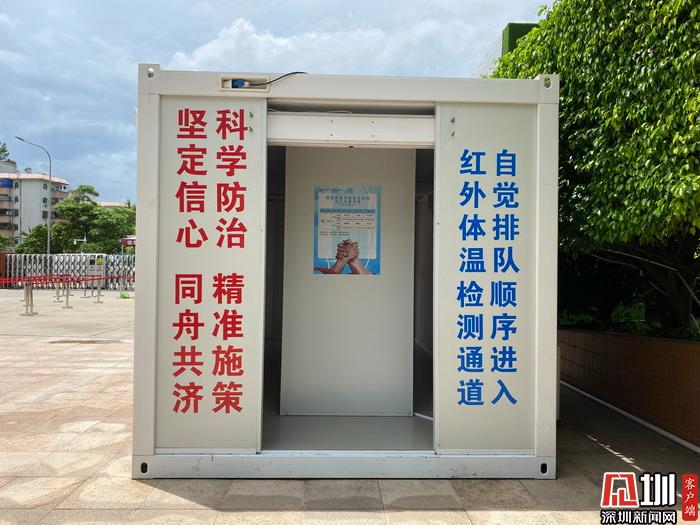 A body temperature measurig device is seen at the gate of Hongling Middle School, one of examination venues. sznews.com
More than 1,000 police officers will be deployed to patrol the roads to ensure smooth traffic and help examination takers for the gaokao, also known as the National College Entrance Examinations (NCEE), that will be held July 7-8 this year.
This year's NCEE will be the largest organized examination since the outbreak of the COVID-19 pandemic. The city has set up a leading group to handle any emergencies that may arise having to do with COVID-19 prevention and control.
All students have conducted nucleic acid tests and declared their health condition every day for the 14 days leading up to the start of the examinations.
As the students are required to enter the examination venues 60 minutes in advance, instead of 30 minutes as it was required in previous years, police advise students and parents to arrive at examination venues as early as possible.
Students can call the police hotline at 8333-3333 if emergencies arise, such as getting in a traffic jam, a traffic accident or a vehicle breaking down. Police officers on motorbikes will offer necessary and prompt assistance, a news conference said Friday.
They can also ask for help from vehicles marked as Shenzhen Police NCEE Vehicles stationed at examination venues or patrolling the roads.
Shenzhen police will set up service stations at all exam venues, providing raincoats, umbrellas, medicine and drinking water.
More than 5,000 cabs of 42 taxi companies will also join police in offering emergency services and free rides for NCEE takers. During the examination period, NCEE takers can make a reservation in advance for the free service by calling 96880, the hotline of the city's taxi association.
If a vehicle carrying students to the exams gets involved in a minor accident without injuries, police will try to release the vehicle from the scene of the accident quickly, after a simple investigation.
For an accident that causes serious damage or injuries, police officers will arrange for motorcycles to carry the students to the exam sites while the accident investigation continues.
Vehicles carrying examination takers can use bus lanes if traffic is congested in the other lanes. Drivers need to register using the students' test certificate numbers by calling 8333-3333 within 24 hours after using the bus lanes.
More than 43,500 students will sit for the examinations this year at 43 examination venues across the city.
During the gaokao period in Shenzhen, the weather will be hot with maximum temperatures ranging from 33 to 35 degrees Celsius. There will be occasional showers.
Nationally, a total of 10.71 million students, 400,000 more than the previous year, will sit for NCEE, which has been postponed for a month due to the COVID-19 outbreak.