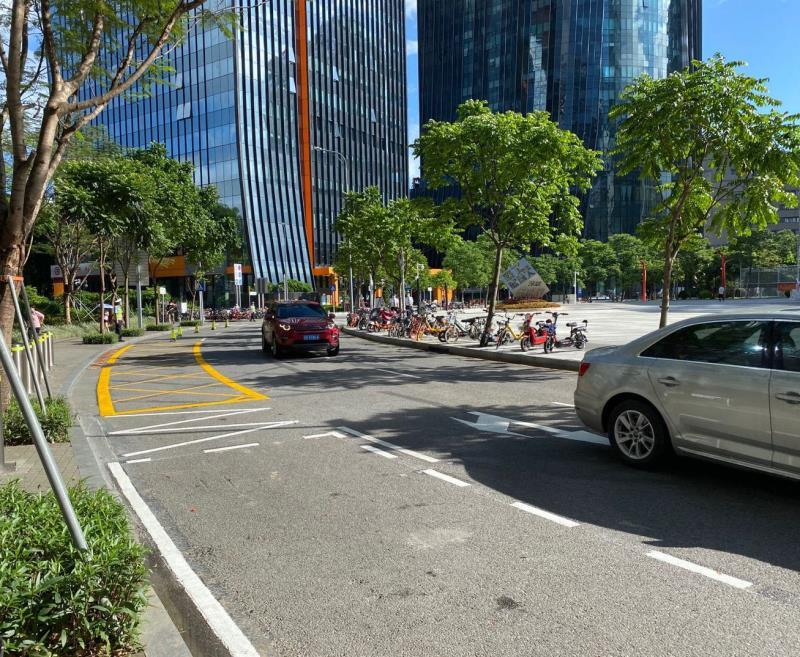 Haitian No. 1 and No. 2 roads have greater road efficiency after being renovated into one-way streets. DT News
The traffic congestion situation in Shenzhen Software Industrial Park in southern areas of Shenzhen Hi-Tech Industrial Park has been improved with the implementation of a new traffic organization plan, DT News app reported.
The software industrial park, an office area with 18 buildings and covering an area of 123,028 square meters, is often congested during most traffic hours. The congestion is the result of a mixture of vehicle flows during the morning rush hour, pedestrians, the random drop-off and pickup of passengers, lines of buses that block other vehicles and illegal parking, according to an analysis report by the Nanshan Administration of Municipal Transport Bureau.
In the traffic improvement plan, the bureau and police department turned Haitian No. 1 Road and Haitian No. 2 Road into one-way streets, reducing the easily congested spots from 48 to 4. Strict control measures like the designation of passenger pickup and drop-off areas and installation of traffic guidance signs have also helped improve traffic efficiency.
According to data of the past week, the road efficiency of Haitian No. 1 Road and Haitian No. 2 Road has been doubled; delays at intersections have dropped by 20-30 percent.
The transport and traffic police departments will improve street-crossing facilities and optimize traffic lights to further improve road efficiency.
The one-way traffic organization plan will be used in other places inside Shenzhen Hi-Tech Industrial Park, an area of 11.5 square kilometers with 450,000 employees.
The daily commute in Shenzhen Hi-Tech Industrial Park area in Shenzhen Bay involves 1 million people, 80 percent of which happens in the morning and evening peak hours.