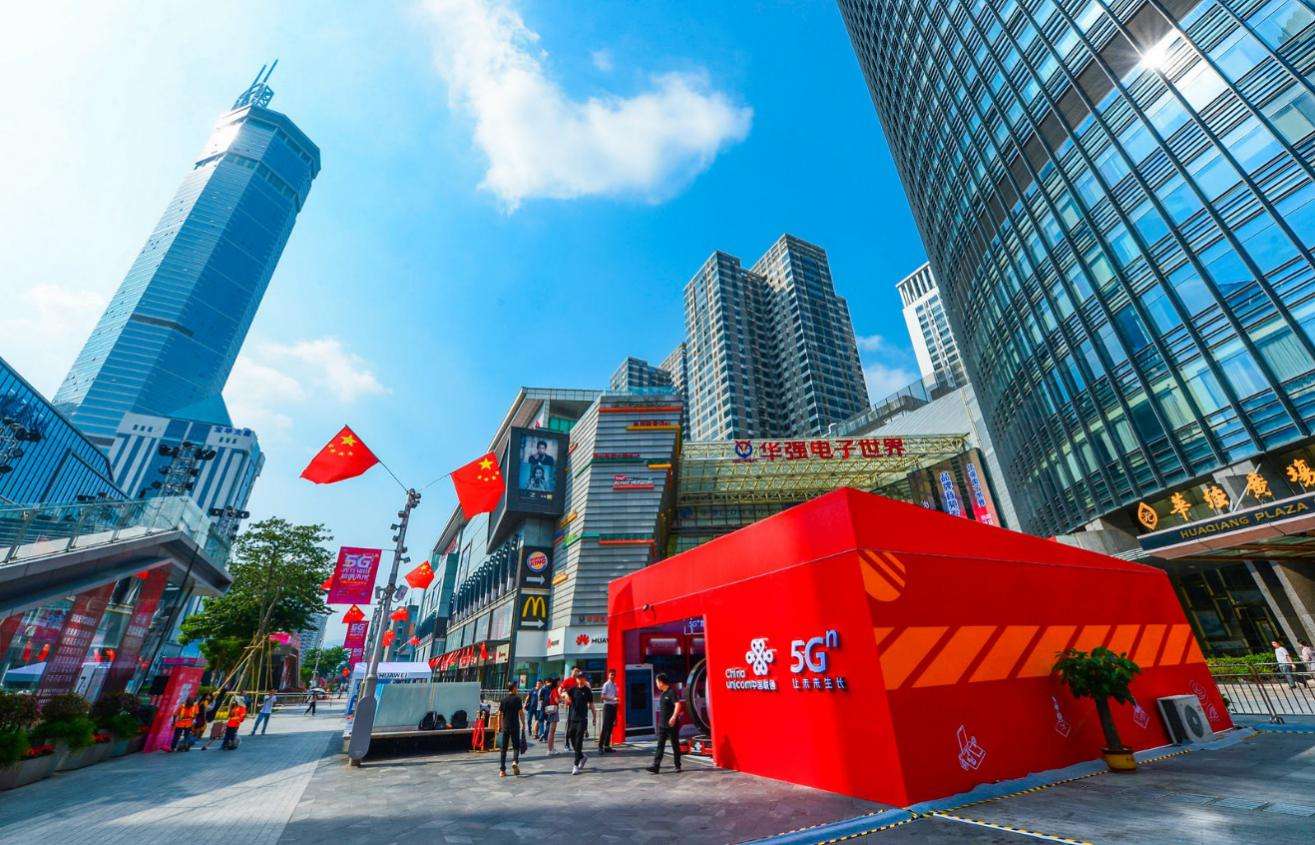 China's 1st 5G experience block opens in Huaqiangbei, Futian District last September. File photo
Innovation-based Shenzhen is taking a series of measures to make up for weak points in the industrial chain and consolidate construction in new infrastructure projects to boost the economic recovery and build up growth momentum, a report of Xinhua said.
The latest statistics showed GDP in the first half of this year had reversed a downturn trend and posted 0.1 percent growth to 1.26 trillion yuan (US$180 billion).
The city will complete its goal of installing 45,000 5G base stations by the end of August. The 5G network will cover the city and be applied in 20 scenarios including transportation, policing, urban management, power supply, industrial Internet, smart factories and smart industrial parks.
Stimulated by 5G and other technologies, the total profit of industrial enterprises at and above the designated scale in Shenzhen had increased by 22.2 percent year on year in the first half of the year. It grew by 47.2 percent compared with the first quarter. The industrial added value of advanced manufacturing increased by 12.6 percent and high-tech manufacturing increased by 11.7 percent compared to the first quarter.
"5G is enabling us to test different scenarios related to driverless cars such as remote monitoring and coordination between vehicles and roads," Gao Shuang, COO of Shenzhen Yuanrong Qixing Technology Co. Ltd., said during an interview.
At a news conference last week, the city said it will boost new infrastructure investment in sectors including artificial intelligence, big data and cloud computing to stimulate economic growth.
Investment in fixed assets in the first half of the year increased by 7.8 percent year on year, 23.9 percent higher than the first quarter.
The government has budgeted 411.9 billion yuan investments in 95 new infrastructure projects. In 2020, the city will complete 100 billion yuan investments.
According to Zhong Hai, deputy director of the Shenzhen Municipal Science and Technology Innovation Commission, the city is planning innovation-based infrastructure like Peng Cheng Cloud Brain II extension project, as well as upgrading the National Super Computing Shenzhen Center and Shenzhen Bay Lab.
The Peng Cheng Cloud Brain II extension project is a cooperation between Huawei and Peng Cheng Laboratory (PCL), which was established two years ago.
The Peng Cheng Cloud Brain II extension project will offer AI computing capability at 1,000 petaFLOPS (PFLOPS) scale, a new milestone in the scientific research field for the Kunpeng computing industry.
Despite COVID-19, Shenzhen's foreign trade, which takes up one-10th of the country's total, reached 1.33 trillion yuan in the first half of the year, 0.5 percent lower year on year, showing strong signs of recovery. The city's export to ASEAN countries increased by 14 percent to 211.1 billion yuan in the first half of the year.
The added value of textiles, benefiting from the increased capacity of mask production, increased by 316 percent, and that of equipment manufacturing increased by 5.6 percent, thanks to the sales of medical equipment like ventilators.