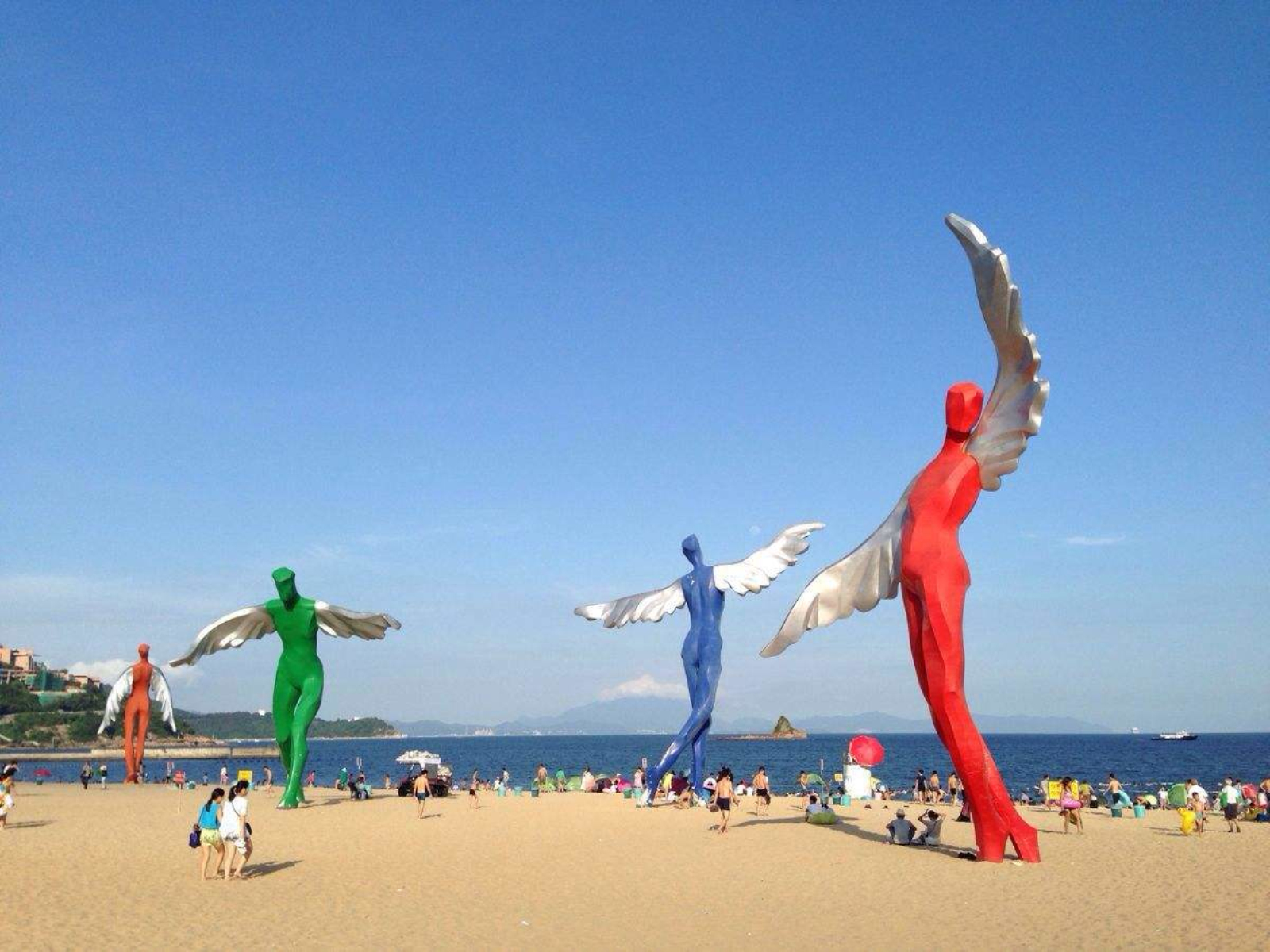 One of the most popular summer resorts in Shenzhen, Dameisha promises golden-sand beaches and clear seawater. Free to the public, it draws more than 10,000 swimmers on weekends and public holidays during summer and autumn.
Several giant sculptures in the shape of winged people will strike visitors as avantgarde, and Wish Tower at the center of the beaches is a romantic place to go with thatspecial someone. An elevator carries riders to a sightseeing platform 62 meters above the sand where no one can miss the vast sea and blue sky.
Dameisha is the venue for the international sand sculpture festival and draws brave young people seeking the excitement of watersports and bungee jumping.
Swimwear, snacks and souvenirs made of sand are sold at the central plaza near Wish Tower.
Barbecue is available on the beaches, and fast-food outlets, such as McDonald's and KFC, are nearby. Many people also come to taste the roast pigeon, a local specialty sold for 25 yuan a bird.
A variety of lodging is available, from the five-star Sheraton Dameisha Resort and fourstar Airland Hotel to the more economical Pattaya Hotel.
Dameisha Wish Tower, a landmark building in Dameisha Beach Park in Yantian District, opened April 30.
The tower was closed in 2018 after Super Typhoon Mangkhut wreaked havoc in Shenzhen. The Yantian District Government then cooperated with Shenzhen Haichuang Dreamland Cultural Tourism Co. Ltd. to renovate the building.

As one of the first tourist spots to apply the metaverse in China, the scenic spot introduces high technologies such as interaction of light and shadows, and holographic projection, while retaining the observation deck with aerial views.
It also boasts an immersive theater themed on underwater exploration, which will present visitors a wonderful journey to the sea.
The tower is equipped with a series of metaverse experience projects, such as underwater space-time tunnel, and 3D exploration games, with Deep Sea Fantasy the most notable among them.
Deep Sea Fantasy is an innovative tourism project integrating meta universe, interactive design and virtual and reality application technology.

Tel: 0755-25062323
Add: 94 Dameisha, Yantian District
( 盐田区大梅沙 94 号 )
Buses: 53, 103, 239, 360, 364
(Da Mei Sha stop 大梅沙站 )