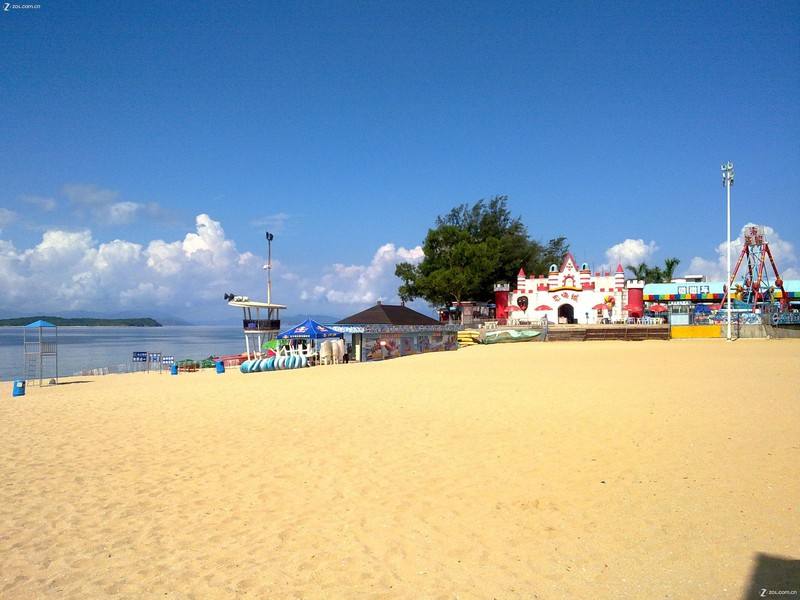 With a coastline of 133 kilometers, Jinshawan Beach (Golden Sand Beach) in Dapeng is known as one of the eight most beautiful coasts in China.
Jinshawan got its name because of its stunning scenes at dusk. When the sun is setting, the bay is bathed in the lingering light. Both the sea and the sand glitter with golden sunlight.
As the best-developed resort in Dapeng, there are many leisure activities and facilities offered at the beach.
You can enjoy various water fun by renting sailboats, speedboats, motor boats, sailboards, canoes, diving equipment and parachutes. Prices range from 50 yuan to several hundred yuan.
There are also venues and facilities for beach volleyball and soccer.
Barbequing and camping at the beach are also popular activities. Tents and other camping gear are available for rent. If you bring your own tent, there is only a 20-yuan service fee.
There are also many seafood restaurants and local inns in the area.
When visiting the beach, a special dish called "beggar's chicken" is a must-try delicacy. The chicken is baked in the mud.
Transport: Go to Shuanglong Station (双龙站) via Metro Longgang Line and go to Dapeng Bus Terminal by bus 818. Take B752 to Jinshawan Resort.