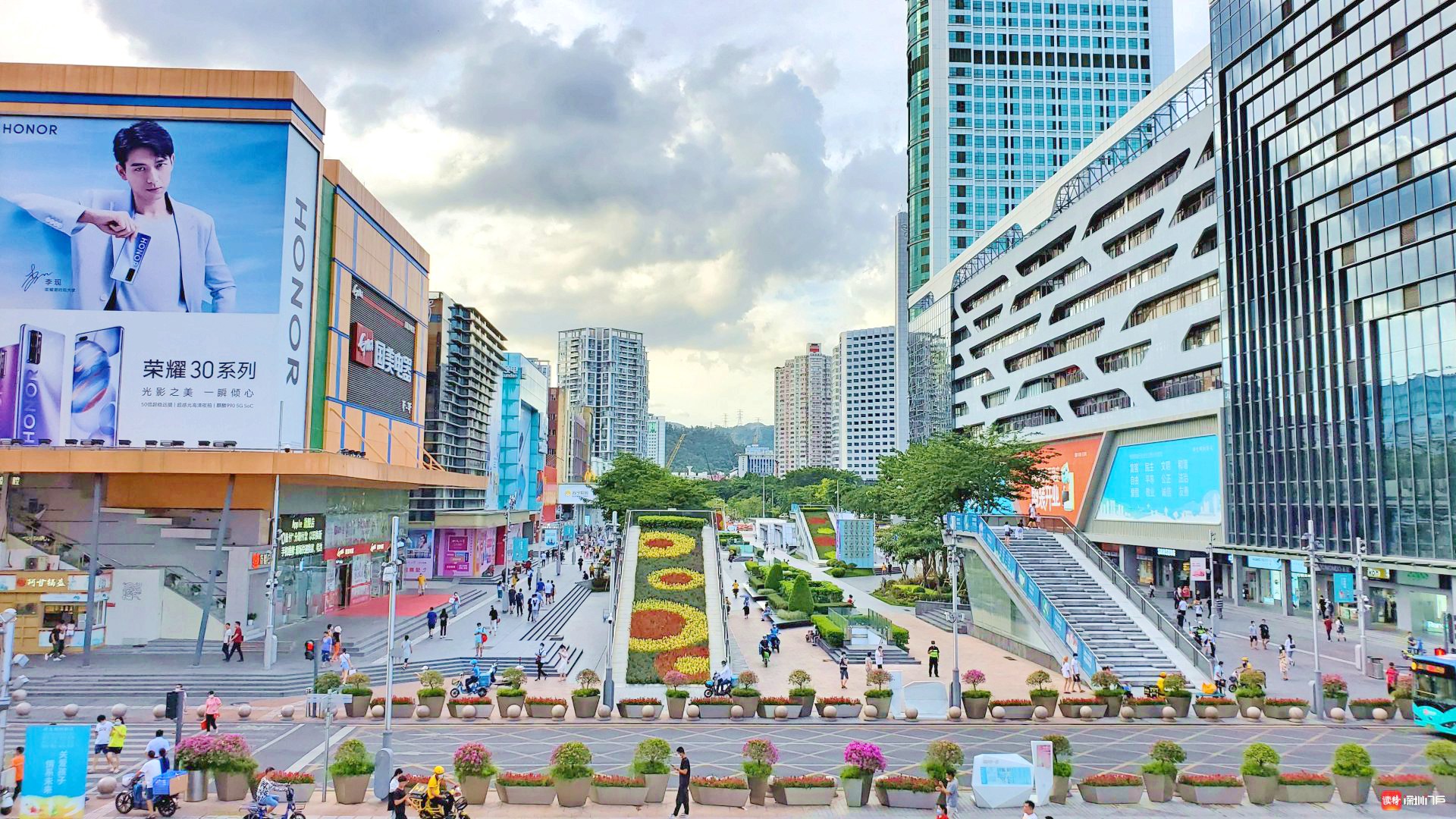 Huaqiangbei in Futian District is one of the venues of the Second August Joyful Shopping Trip in Shenzhen.
The Second August Joyful Shopping Trip in Shenzhen was officially launched Friday night with 20 themed activities and 280 featured activities at business circles to be developed over the full month.
The shopping festival has four themes that distinguish themselves each week in quality consumerism, the night economy, fashion consumers and joyful shopping and traveling, the city will offer 700 million yuan (US$100 million) in subsidies to stimulate consumer spending, according to Shenzhen Special Zone Daily.
The first week's highlights will include quality consumerism, a digital products festival, an auto show and a 5G consumer festival that will be held between Aug. 1 and 9.
The city will offer rewards of 400 million yuan for residents to purchase new cars to replace their old ones and subsidies of 300 million yuan on purchases of household appliances and digital products. The participating enterprises will offer discounts involving 10 billion yuan to consumers.
"So far 360 car dealers, 418 dealer shops, 73 car brands and 825 car models have participated in the promotion activities. 284 stores and 21 enterprises have also joined subsidy activities for digital product buyers," Wang Youming, director with Shenzhen Municipal Commerce Bureau, said at the inaugural ceremony Friday.
Car buyers will get a 5,000 yuan reward if they purchase cars for more than 300,000 yuan under the replacement program.
The reward will drop to 3,000 yuan if the car purchased costs less than 300,000 yuan.
In household appliances and digital products, residents purchasing designated brands of computers, mobile phones and 4K and 8K televisions can enjoy subsidies of 10 percent of the purchasing price. The maximum subsidy is 1,000 yuan per person.
In the second week featuring the night economy, Nanshan District will open the city's first nighttime economy demonstration street in Coastal City between Aug. 8 and 16. Other nighttime business promotion activities will be held across the city as well.
The third week, highlighting a fashionable life for the younger generations, will be held between Aug. 15 and 23. The activities will be centered around e-gaming contests and carnivals.
The fourth week, focusing on shopping and traveling, will be held between Aug. 20 and 31, and will be developed to coincide with the city's celebration of the 40th anniversary of the establishment of the Shenzhen Special Economic Zone.
Consumers are the driving force for economic growth. The festival is held, according to Wang, to speed up production and business resumption, invigorate consumption and strengthen consumer confidence.