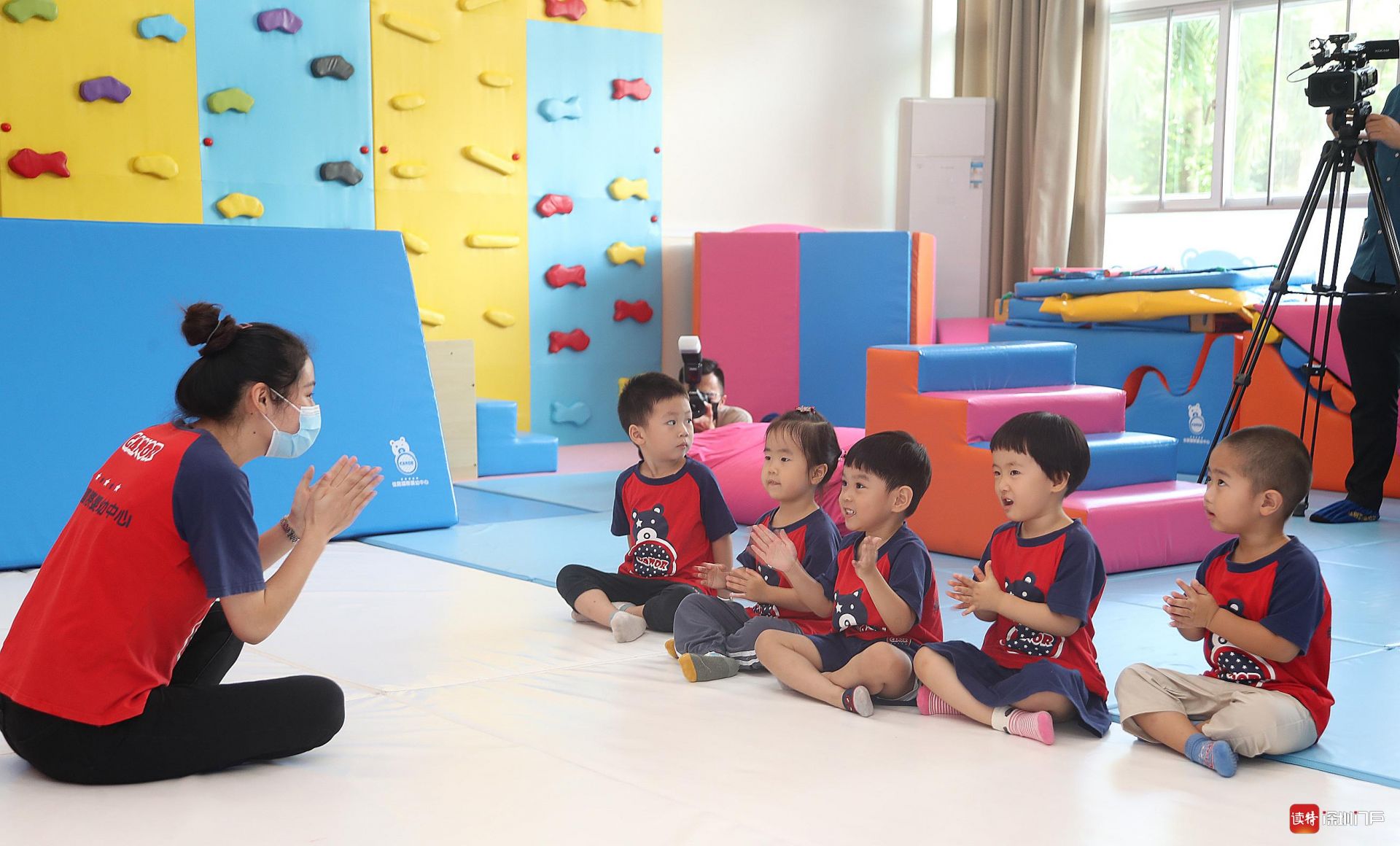 A teacher interacts with children at the Ganor International Baby Center. DT News
A child care center in Dapeng New Area has become Shenzhen's first child care institution to complete mandatory registration, which marked a breakthrough in the provision of child care services for children under 3 in the city.
The Ganor International Baby Center has recently filed for registration through the national information management system for child care institutions and received a document of registration Thursday.
Staffed with 15 teachers, the 705-square-meter center is located in Yadi Village, Kuichong Subdistrict.
The center will serve as a demonstration site for inclusive child care institutions in Dapeng, according to the city's health commission.
China is requiring local authorities to keep a record of child care centers in a bid to enhance oversight over child care institutions and facilitate the development of the booming sector.
In 2019, a new regulation, jointly issued by four national government bodies, including the National Health Commission, specified measures to improve policies concerning registration and information disclosure of child care institutions.
According to the regulation, all child care institutions are required to file information — ranging from staff health certificates to fire safety certificates — with local health commissions, who are responsible for detecting and reporting any irregularities, said the regulation.
New child care institutions must report specific types of services they will offer when filing for registration, it added.
In March, Shenzhen issued a five-year implementation plan for promoting the development of child care services for infants and young children under 3, and has included such services in its economic and social development plan.
Starting this year, child care institutions targeting children under 3 can file information with local health authorities in each district, said the city's health commission. So far, a total of 84 child care institutions in Shenzhen are filing for registration.
Shenzhen will also initiate the construction of inclusive child care institutions this year, and guide social forces to provide safe and standardized child care services for families in need, the commission said.
China faces shortages of infant and child care services as the demand keeps rising, particularly after the country lifted its one-child policy.
About one-third of the respondents from 10 cities, including Beijing, Shanghai, Guangzhou and Shenzhen, said they have the demand for social nursery services, the People's Daily reported in January.
However, only 2.36 percent of children under the age of 3 across the country have been enrolled in nurseries or child care institutions, according to the newspaper, adding the proportion in cities is 4.1 percent.