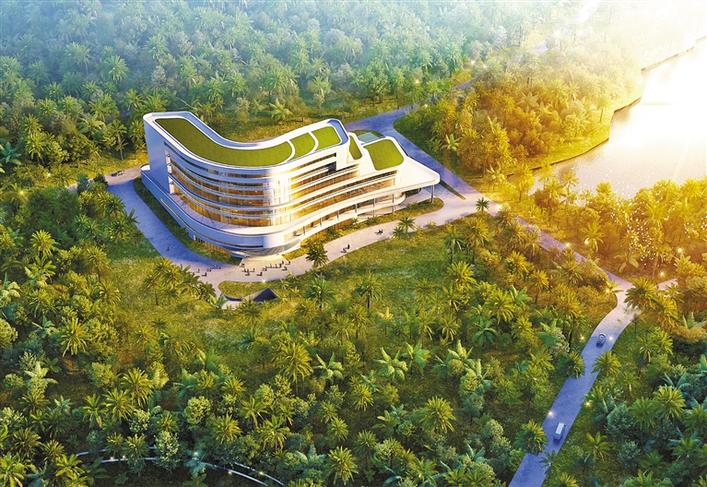 A computer-generated image of a scientific research and development facility at the core area of Guangming Science City. DT News
Shenzhen's ever-improving business environment is widely applauded by foreign-funded enterprises that are operating businesses in the city, Shenzhen Evening News reported Thursday.
At the Seminar on Jointly Meeting Challenges and Seeking Innovative Development held in the city Wednesday, participating foreign-funded companies expressed their firm confidence in seeking further development in Shenzhen.
The city has attracted more than 90,000 foreign-invested enterprises and has absorbed nearly US$300 billion of contractual foreign investment over the past 40 years, with foreign companies having made positive and remarkable contributions to the Shenzhen Special Economic Zone.
Shenzhen kept up its momentum in drawing foreign investment this year. During the January-July period, the city's actual use of foreign capital amounted to nearly US$4.9 billion, according to official data.
On Aug. 6, American tech company Dell opened a solution center in Shenzhen Kexing Science Park. The center aims to provide IT planning and investment services for small businesses and help them realize digital transformation.
According to Zhu Cheng, manager of the solution center, the fact that Shenzhen has more than 2 million small and medium-sized enterprises, accounting for 99.6 percent of the total number of enterprises, shows that the city has strong market vitality and a superb business environment.
"More than 70 percent of small businesses in Shenzhen are digitally mature at the medium level or even a higher level," said Zhu, adding that Shenzhen is an important market for Dell.
In 2018, Germany's DIHK chambers of industry and commerce established an innovation center in the city.
"We located the innovation center in Shenzhen to prove to nearly 5,000 German companies the charm of Shenzhen," said Maximilian Butek, delegate and chief representative of the delegation of German Industry and Commerce Guangzhou.
The innovation center has organized 20 German delegations to visit Shenzhen for cooperation, helped more than 10 German companies to settle in Shenzhen, and promoted a number of Sino-German cooperation projects.